Hair Restoration for Men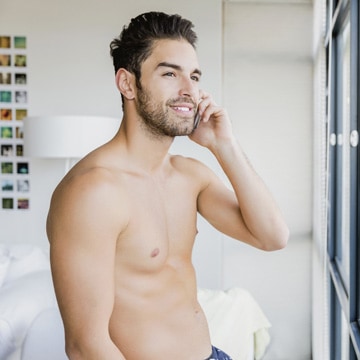 The latest advancement in robotic surgery for Hair Restoration is now in North Carolina. The best part about this hair restoration technique is that unlike other methods of hair restoration, there is no need for the surgical removal of a band of tissue from the back and sides of your head. No visible scar left after hair restoration, and no need for stitches or staples to close the wound because the precise technique of the robot removes need for excessive scar. The benefit is a quick recovery time and the ability to return to normal activities and work sooner.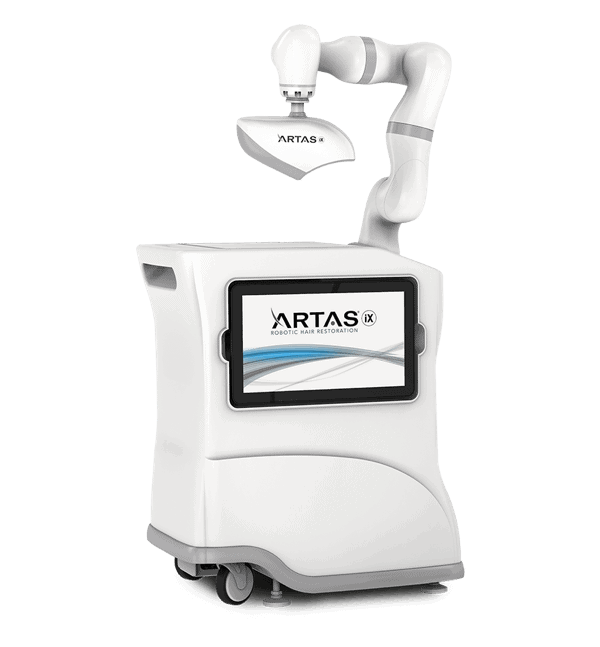 NO LINEAR SCARRING
Since the ARTAS Robotic System selectively harvests individual hair groupings rather than removing a large area of scalp, there is minimal scarring in the donor area. The transplant of hair is done seamlessly to create a natural hairline and no scar. There is no need for any person to not get a consultation to discuss hair restoration now!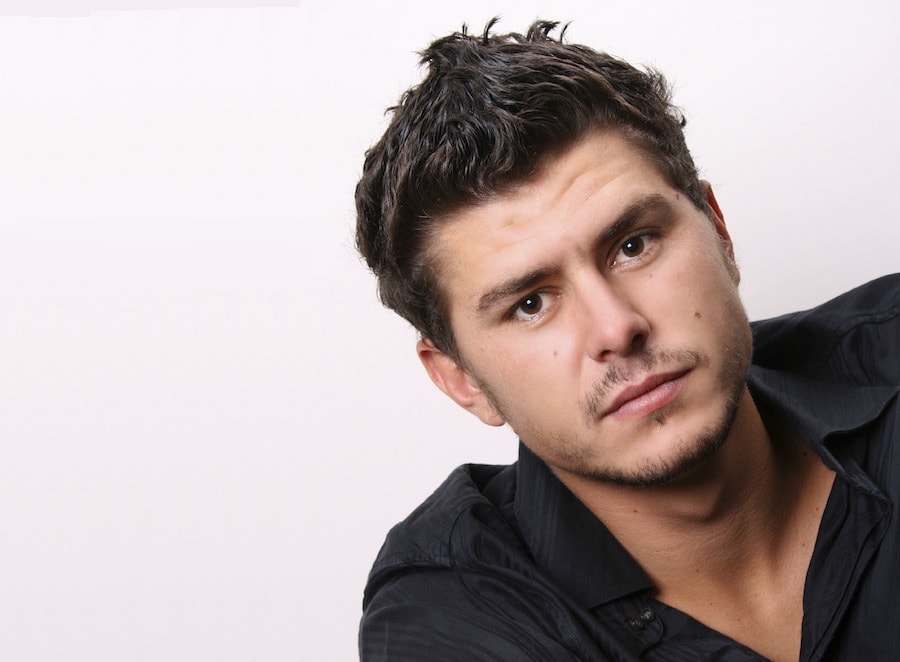 The male body behaves differently than the female form.
Men tend to store fat in their abdominal region more so than women, for example. Also, male muscles and skin age in different ways than their female counterparts. Each cosmetic procedure must take a man's physique and enhancement goals into account when strategizing the best outcome.
Addressing the unique concerns of men's bodies requires expertise and dedication. Dr. Saira Saini is a board-certified plastic surgeon with years of expertise in aesthetics. To discuss your aesthetic journey with Dr. Saini, please contact our office in Fayetteville, North Carolina.
About
Gender perception evolves with every generation. The way we think about our bodies may change, while other societal norms stay ingrained in our culture. Men are often seen as sturdy and square, while the ideal female figure is stereotypically perceived as curvaceous.[1] While we encourage you to seek your own style, we understand that impressions are extremely important. Dr. Saini understands how to contour a man's body properly, respecting his wishes and delivering remarkable results.
Liposuction for Men
The fat stores on a male body are often spread flat and thin. Removing unwanted fat deposits from a man's "problem areas" requires immense precision. Liposuction targets unwanted fat cells, softens them, and removes them through a thin tube called a cannula. A tumescent liquid loosens the fat while administering a local anesthetic to the targeted treatment area.
Dr. Saini is well-versed in several advanced liposuction methods, including power-assisted, laser-assisted, and suction-assisted.
The exact type of procedure you require will depend on your specific case. Dr. Saini will work with you to determine the best course of action in addressing your body contouring needs.
Botox for Men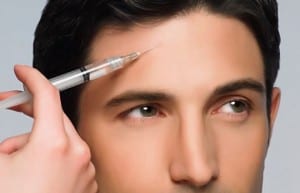 Frown lines, laugh lines, and furrowed brows are all caused by the same activity: muscle contractions. When your facial muscles tighten, so does the skin attached to them. These contractions cause noticeable creases, but Dr. Saini can solve them with neuromodulators. Botox, Dysport, and Xeomin disrupt the neural pathways that cause your muscles to tense. By relaxing your facial muscles, these neuromodulators release the wrinkles in the skin above.
Muffin Top Reduction
When an unwelcome roll of fat appears over your belt line, it is known as a "muffin top." Dr. Saini can address this issue in a number of ways. A Tummy Tuck procedure removes belly fat and tightens the skin around the midsection as it is sutured back together. For a non-surgical alternative, Coolsculpting freezes unwanted fat from your "muffin top" area in a process called cryolipolysis. Your lymphatic system then disposes of the destroyed fat cells naturally, leaving your waist and belly region slim and toned.
Laser Skin Treatments
If you struggle with acne scars or discoloration, like liver spots, then Laser Resurfacing can help.
By targeting a fine beam of light under a blemish, Dr. Saini will heat it up by exciting the water molecules below the surface of the skin. The laser simultaneously stimulates collagen production to replace the unwanted tissue as it peels away from the surrounding skin. Laser services are safe and effective, erasing unsightly broken capillaries, keloids, and other scarring from your skin. A stunning glow awaits!
Chemical Peels for Men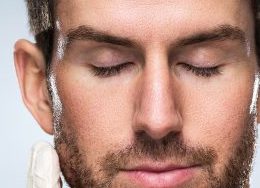 Some discolorations are localized, while others are scattered across large swaths of skin. For a treatment that rejuvenates more holistically than lasers, consider a Chemical Peel. Peels restore an even balance to your complexion, removing dead skin and imperfections from the outer layer of the epidermis. If you struggle with rosacea, age spots, or wrinkles, a chemical peel can clear away the blemishes and allow a younger appearance to emerge.
Laser Hair Removal
Many men wrestle with unwanted hair growth on their back, shoulders, or neck. Dr. Saini addresses these concerns with the revolutionary Vectus technique for hair removal. This laser-based system targets the follicle, preventing hair growth at its very root. Vectus is so comprehensive that it eliminates worries about ingrown hairs, stubborn stubble, or razor burn. You are left with smooth, strong skin, free from the annoyance of unwanted tufts.
Eyelid Surgery (Blepharoplasty)
There are two major benefits to Blepharoplasty surgery: aesthetic and functional. Men who are dissatisfied with the way their eyelids droop over time can tighten their look with some help from Dr. Saini.
An eyelid procedure removes small pockets of unwanted fat and excess skin to create a firmer, smoother appearance.[2]
Blepharoplasty may also improve a client's vision. When loose skin impedes your peripheral view, eyelid surgery can remove the blinders and clear the way to a brighter perspective.
Kybella for Double Chin
No matter how much you work out, some areas are incredibly difficult to keep trim. The "double chin" is the perfect example of an exercise-resistant protrusion. If diet and gym time have failed to reduce your double chin, consider Kybella. This injectable uses deoxycholic acid to break down unwanted fat deposits. Deoxycholic acid occurs naturally in the human body, so injecting Kybella directly under the skin merely speeds up and concentrates your ability to eliminate double chin fat.
Benefits of Male Cosmetic Procedures
Carolina Plastic Surgery offers much more than our name suggests. In addition to surgical solutions, we also provide minimally-invasive and non-invasive procedures to men seeking subtle enhancements. Dr. Saini can assess your current wellness needs and determine how she can help bring your looks to the next level. If you want a taut stomach, an even complexion, or more muscle definition, consider a trip to Carolina Plastic Surgery.
Ideal Candidates
At Carolina Plastic Surgery, we encourage our guests to strive for great mental and physical health every day. Diet and exercise are always advisable to keep your mind sharp and your body thriving. Sometimes, however, you need an extra push to get you over the finish line of self-improvement.
If you are at or near your goal weight, but need a hand contouring those difficult fat stores, then Dr. Saini is ready to assist you. Also, if the lines on your face do not accurately reflect the youthful spirit you truly embrace, then Carolina Plastic Surgery can help smooth out your issues.
Book Your Personal Consultation
As a veteran, philanthropist, and sports fan, Dr. Saini cares for her community and gives back as often as she can. She is a tireless leader in the Fayetteville area, mentoring students and extending her own mastery of medical education.
As part of Dr. Saini's continued efforts to connect with her North Carolina neighbors, she often contributes to our Blog. Please take a look to see how fascinating and empowering cosmetic enhancement can be! To discuss your own aesthetic perspectives, schedule a consultation at our Fayetteville office.
Preparation
Dr. Saini wants you to harness your best self, before, during and after every session.
During your consultation, you will receive detailed instructions on how to prepare for the day of your procedure(s). You may be advised to quit smoking, especially if you have a surgical appointment scheduled. Nicotine constricts your blood flow, stifles your immune system, and affects your general health.
Procedure
Every procedure is as unique as each patient. Some dermal fillers take as few as 20 minutes to perform, while surgical sessions may require two or more hours. Regardless of the nature of your procedure, Dr. Saini will focus her considerable knowledge and attention to your individual case.
Your overall satisfaction is our greatest concern at Carolina Plastic Surgery!
If an anesthetic will be necessary, Dr. Saini will discuss your local and general anesthesia options to keep you comfortable throughout your procedure. If the doctor makes any incisions, she will place them strategically to conceal them from everyday view.
Recovery
Depending on the extent of your enhancement, you may be asked to arrange for a friend or family member to drive you home from the clinic. Many of our minimally-invasive procedures require no downtime, but others may be more extensive.
Dr. Saini will explain what to expect in the minutes and months following your treatment. Please follow the doctor's directions to ensure a safe, strong recovery from your personalized procedure.
Results
Aesthetic enhancements are not just superficial. Boosting your appearance can also raise your confidence, which may in turn positively affect your job performance and general happiness.
Results vary depending on your personal goals and style.
Dr. Saini has delivered remarkable results to scores of grateful clients. Please visit her Reviews page to get a glimpse of the doctor's expertise in action.
Complementary Procedures
If you have enlarged male breasts, or "man boobs," then you may want to consider a Gynecomastia Treatment. Dr. Saini can remove any unwanted fat from your chest and contour the area to highlight your pectoral muscles. For a beach body worth flexing, consider a trip to Carolina Plastic Surgery, conveniently located in Fayetteville, NC.
Cost
Our caring staff is ready to work within your budgetary constraints to deliver the best care at the right price. We also offer Specials to help reduce costs, so feel free to ask about our latest deals during your next consultation.
FAQ
Do men get Botox?
Yes. In fact, over 467,000 neuromodulator injections were administered to male patients in 2017, according to the American Society of Plastic Surgeons. That represents a 397% increase since the year 2000.
Can guys get tummy tucks?
Of course! Men often struggle with belly fat. Even after losing abdominal weight, males sometimes experience saggy skin or a "muffin top" effect. Dr. Saini can help men in Fayetteville, NC with a safe, effective Abdominoplasty procedure.
References
Sundaram, H., Liew, S., Signorini, M., et al. (2106). Global Aesthetics Consensus: Hyaluronic Acid Fillers and Botulinum Toxin Type A—Recommendations for Combined Treatment and Optimizing Outcomes in Diverse Patient Populations. Plastic and Reconstructive Surgery, 137(5), 1410-1423. DOI: 10.1097/PRS.0000000000002119
Ousterhout, D. (1992). Transconjunctival lower eyelid blepharoplasty. Plastic and Reconstructive Surgery, 89(6), 1176. DOI: 10.1097/00006534-199206000-00036