Gynecomastia Surgery Is a Procedure That Restores Flat, Firm Contours to the Male Chest
Confidence is a virtue. We all want to believe that we can overcome our insecurities and achieve greatness without being dragged down by doubt and shame. But when a person's physique does not reflect their ideal self, it can cast a shadow over their confidence.
Gynecomastia is a common swelling of the breast tissue in adolescent boys and adult men. Enlarged breasts can cause self-consciousness and be potentially difficult to correct through diet and exercise alone. Surgical intervention may be a sensible supplement to your healthy lifestyle.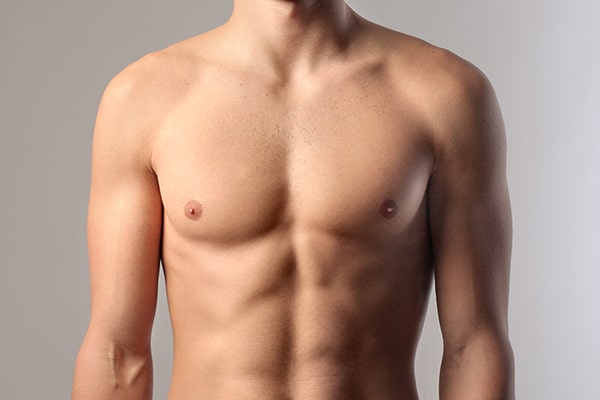 At Carolina Plastic Surgery, our gynecomastia treatment can restore flatter, more masculine contours to the chest and improve your overall appearance. We are conveniently located to serve the areas of Fayetteville, Hope Mills, Lumberton, Eastover, Dunn and surrounding areas of North Carolina and South Carolina. Under the expert leadership of Dr. Saira H. Saini, Carolina Plastic Surgery comprehensively and compassionately addresses the issue of enlarged male breast tissue.
Schedule a consultation to learn how gynecomastia treatment can benefit you. We also provide virtual consultations to suit your lifestyle and healthcare needs. No matter where you log on, Dr. Saini wants to connect with you.
[pg-promo slug="gynecomastia"]
Breast Reduction for Men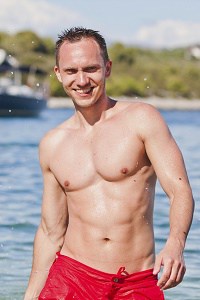 The human body surges with hormones, two of which are estrogen and androgen. During adolescence, these hormone levels rise in both boys and girls. Estrogen is associated with breast development in females, but it can also affect males during puberty, enlarging their breasts. Some young men grow out of their excess chest tissue as their androgen/estrogen levels stabilize, but gynecomastia can persist for other males as they enter adulthood.
Gynecomastia is a common condition that affects either one or both breasts in adolescent or adult males. When men and/or boys experience an enlargement or swelling of the male breast tissue, it may be temporary. When the condition persists, however, many males choose to receive gynecomastia treatment to restore a flatter, more masculine aesthetic to the chest.
Gynecomastia is a completely treatable condition, and it can be caused by several factors.
Causes of Gynecomastia
Hormonal changes caused by puberty or other factors
Certain medications or medical conditions
Weight gain
Additionally, there may be factors that put certain men at risk for developing gynecomastia. Determining the underlying cause of this condition can help ensure that it does not recur after the procedure is complete. These options can be discussed with Dr. Saini during your consultation at our Fayetteville office.
Benefits of Gynecomastia Surgery
The rewards that patients experience after their gynecomastia treatment generally fall into two categories: physical and psychological. The physical benefits of male breast reduction are obvious. Men can achieve a more rugged upper body, free from the sagging, swollen breast tissue they had previously struggled to shed.
The psychological benefits of gynecomastia surgery are even more profound. When the human body adheres to a person's ideal vision, the physical and emotional become aligned.
Men who reduce the size of their breasts can enjoy beach days, form-fitting shirts, and other perks that many people take for granted.
Studies have proven that men who received gynecomastia treatment experienced an overall boost in their quality of life. Their improvement in the area of social functioning, specifically, rose significantly after gynecomastia surgery.[1]
To experience the psychological, physical, and social benefits of male breast reduction for yourself, call (910) 323-1234. A medical professional at Carolina Plastic Surgery will be happy to help you achieve the sleek, strong new you.
Eligible Candidates
Gynecomastia surgery is designed to correct overgrown male breasts and restore masculine chest contours. If you need a skilled surgeon to address excess skin, fat, and/or glandular tissue on your chest, Dr. Saini can help. Contact Carolina Plastic Surgery today to schedule a consultation with Dr. Saini and find out if you are a candidate for gynecomastia treatment.
Private Consultation in Fayetteville
To achieve enhancement, communication is essential, but it is not always easy. Discussing personal matters is… well, personal. You deserve a great listener, and Dr. Saini is a master when it comes to empathy. In her spare time, Dr. Saini mentors high school students, helping them pursue their dreams. She is also a military veteran, and has contributed her considerable talents in philanthropic missions to Afghanistan and Iraq.
You can learn more about Dr. Saini on our blog. It is a great way to familiarize yourself with Carolina Plastic Surgery in advance of your initial consultation.
Dr. Saini will assess your anatomy and provide a diagnosis, carefully distinguishing between pseudogynecomastia and gynecomastia.[2] Pseudogynecomastia is an enlargement of the male breasts resulting mainly from excess fat, whereas gynecomastia involves glandular tissue. Dr. Saini will strategize a surgical solution based on her findings from your comprehensive consultation. Please call (910) 323-1234 to schedule an appointment and empower your physique.
Preparation and Procedure
During your consultation, you will receive detailed instructions to prepare you for gynecomastia surgery. These directions will be tailored to your anatomy and treatment, so please follow them carefully.
If your condition is characterized by excess fat alone, liposuction may be sufficient to address your concerns. When gynecomastia is more pronounced, Dr. Saini may recommend removing glandular tissue and loose skin to bring taut, flat contours to the chest.
Gynecomastia does not always go away by itself. At Carolina Plastic Surgery, we can help restore your confidence in your body image with gynecomastia treatment. This procedure may vary depending on the level of correction required, but minimal incisions are used to create as little post-surgical scarring as possible.
Healthy Recovery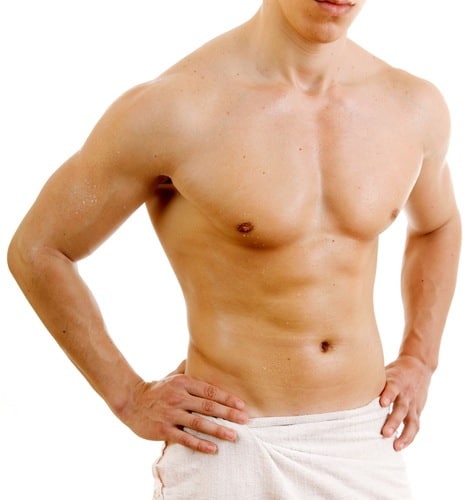 Since minimal incisions are used during the male breast reduction procedure, the recovery time is fast for most patients. Some residual swelling, bruising, and slight discomfort may persist shortly after the procedure. Dr. Saini will discuss how much time you should take off work and indicate which activities to avoid during recovery. During your comprehensive consultation, your medical representative will explain what you can expect during the treatment and healing process.
Incredible Results
Most patients experience full results after the initial healing process is complete, which is typically between 2-4 weeks. During that time, you may be encouraged to massage the chest area to facilitate optimal circulation. Please call (910) 323-1234 with any questions you may have regarding recovery and results.
Most gynecomastia surgery recipients do not require any follow-up procedures. Dr. Saini can help identify the source(s) of your gynecomastia to help ensure that this condition does not recur in the future. To get a glimpse of how thorough and skilled Dr. Saini truly is, check out her rave reviews page. She is thrilled to provide 5-star service to Fayetteville, North Carolina and beyond.
Complementary Procedures
Breast reduction surgery will help flatten and define the chest, but you may also struggle with excess fat and skin along other parts of the upper body. To address these concerns, consider an arm lift at Carolina Plastic Surgery. Your biceps and shoulders can show off their tight, toned contours once Dr. Saini is done with them!
Guys can also benefit from a full menu of aesthetic procedures such as Botox and chemical peels. Dr. Saini can remove that stubborn muffin top and reduce the size of a double-chin. Click on our comprehensive Cosmetic Procedures for Men page to learn how Carolina Plastic Surgery addresses your needs, one procedure at a time.
FAQ
How much does gynecomastia treatment cost in Fayetteville?
The price of gynecomastia surgery involves several factors. Liposuction alone costs less than a more extensive procedure that addresses excess glandular tissue and loose skin. During your comprehensive consultation, Dr. Saini will give you an accurate estimate of your treatment's budgetary breakdown. Carolina Plastic Surgery is proud to offer financing options to help patients manage costs. We also run occasional specials, so check back often to save on aesthetic enhancement. 
Is male breast reduction surgery permanent?
Nothing in life is permanent, but gynecomastia surgery reduces male breasts for years or even decades. The glands responsible for breast growth are addressed, preventing them from creating more gynecomastia symptoms. Weight gain may detract from the results of your procedure, but maintaining a healthy lifestyle will extend the benefits of male breast reduction well into the future.
Is gynecomastia treatment safe?
Gynecomastia surgery is a delicate procedure that should only be trusted with an experienced, board-certified professional. Dr. Saira Saini understands the parameters of successful breast reduction, and she will deliver transformative results while simultaneously honoring the patient's natural contours. Call (910) 323-1234 to schedule an appointment with Dr. Saini, or connect online for a virtual consultation. 
References
Kasielska-Trojan, A., Antoszewski, B. (2017). Gynecomastia Surgery—Impact on Life Quality. Annals of Plastic Surgery: 78(3)264-268. DOI: 10.1097/SAP.0000000000000860
Johnson, R. E., & Murad, M. H. (2009). Gynecomastia: pathophysiology, evaluation, and management. Mayo Clinic Proceedings. 84(11)1010-1015. https://doi.org/10.4065/84.11.1010