Scarring is the body's natural healing response to skin damage. It's made of fibrous tissue that's different from our regular skin, and can often appear as a red or white mark on the affected area. But, while they heal the skin, scars can be conspicuous and embarrassing. Luckily, there are many non-surgical, minimally-invasive, and surgical ways for people to reduce the appearance of scarring.
An estimated 55 million elective scar reduction procedures are performed annually.(1) Men and women choose scar treatment for a number of reasons. Scars are not as elastic as our regular skin, due to a reduction of elastin in the area, so this means they can feel stiff and uncomfortable. What's more, over time, nerve endings can regenerate in areas of trauma, causing the scar to become painful. As scars are often unsightly, this can also have a negative impact on our self-esteem and quality of life.
At Carolina Plastic Surgery, Dr. Saira Saini offers a range of treatment options to improve the appearance of your scars. She's an accomplished plastic surgeon who specializes in cosmetic and reconstructive surgery, as well as the latest in skincare treatments. So, she can tailor her expert advice to your individual needs and find the solution that's best for you. To book a private scar revision consultation at our Fayetteville office, please get in touch with us at (910) 323-1234. Or, you can fill out a simple online inquiry form with your request.
About Scars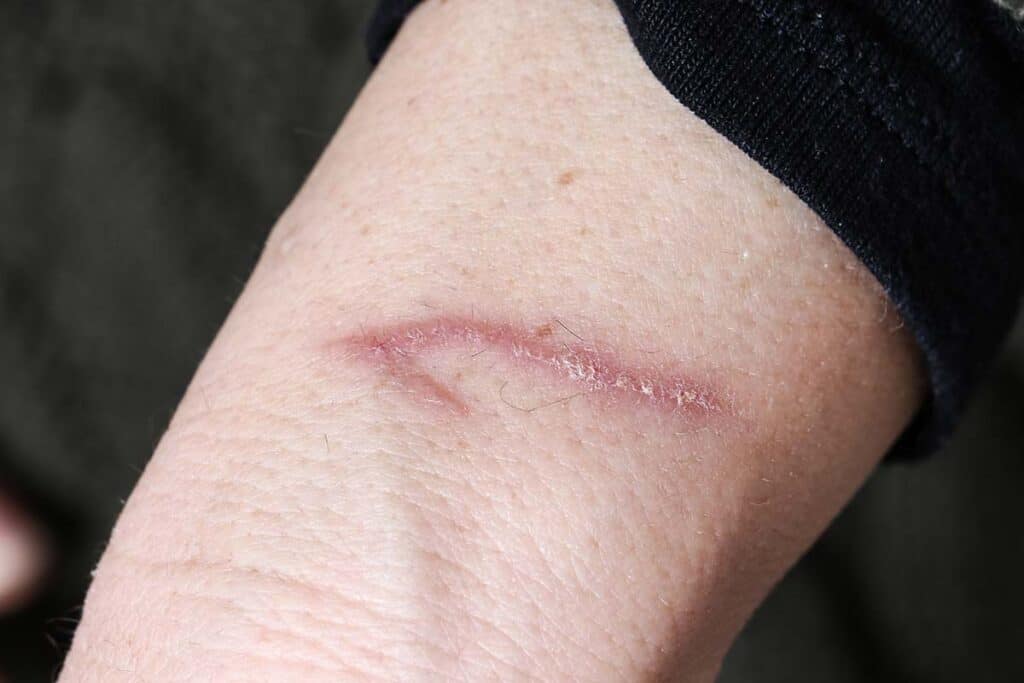 Scarring can occur as a result of a medical condition, trauma, or surgical procedure. Many people suffer from acne, which can cause skin texture changes and can result in raised areas, pitted areas, or a combination of the two. Acne and other inflammatory skin conditions can also cause redness that does not go away on its own, known as hyperpigmentation. Scars can also be caused by burns. Heartbreakingly, there are over 500,000 burn patients every year in the United States alone.(2) Additionally, many injuries require surgery that causes scarring. Although surgeons make every effort to close wounds in an aesthetically pleasing manner, it's often hard to predict how the body will react during the healing process. In some cases, scars do not heal as expected, and can appear very dark, elevated, or both.
How Do Scars Form?
Scars form when the upper layers, or epidermis, and lower layers of the skin, the dermis, are damaged. When skin breaks, the body produces more collagen as part of the healing process. This helps to strengthen the tissue, but can also cause the area to become raised and discolored.
Types of Scarring
Scars are broadly categorized into two groups; pitted, or atrophic scars, and raised, or hypertrophic scars.
Atrophic Scars
When the skin is unable to regenerate, an atrophic scar can develop under the normal layer of skin tissue. These recessed scars can form as a result of conditions such as severe acne, and chickenpox. There are pitted scar sub-classifications:
Icepick: Deep and narrow scars that extend to the deeper layers of the skin.
Boxcar: Round or oval scars with sharp vertical edges, wider than icepick scars.
Rolling: Fibers anchor to the lower levels of the skin abnormally, causing a rolling appearance
Keloid and Hypertrophic Scars
Raised, hypertrophic scars develop between 6-8 weeks after an initial injury. Though they appear quite rapidly, they can fade over a period of a few years, and appear less raised over time. In contrast, some injuries can lead to keloid scars, which may appear many years after the initial injury. They are firm, rubbery nodules that develop as a result of skin trauma or inflammation. Although patients with lighter skin can develop keloids, they are more prevalent in those of African, Asian, and Hispanic descent.(3)
Hyperpigmentation
Atrophic and hypertrophic scars can cause hyperpigmentation, also known as hypermelanosis. The scar can appear much darker than the surrounding skin and can be the result of an inflammatory skin condition like acne or a skin injury. Epidermal hyperpigmentation can be tan, brown, or darker in color and may last for months, or even years without treatment.(4)
Scar Treatments at Carolina Plastic Surgery
Icon Laser Scar Revision
An Icon laser treatment can rejuvenate your skin by resurfacing its upper layers, reducing the appearance of scarring. It's a non-ablative intense pulsed light (IPL) laser system, which means that it can penetrate the deeper layers of the skin while the top layers remain intact. Dr. Saini can improve scarring through focused microbeams of light that stimulate new collagen production. The skin repairs and replenishes itself and scarring is significantly reduced.
Medical Needling
SkinPen medical microneedling is an in-office procedure that uses small, adjustable needles to induce a controlled injury in the area of treatment. This is then followed by a chemical peel. This combination aids skin restructuring and scar reduction. The procedure differs from conventional cosmetic microneedling with the inclusion of a customizable chemical peel, and can also deliver effective topical skin healing agents directly into the skin. These techniques and tools can only be used by a trained medical professional. Medical needling procedures are clinically proven to be well-tolerated, with high levels of patient satisfaction.(5) A neurotoxin (such as Botox) and hyaluronic acid can also be used on the face and neck to improve signs of aging, scars, and even stretch marks!
Steroids for Scars
Dr. Saini may suggest corticosteroids for raised or abnormal scars. Steroids can break collagen fiber bonds in the tissue, and reduce inflammation, which can diminish their appearance. She can inject directly into the scar itself which can also help to decrease discomfort, and soften the scar. Depending on your circumstances, several sessions may be required to achieve the best results. Although steroids are a great choice for many patients, there are some side effects, so be sure to ask about the risks and possible outcomes of this form of treatment with Dr. Saini at your consultation.
Skin Lightening
Topical skin lightening creams can help reduce the appearance of hyperpigmented scarring. Skin bleaching agents like hydroquinone can reduce redness and fade scars with continued daily application. Hydroquinone is the most prescribed skin bleaching agent, however other substances can be combined to produce the same effect.(6) Triple combination cream (TCC) contains 4% hydroquinone, 0.05% tretinoin, and 0.01% fluocinolone, and may be a good option for some patients.(7)
Surgical Scar Revision
In a surgical scar revision procedure, Dr. Saini can address more serious scarring. Many patients who are dissatisfied with a scar from a prior surgery choose this option if they don't like how it looks. The original scar tissue can be removed entirely. The unsightly scar is carefully marked and cut out, usually via a W or Z-shaped incision. Once all of the scar is removed, Dr. Saini can skillfully close the skin so it heals more subtly, for a more aesthetic appearance. Over time, the new scar can incorporate well into the surrounding skin and its appearance can be well hidden.
Which Scar Treatment is Right for Me?
The best way to find out which scar treatment is right for you is to book a personal skin consultation with Dr. Saini. During this meeting, you can discuss the skin issues you have, and your goals for treatment. We'll ask you to provide some additional information about your medical history, including any surgeries or trauma you have experienced that caused your scarring. After a thorough examination of the area, Dr. Saini will recommend a treatment plan tailored to your needs.
Don't wait! Receive simple, hassle-free scar treatment from Dr. Saini at Carolina Plastic Surgery. Call our Fayetteville office at (910) 323-1234, or contact us online to book your appointment.
Cost of Scar Treatment in Fayetteville, NC
The cost of scar treatment depends very much on your personal circumstances. Factors such as the location and age of the scar may affect your treatment outcomes. Qualified candidates may wish to seek financing for their procedure.
For skin health tips, and the latest plastic and reconstructive surgery news, feel free to read the Carolina Plastic Surgery blog. You can also like and follow us on Facebook, Instagram, and Twitter!
FAQ
Can I get laser scar treatment if I'm taking retinoids for my acne?
Retinoids usually don't mix well with laser treatments, particularly ablative techniques. Be sure to list all the medications you are currently taking on your intake forms before treatment. Your provider may recommend an alternative to laser scar treatment if it is not suitable for your particular circumstances.
Is medical microneedling better than laser for scars?
Both medical microneedling and laser treatments can be very effective in reducing the appearance of scarring. To find out which treatment is best for you, you should book an evaluation with a skin specialist. After they have reviewed your medical history, and have taken a good look at the scarring, they will draw up a treatment plan that will be most effective for the type, size, and location of the scarring you have.
Can topical steroids reduce the appearance of darker scars?
Topical steroids and steroid injections are skin bleaching agents, so they can be a good option for people who want to reduce the appearance of scarring. However, they can come with some side-effects, including thinning of the skin. Speak to your provider to find out if steroids are right for you.
References