The Brazilian Butt Lift is more than a makeover for your behind; it's a unique combination of liposuction and butt augmentation. It simultaneously tightens and tones while creating a sexy, curvaceous butt. If you've been thinking about buying that sexy bikini, but aren't satisfied with your rear-view, let Dr. Saira Saini help you achieve the body of your dreams.
About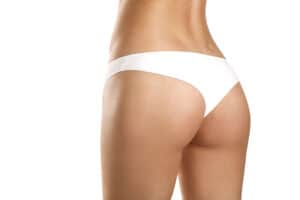 Brazilian Butt Lift is an individually considered series of fat removals and transfers, and Brazilian plastic surgeons have been performing this procedure for more than 30 years.(1)
Like Natural Breast Enhancements, this procedure uses the patient's own body fat. Patients are able to remove undesirable fat from targeted areas while sculpting a rounder, more voluptuous butt. The ability to draw this fat from the waist, thighs, or arms allows cosmetic surgeons to create the classic hourglass figure while creating a perky, youthful butt. Achieve your own stunning proportions with this innovative combination of liposuction and fat transfer!
[pg-promo slug="brazilian-butt-lift"]
Benefits
The Brazilian Butt Lift is a great butt augmentation option for patients interested in accentuating their buttocks while simultaneously slimming and sculpting other areas of their body. Affectionately known as the BBL, this procedure offers more natural-looking results than butt augmentations that utilize silicone butt implants. Furthermore, the patient's natural fat grows and ages with the patient to maintain a realistic set of curves over time. Patients experience minimal scarring due to the tiny, delicate incisions for extraction and injection sites.
This popular procedure is a fabulous solution for patients who want to improve the appearance of their sagging, small, or asymmetrical buttocks.
Candidates
The following factors can affect the shape and projection of your derriere, and may make you a candidate for a BBL:
Pregnancy
Sun Damage
Aging
Previous Weight Fluctuations
Genetic Factors
Dr. Saini is committed to the health and satisfaction of her patients. The ideal candidate for this procedure must have an adequate amount of excess fat. Fat can be removed from the thighs, back, arms, abdomen, or hip area. Very slender patients may not qualify for a Brazilian Butt Lift.
The ideal Brazilian Butt Lift candidate is in good health and exercises regularly, but finds that working out has not improved the projection of their derriere.
Overweight or obese patients will need to get closer to their target weight before exploring the possibility of a BBL. Another crucial consideration is the patient's skin elasticity. This ensures that the liposuctioned areas contract to the newly slimmed form without sagging.
Personal Consultation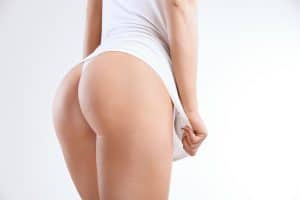 Dr. Saini carefully evaluates if a Brazilian Butt Lift is right for each individual patient. A comprehensive personal consultation is necessary before undergoing this procedure. During your consultation, Dr. Saini will carefully evaluate whether you have adequate fat deposits, and identify the areas that would benefit the most from liposuction. After understanding the patient's aesthetic goals, Dr. Saini will then create an individualized surgical plan. Because patient safety and satisfaction always comes first, she is always eager to work with her patients to find the best solution. If a BBL isn't the best approach to achieving their cosmetic goals, Dr. Saini will be able to recommend the ideal course of treatments.
Your custom surgical plan will include the best areas for liposuction, the best injection locations on the buttocks, special preparation, and custom recovery instructions to provide optimal results. Dr. Saini will be able to provide you with a quote at this time as well. You can now sign up for a complimentary virtual consultation, so that you can learn more about this exciting procedure from the comfort of your home. Contact Dr. Saini's Fayetteville offices now to get started on your transformation.
Preparation
You'll want to plan ahead for your Brazilian Butt Lift, and Dr. Saini and her dedicated staff will make sure that you're completely prepared for before and after your procedure.
Get Ready for Your New Butt!
Make sure that you fill your prescriptions ahead of time, and arrange for rides to and from your appointment. Having a recovery buddy is a great way to ensure that you'll have support you need after surgery.
Choose a comfortable area of your home in which to recover. You'll want a place where you can rest and lie on your stomach with ease. Make sure you're fully stocked with medications, entertainment- and snacks! For the morning of your appointment, wear loose, comfortable clothes that won't put pressure on your bum and liposuction areas. We want you to have a stress free morning, so we encourage each patient to arrive early.
Procedure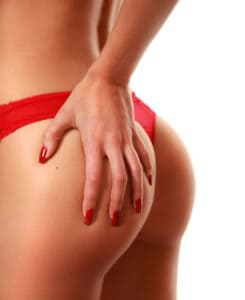 Once you're comfortably settled, you'll be administered anesthesia, and Dr. Saini will mark the liposuction locations and injection points as discussed in your consultation. Dr. Saini will then strategically remove unwanted fat to start to create your new beautiful contours. Unlike in regular liposuction, fat is harvested with an innovative liposuction technique that preserves the fat graft. This graft is collected through a specialized cannula, or thin tube, and stored in a specially designed medical vacuum. Once the fat has been removed, it is carefully cleansed and purified in a centrifuge.
After the patient's fat has been properly refined, Dr. Saini uses her cosmetic artistry. She strategically injects the fat into the buttocks to sculpt a set of attractive new curves. This is a meticulous process that requires great care and attention. Small amounts are injected at a time in order to ensure even, symmetrical results. This also helps the fat graft gain a decent blood supply so it lasts in the new location. Not all fat adapts to the transferred location, so slightly more augmentation is added to compensate. Once the injections are completed, you'll be taken to a recovery room where you'll comfortably wake from the anesthesia with the care of our attentive and caring nursing staff.
Recovery
Dr. Saini and her team make it their goal to ensure that all of their patients have the fastest and most comfortable recovery possible. 
Following their procedure, BBL patients must wear a special compression garment to ensure that proper healing takes place. This must be worn at all times, unless bathing, until otherwise instructed. All Brazilian Butt Lift patients must refrain from putting any weight on their buttocks for the first two weeks. During this time period, they should lay or sleep on their stomachs. Most patients can return to a desk job in two to three weeks.
Pain, swelling, bruising, and soreness usually subside within two months of treatment, but light exercise can help remedy these effects more quickly. In fact, light activities like walking are encouraged throughout the recovery period to help blood flow. Make sure that you stay hydrated, and get plenty of rest.
Postoperative discomfort or pain can be managed with prescription medication or Tylenol. Patients should refrain from taking anti-inflammatory medications like ibuprofen and Advil until otherwise instructed by Dr. Saini.
Results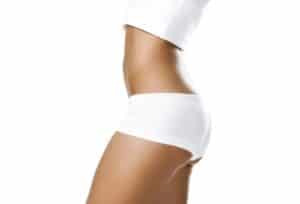 Brazilian Butt Lifts have improved significantly in technique and in outcomes since their rise in popularity over the past decades.(2) Brazilian Butt Lift results can be seen immediately after surgery, but best results are seen about six to eight months after the procedure. During that time, the fat graft is gaining a new blood supply in the buttocks. After about eight months, the projection and shape seen will be the long-lasting augmented results.
Complementary Procedures
Patients who receive a Brazilian Butt Lift may also undergo breast augmentation or a tummy tuck for ultimate body contouring. The ideal breast augmentation procedure will be based on the patient's aesthetic goals and body frame. Dr. Saini is always happy to offer her expert opinion. If lax skin is a concern after weight loss or pregnancy, a tummy tuck may be recommended. This procedure removes excess abdominal skin and tightens the muscles. The combination of a flatter stomach and bigger behind will give patients a fantastically contoured body with the perfect hourglass shape. You can learn more about other procedures on Dr. Saini's blog.
Cost of a BBL in Fayetteville
Brazilian Butt Lifts vary in cost based on different factors, such as the amount of liposuction performed, the amount of injections, and anesthesia. To receive an estimation of costs, please contact our Fayetteville office to schedule a Brazilian Butt Lift private consultation with Dr. Saini.
FAQ
How much does a BBL cost?
The cost of a Brazilian Butt Lift can vary, and every patient's body and desires are different. After an examination and review of your medical history, Dr. Saini will be able to craft a personalized treatment plan, and provide an accurate estimate. Schedule a consultation now.
What happens if I lose or gain weight after my BBL?
For optimal results, patients should maintain a stable weight. Fat cells can decrease in size from weight loss, so to maintain results, significant weight fluctuation should be avoided. Alternatively, gaining some weight can increase the buttocks after BBL. 
Can I get a breast augmentation at the same time I'm getting a Brazilian Butt lift?
Breast augmentation fat transfer can usually be performed in the same surgical sessions with the same fat graft harvested from the procedure. Dr. Saini may recommend undergoing breast augmentation in a separate surgical session if she feels it would be safer and easier recovery for the patient.
References
Cansancao, Alvaro Luiz M.D.; Condé-Green, Alexandra M.D.; Gouvea Rosique, Rodrigo M.D., Ph.D.; Junqueira Rosique, Marina M.D., Ph.D.; Cervantes, André M.D. "Brazilian Butt Lift" Performed by Board-Certified Brazilian Plastic Surgeons: Reports of an Expert Opinion Survey, Plastic and Reconstructive Surgery: September 2019 – Volume 144 – Issue 3 – p 601-609 doi: 10.1097/PRS.0000000000006020
Chia, Christopher T. M.D.; Theodorou, Spero J. M.D.; Dayan, Erez M.D.; Tabbal, Georges M.D.; Del Vecchio, Daniel M.D. "Brazilian Butt Lift" under Local Anesthesia: A Novel Technique Addressing Safety Concerns, Plastic and Reconstructive Surgery: December 2018 – Volume 142 – Issue 6 – p 1468-1475 doi: 10.1097/PRS.0000000000005067