There are many reasons why men and women may have
excess sagging skin
on their upper arms, such as weight loss, age, or genetics. Excess skin on the arms can cause a person to
feel self-conscious
and shy away from arm-revealing clothing, even in hot weather. This cosmetic concern can be corrected through a Brachioplasty procedure at Carolina Plastic Surgery. Arm contouring has become
a very sought-after procedure
within Dr. Saini's practice. To find out more about this procedure, please
contact
our office and schedule your private consultation with arm lift expert Dr. Saira Saini.
This procedure can help you achieve a more aesthetically pleasing figure, leaving you more willing and confident to show off your improved arm definition.
What is an Arm Lift?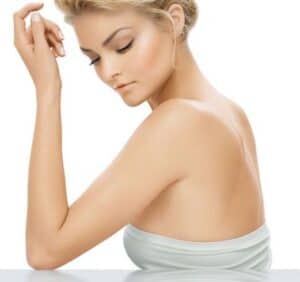 Loose skin on the upper portion of the arms can be a result of
weight loss
or simply part of the natural aging process. Sagging arm skin can prevent you from fitting comfortably into certain types of clothing or from wearing short sleeve shirts altogether. An arm lift, also known as a
brachioplasty
, can help you to attain slimmer, better-defined arms by removing the excess skin. This procedure is ideal for men and women who are self-conscious about the
irregular shape
and movement of their upper arms. In this case, Brachioplasty can be
a perfect solution
to correct these concerns. There are several arm lift techniques that can be performed to help achieve your aesthetic goals. However, this treatment does not automatically include the removal of excess fat on the arms. If you are looking to
remove excess skin
, as well as unwanted fat, you may require additional liposuction. For more information and procedure details, please
contact
the office of Dr. Saini and
request your consultation
.
Brachioplasty Benefits
Remove excess skin that is unresponsive to exercise
Tighten underlying tissues when indicated
Improved proportion and contour
Heightened confidence
More clothing options
Good Candidates
In order to determine if you are
a candidate for an arm lift
procedure, you will need to schedule a consultation with Dr. Saini. At this time she will listen to your aesthetic concerns and goals, as well as evaluate your health and medical history. To be considered for this procedure, you must be
in good health
and maintain reasonable expectations for the procedure outcome. You should be at a stable weight, and if you are a weight loss patient, it is essential that you have arrived
at your goal weight
before undergoing this procedure.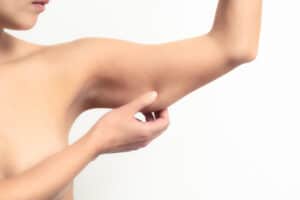 Future
weight fluctuations
can negatively impact the final results of the arm lift. It is essential that you do not have any underlying health conditions that can pose a risk to an effective recovery and healing. You
should be a nonsmoker
; patients who do smoke will be asked to quit before their surgery. Regardless of the cause, Dr. Saini can correct sagging skin in this area with an arm lift. If you have
excess fat
that resides within this region, Dr. Saini will either suggest pairing this procedure with liposuction or recommend considering this procedure after the
excess fat has been diminished
through diet and exercise.
Consultation
During the initial consultation with Dr. Saini, she will ask you
about your particular concerns
and overall goals for the brachioplasty procedure. At this appointment, she will be assessing your medical history, specifically looking at your current health, routine medications, previous surgeries if any. This will help the doctor to ensure that an arm lift procedure will be a safe and
effective option
to help you achieve your goals. She will then conduct a physical examination to identify your specific concerns and make the
final determinations
for candidacy.
If you are deemed a good candidate, Dr. Saini will work with you to construct a custom treatment plan that is designed based on your exact wants and needs.
Before leaving our office, you will be given the opportunity to
schedule your arm lift
; however, there is no obligation to do so. Dr. Saini understands that this is an important decision that should be made among friends and family to ensure you have
a good support system
before undergoing this surgery. If you require
additional or alternative treatments
to provide the desired results, Dr. Saini will make these recommendations at the time of the consultation. To find out if you would be a candidate for the Brachioplasty procedure, you can click here or call Carolina Plastic Surgery of Fayetteville at (910) 323-1234 to
request your consultation
today.
Brachioplasty Techniques
Dr. Saini offers several
different brachioplasty techniques
to provide treatment options for a variety of cases. Depending on the amount of sagging skin and/or fat on the upper arms, the doctor will give her expert recommendations to ensure you
attain the aesthetic
that you are looking for.
Traditional
The traditional arm lift is the
most commonly chosen
brachioplasty procedure and is the technique that patients often associate with this surgery. The incision used for this method runs from the armpit to the elbow along the underside of the arm where any scarring will be least noticeable. The traditional arm lift is best if you have
excess skin that droops
from their upper arms. Once the excess skin has been removed, Dr. Saini will join the remaining skin, pulling it tight to improve the arms shape and contour.
Mini
A mini arm lift is best if you only require
mild skin tightening
on the upper arms. The incision for this procedure only spreads across the armpit. Dr. Saini will remove the small amount of excess skin and pull the remaining skin tight and close the incision. Any remaining scarring will be
nicely camouflaged
within the natural creases of the armpit. This procedure treats explicitly excess skin that is
adjacent to your armpit
.
Extended
An extended arm lift treats the
most severe cases
of arm skin laxity. Although this procedure does require the most extended incision, the amount of treatment it provides is exceptional. The incision for this procedure runs
from the elbow to the armpit
and along the side of the chest. Because this technique removes the largest amount of skin, it is usually reserved for patients who have undergone
significant weight loss
.
Liposuction
Liposuction
can be
performed alone or in conjunction
with one of the aforementioned arm lift techniques to remove excess fat deposits on your upper arms, providing an even better contour. Liposuction is performed by making small incisions near the treatment area. Through these incisions, Dr. Saini will insert a cannula that uses high power suction to
remove the fatty cells
from the arms. During the consultation, the doctor can recommend if liposuction would be beneficial to
enhance your results
further.
The Procedure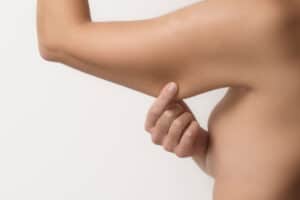 An arm lift is performed on an outpatient basis under general anesthesia. The surgery itself
takes about 2-3 hours
from beginning to end. During your consultation with Dr. Saini, your surgical options will be discussed, as well as what to expect from this surgery. This will help you to
properly prepare
for your procedure.
The extent of this procedure will depend on a multitude of factors, such as the level of correction desired, your surgical preferences, and if additional procedures are being combined to provide more comprehensive results.
Every procedure is performed in such a way that provides
minimal visible scarring
and short recovery times. If you require liposuction, the doctor will perform this procedure before beginning the arm lift. Next, the doctor will make the necessary incisions to
remove an adequate amount of excess skin
throughout the upper arms. Once she has achieved the desired definition, Dr. Saini will close the incisions using sutures and will wrap the arms in compression sleeves. You will then be escorted to the recovery area.
Recovery
Once in the recovery area, you will
stay for a couple of hours
before being released to finish your healing in the comfort of your home. Each patient heals differently, but some mild swelling, bruising, and discomfort can be expected after your brachioplasty surgery. Dr. Saini recommends that you walk briefly the night after your procedure to help improve circulation and
reduce the risk of clotting
. The compression sleeves should be worn constantly through the recovery stage to allow the skin to form nicely to the new contour of your arms. You will be provided with
any necessary aftercare instructions
to reduce the risk of infection, as well as a prescription for pain medication to help alleviate any discomfort during this time. Dr. Saini can help you determine when to
safely return to work and normal activities
. Our office will help you schedule follow-up appointments so Dr. Saini can monitor your healing and progress to
ensure optimal results
. In general, she recommends that you refrain from daily activities for about 5-7 days. More strenuous movements and exercises should be avoided for about 10-14 days following the procedure.
Cost
The cost of your arm lift procedure will vary depending on the
extent of treatment
that you require and if you and the doctor decide to pair the arm lift with additional procedures, such as liposuction. To obtain your
custom quote today
, please
contact
Carolina Plastic Surgery and schedule a consultation with Dr. Saini. There is no better time to
tighten and tone
your upper arms with brachioplasty surgery.