A brighter, beaming expression is a sign of vitality and youth. Your drooping eyelids may make you look sad or sleepy, but that's not the real you! Your expressions must express how you feel inside or else you're sending mixed signals to your friends and loved ones. If you're concerned your droopy lids could confuse colleagues and confidants, then consider surgical relief. The road looks bright ahead with blepharoplasty (eyelid surgery).
Dr. Saira H. Saini is dedicated to bringing the finest in aesthetic enhancements to her Fayetteville community. Contact Carolina Plastic Surgery to get the conversation started. Call (910) 323-1234 and schedule a consultation. If you prefer, we now offer Virtual Consultations, as well.
About Blepharoplasty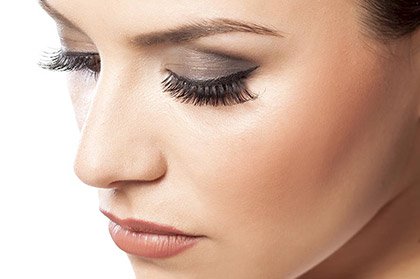 Some people are born with droopy eyelids. Others have a high susceptibility to them. Ptosis is a medical condition that describes severely drooping eyelids. In the worst cases, it can obstruct one's vision.[1] But ptosis will almost certainly obstruct one's clear communication because of the importance of the eyes in both verbal and nonverbal expression.
Ptosis of the eyes results from naturally occurring skin laxity as we age. Aging skin hangs over the eyes, making us appear sad, tired or angry. Blepharoplasty is a surgical procedure that lifts and tightens the skin around the eyes.
Targeting either the upper or lower eyelids (or both) depending on your individual condition, blepharoplasty can correct multiple signs of aging in the eye area.
Blepharoplasty Targets
Loose or sagging skin that can sometimes impair peripheral vision
Excess fatty deposits that can cause puffiness in the lower eyelids
Bags underneath the eyes
Lower eyelids that droop and reveal the white iris of the eye
Extra skin and fine wrinkles in the lower eyelid
Depending on your condition, Dr. Saini may employ various techniques to achieve optimal results without compromising your natural appearance.
Read our blog to learn more about our visionary procedures at Carolina Plastic Surgery.
Benefits
An eyelid lift will remove the lax and sagging skin that droops over your eyes. Blepharoplasty is safe and simple. The procedure is less than an hour. You can look forward to a short recovery and minimal scarring thanks to Dr. Saini's skilled surgical hand. Blepharoplasty improves eyesight by removing obstacles from your field of vision.[2]
Candidates
There are many qualified candidates for this rejuvenating procedure. They include men and women who have drooping, sagging, or hooded eyelids, who have impaired peripheral vision as a result of loose eyelid skin, or who look older than they really are as a result of eyelids.
Most candidates for eyelid surgery are 30 years old or older who are in good health and who have no other eye conditions. Patients should not have any eye disease, such as glaucoma, dry eye or a detached retina.[3]
There are also conditions that are likely to disqualify you for any surgery, including blepharoplasty, such as Graves' disease, cardiovascular disease and diabetes. Be realistic about the expectations you have for blepharoplasty. Eyelid surgery can enhance your appearance and help build your confidence. However, you should not expect the surgery to drastically change your look.
Your Private Consultation With Dr. Saini
Feed your curiosity with a fascinating consultation with Dr. Saira H. Saini! She is the only board-certified, female plastic surgeon practicing within a 70-mile radius of Fayetteville, North Carolina. Ask her questions and take comfort that you have made the right decision coming to Carolina Plastic Surgery. Together, you and the doctor will come to a consensus on your cosmetic course of treatment.
Dr. Saini's positive reviews are evidence of her many successes. Soon you will experience Carolina Plastic Surgery for yourself. At your personal consultation, Dr. Saini will conduct a brief physical examination and an intake interview. She will qualify you for an eyelid lift or an appropriate alternative.
Preparation
Faithfully follow Dr. Saini's preoperative instructions. Fill any necessary prescriptions ahead of time. Be sure to set up a reliable ride home on your surgery day. Consider arranging for the care of any children or pets.
Blepharoplasty Procedure
Blepharoplasty can be unique for everyone, depending on the level of correction you desire. Dr. Saini will typically hide incisions in the natural folds and creases of the eyes to minimize visible scarring. She will carefully remove excess skin and small pockets of fat to restore a more youthful aesthetic to the eye area.
Dr. Saini generally performs blepharoplasty by placing the patient under local anesthesia. If she will be working on both your upper and lower eyelids, she will begin with the upper pair first.
Eyelid lift is an outpatient procedure, seldom lasting longer than an hour.
Dr. Saini begins with a careful incision along your lid's natural crease to remove loose skin and fat. The upper portion of the operation concludes as Dr. Saini delicately sutures each end of the incision together along the same eyelid crease in which she started.
In the lower lid surgery, Dr. Saini makes her incision just below the lashes. Again, she will remove extra fat and skin as needed. And then, ever so carefully, she sutures the incision closed.
Recovery
One of the benefits of blepharoplasty is its blessedly brief recovery time. The worst bruising and swelling will appear the day after eyelid surgery. This should soon fade. During the first two days, you can use cool compresses to reduce bruising and swelling around the eyes and face.
Be sure to get up and move around periodically as the boost to your blood flow should aid in healing.
Keep your postoperative appointments: your bandages are due to be removed within several days while the stitches can remain in the skin for about a week. Sometimes self-absorbing stitches are used that do not require removal.
Most people return to normal activities after seven to ten days following blepharoplasty. By two weeks after eyelid surgery, the majority of the bruising and swelling will resolve.
Complementary Procedures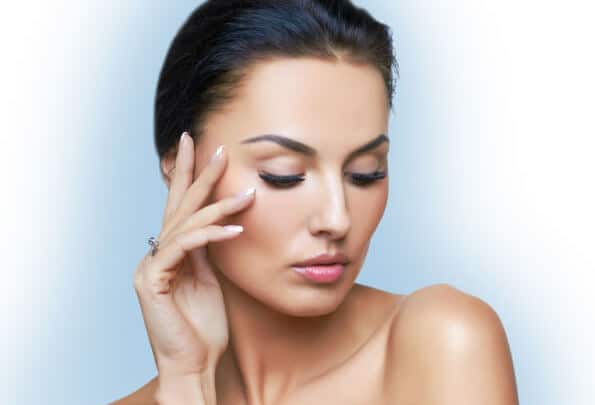 Our eyelid lift is commonly paired with Brow Lift for comprehensive rejuvenation around the eyes. A brow lift raises loose skin at the forehead so your wrinkled, sagging browline will not contribute to a confused or grumpy demeanor. Dr. Saini removes the excess skin so that the upper quadrant of your face will have a taut and youthful look.
The signs of aging may affect more than just your eyes. In many cases, patients experience skin laxity throughout their entire face. In these instances, Dr. Saini may recommend a Facelift for complete skin-tightening across your entire visage.
How Much Does Blepharoplasty Cost in North Carolina?
Your Blepharoplasty is a personalized procedure, just as the twinkle in your eye is unique to you. Dr. Saini will quote you a cost estimate at your private consultation.
Contact Carolina Plastic Surgery today to schedule a consultation and find out if you are a candidate for blepharoplasty surgery to rejuvenate your eyelids and refresh your overall appearance.
Financing options are available for patients who qualify. Check our specials page for opportunities to save. We now have Virtual Consultations available for our patients.
The Road Looks Bright Ahead
Affirm your future with a look that looks the way you really feel inside. The eyes have it! Eyelid surgery will brighten your appearance and accurately express your vigor to your colleagues and loved ones. The road looks bright when your beaming gaze can look ahead, unobstructed and unencumbered.
FAQ
Are you awake during blepharoplasty?
Blepharoplasty is usually an outpatient procedure lasting between one to three hours. Normally you'll be given local anesthesia. That means you'll be sedated and the area around the surgery will be numbed. You're awake during the surgery, but relaxed and feeling no pain.
Is eyelid surgery painful?
Fortunately, blepharoplasty is not an especially painful procedure, according to patient reports. Your plastic surgeon may prescribe medication to manage any acute discomfort. After the first few days of recovery, many post-op patients find that ibuprofen will suffice. Cold compresses reduce swelling and bruising at the eyelids and also help numb pain.
Does upper eyelid surgery make you look younger?
Blepharoplasty will, indeed, make you look younger. An eyelid lift will enhance the appearance of the eyes. Saggy or drooping eyelids can be an age-defining feature for many people, making you appear older than you really are. Most people consider eyelid surgery to remove the excess sagging skin. Blepharoplasty creates a more alert and youthful eyelid appearance.
References
Zoumalan, C. I., & Roostaeian, J. (2016). Simplifying Blepharoplasty. Plastic and Reconstructive Surgery, 137(1). doi: 10.1097/prs.0000000000001906
Codner, M. A., Kikkawa, D. O., Korn, B. S., & Pacella, S. J. (2010). Blepharoplasty and Brow Lift. Plastic and Reconstructive Surgery, 126(1). doi: 10.1097/prs.0b013e3181dbc4a2
Hidalgo, D. A. (2011). An Integrated Approach to Lower Blepharoplasty. Plastic and Reconstructive Surgery, 127(1), 386-395. doi:10.1097/prs.0b013e3181f95c66