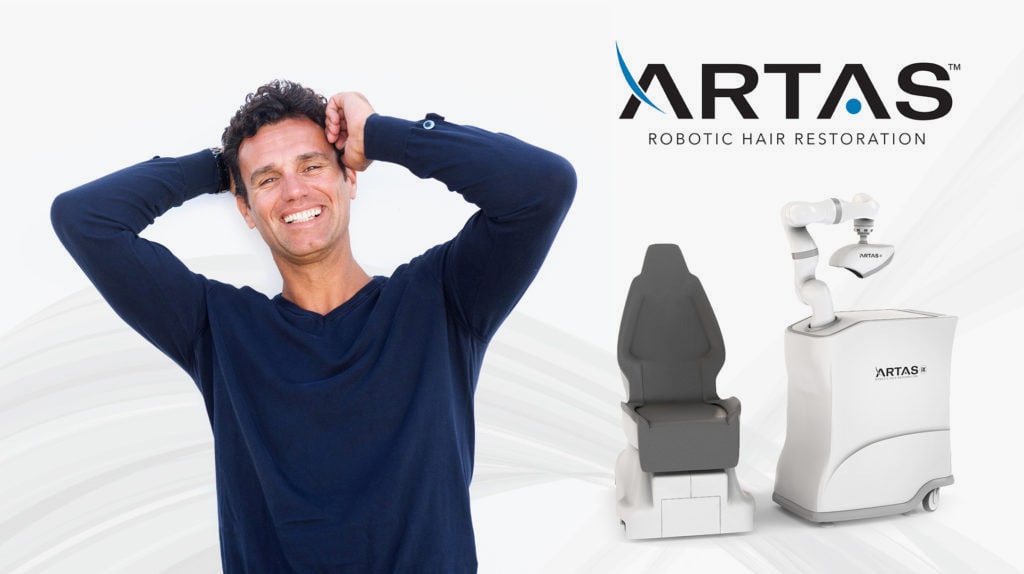 The ARTAS robotic hair restoration system is a state-of-the-art device that provides permanent, natural-looking results. Developed as an effective way for surgeons to conduct follicular unit extraction, ARTAS offers hope and satisfaction for patients with hair loss by providing transplantation technology that utilizes robotic dexterity and artificial intelligence. With Robotic Technology, harvesting and implantation is an efficient, streamlined process as individual grafts are assessed for suitability, choosing only optimal donor areas. What's more, it's an in-office procedure with minimal downtime!
Excessive hair loss can occur in men and women, though it's more common in men. Recent statistics align with what we already know; androgenic alopecia is a distressing issue that affects a large portion of the population. Up to 85% of men and 40% of women suffer from hair loss.(1) As well as looking noticeably different, it can cause embarrassment and distress and result in increased self-consciousness. Studies confirm that hair loss impacts self-image and even causes anxiety and depression in some instances.(2) Robotic hair restoration with ARTAS can permanently address these issues through intelligent hair transplantation, giving patients a second chance at happiness with their hair!
Specializing in both reconstructive and cosmetic surgery, Dr. Saira H. Saini is a board-certified plastic surgeon and hair transplantation specialist who can help you restore a fuller head of hair and regain your confidence. At her Fayetteville practice, she can provide expert advice and use this pioneering technology to ensure you can achieve your desired aesthetic results. Call Carolina Plastic Surgery at (910) 323-1234, or fill out our easy-to-use online inquiry form to get in touch with us and see how you can benefit from robotic hair restoration with ARTAS
[pg-promo slug="artas-robotic-hair-restoration"]
About Follicular Unit Extraction
Follicular unit extraction (FUE) is widely considered to be the most effective hair transplantation method available. Other techniques, such as the similar follicular unit hair transplantation (FUT) procedure produce comparable results, but with unsightly permanent linear scarring, particularly for patients who wear their hair short. (2) In an FUE procedure, a donor area of hair for transplantation is chosen and follicular units (between 1 and 4 hairs) extracted. These hair are carefully studied by the Artas Artificial Intelligence Software to determine the most appropriate hair to be chosen for extraction and implantation. These grafts are then carefully implanted into the scalp to optimize hair regrowth.
The Hair Cycle & Hair Loss
The most common form of hair loss in men is androgenic alopecia, also known as male pattern baldness. It affects the terminal hair of the scalp. Terminal hair is the long, thick, dark hair that grows on our scalp and some areas of our bodies, such as under the arms. Every terminal hair on your body goes through several stages of growth and regrowth known as the hair cycle. Changes in the hair cycle can cause excessive hair loss.
Stage 1: The Anagen Phase – During the anagen phase, or growth phase, the hair follicle is nourished by its blood supply at the root of the hair. This encourages hair growth. The "active growth" anagen phase can last between two and six years.
Stage 2: The Catagen Phase – Also known as the transition phase, the beginning of the catagen phase signals the hair follicle to detach from its blood supply. The hair stops growing. This phase usually lasts 1-2 weeks.
Stage 3: The Telogen Phase – The resting, or telogen phase of the hair cycle prepares the hair for shedding. It lasts between 5-6 weeks. New hair begins to grow to replace the hair that will be shed, then the cycle repeats itself once more.
Hair loss is characterized by the progressive loss of terminal hair on the scalp any time after puberty.(3) It can occur for a wide variety of reasons, including:
Genetics
Hormonal Changes
Alopecia Areata
Autoimmune Disorders
Thyroid Disorders
High Fevers
Polycystic Ovary Syndrome (PCOS)
Pregnancy
Some Medications
Androgenic Alopecia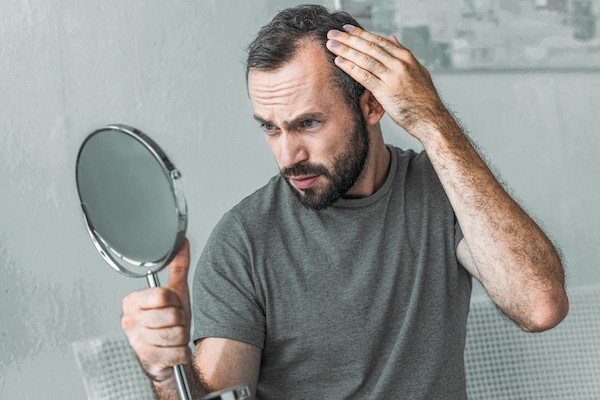 Androgenic, or androgenetic alopecia is caused by hormones known as androgens, most notably a hormone called DHT. DHT plays a vital role in hair growth and loss.(4) Genetic markers in certain individuals mean hair follicles can shrink or become miniaturized in the presence of DHT, and become sensitive to it. This causes an activation of the genes that shorten the anagen phase in the hair cycle. This process results in more rapid hair loss, and the replacement of thick, dark terminal hair with softer, lighter vellus hair.
Benefits of ARTAS
ARTAS robotic hair restoration is the technological solution to hair loss many people have been waiting for! Amazingly, the ARTAS device uses an artificial intelligence algorithm to automatically select and harvest follicular units without human intervention. Additionally, the ARTAS method is beneficial because it:
Relieves the surgeon of physical strain during a lengthy procedure
Is a virtually painless method of hair restoration
Harvests only the healthiest grafts from the donor site
Does not require incisions, sutures, or staples
Is minimally invasive with no linear scarring
Produces natural-looking results for men and women with hair loss
Requires minimal downtime following treatment
Rapid healing allows people to return to life in a few days
Speak to Dr. Saini about an ARTAS hair restoration procedure and experience the benefits of this advanced FUE method for yourself! Get a thorough hair and scalp analysis by a Board Certified Plastic Surgeon and discuss the best options for you to regain your hair and your confidence.
Candidates for Robotic Hair Restoration
Men and women who wish to restore their thinning hair using a proven state-of-the-art device may benefit from ARTAS robotic hair restoration. Good candidates for robotic FUE:
Are over 25 years of age (so a pattern of hair loss can be established)
Have suitable, good quality hair in the donor area for effective grafting
Are healthy individuals with no serious underlying medical conditions
Have a hair type and thickness that is suitable for robotic FUE methods
FUE may not be suited to people with certain conditions. These include men and women who have:
Chronic health concerns such as heart disease or liver failure
Experienced total or near-total hair loss
Severe scarring that inhibits the success of hair grafting
Certain dermatological conditions of the scalp
Extensive loss of hair from chemotherapy
Unrealistic expectations of results from FUE
Personal Consultation
Patients interested in receiving ARTAS treatment should begin by scheduling a personal consultation with Dr. Saini. She's here to provide you with a detailed explanation of the benefits and limitations of FUE, and can assess if you're a suitable candidate for the treatment. She can also advise you on the differences between manual FUE and robotic hair restoration methods. We'll ask you to provide some basic information about your health, before Dr. Saini carefully examines the area of hair loss you wish to address. Once she has thoroughly evaluated all of the information you have provided, she will schedule your ARTAS procedure.
Discover more about the surgical and non-surgical cosmetic procedures offered at Carolina Plastic Surgery by reading our blog!
Preparing for FUE
Cut your hair shorter as and when directed (it is not necessary to shave your head)
Avoid smoking at least 4 weeks before your procedure
Refrain from drinking alcohol at least three days before your procedure
Avoid aspirin and other blood-thinning medications until otherwise directed
Dress in comfortable clothing as you will be sitting for extended periods
The ARTAS Procedure
An ARTAS hair restoration procedure is straightforward and efficient. Before your hair restoration treatment, you'll discuss how long your procedure will take. Dr. Saini will provide detailed instructions for you to follow. On your treatment date, we will ensure the ARTAS device is calibrated to your specific requirements and mark the areas of your scalp the robotic arm will work on.
Once you are seated comfortably in the ARTAS chair, we'll use local anesthesia to numb your scalp. After this, the ARTAS camera will pinpoint the best hair for grafting and display it on a digital monitor. The robotic grafting arm harvests each graft in a predetermined grid pattern according to your treatment plan, and is monitored at all times by Dr. Saini. Throughout the procedure, she will ensure the skin of the scalp is at the correct tension for graft harvesting. Once every viable graft has been carefully removed, we numb the area of hair loss before precisely placing each graft by hand with specialized tools.
Recovery & Results
Patients are able to return home immediately after their minimally-invasive procedure. Dr. Saini will provide pain medication and antibiotics as required if you experience scalp discomfort. As you begin your recovery, there will be localized swelling and redness. With care, you can return to many of your daily activities, but please follow the individualized guidance on bathing, sleeping, and exercise provided by Dr. Saini. Over the course of two or three months, your grafted follicles will begin to produce new hairs, and you will start to notice new growth. In six months, your hair will be noticeably fuller. And, in twelve months, you'll see your final, permanent results!
Cost of ARTAS Hair Restoration in Fayetteville, NC
Patients across North Carolina are benefitting from life-changing hair restoration technology! When you come to Carolina Plastic Surgery, we'll provide you with a premium personalized treatment experience. Every ARTAS treatment is tailored to your needs. Therefore, the cost of your procedure will vary according to the extent of your hair loss, and your aesthetic goals. We will discuss this, and other procedural details in depth at your personal consultation. In the meantime, You can call us to schedule your consultation by calling (910) 323-1234 or by filling out our simple online form for more information.
FAQ
How long is an ARTAS hair restoration treatment?
Depending on individual medical circumstances, a robotic hair restoration treatment can take between 6-8 hours to complete.
How does a robotic hair restoration device work?
The ARTAS device uses artificial intelligence and digital imaging to select the healthiest grafts from the donor site. Patients sit in a special chair for up to 4 hours as a robotic arm harvests, collects, and transplants grafts to areas of thinning hair. With precise placement, the grafts develop their own blood supply, stimulating your natural hair to grow over time.
Are the results of ARTAS hair restoration permanent?
The results of an ARTAS procedure are clinically proven and permanent. Individual results will vary according to the unique circumstances of the patient.
References