A dermaplane facial is a non-invasive, exfoliating treatment that improves the health and appearance of the facial skin. Dermaplaning refines skin's texture, brightens the complexion, and can treat a number of skin conditions.
Get Ready to Glow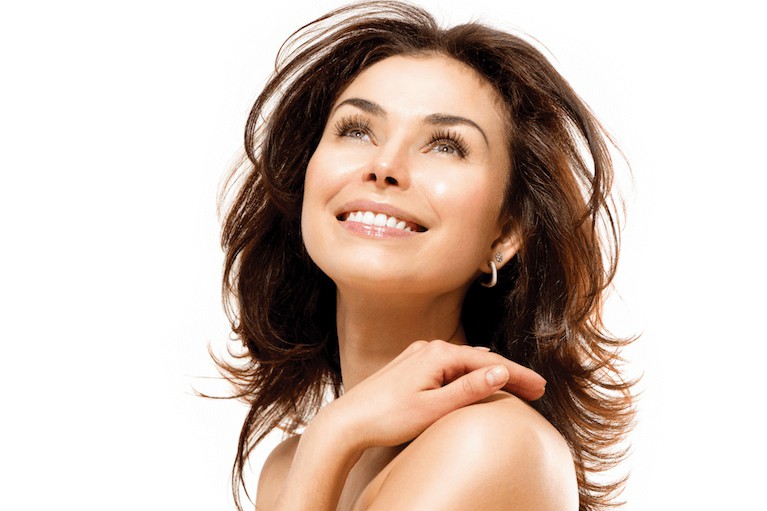 Your face is often the first thing that people notice about you. But even if you pride yourself on a strict skincare regimen, the delicate skin of your face still takes a fair amount of abuse. Our skin endures daily exposure to pollution, the elements, and beauty products that can all take a toll on its health and vibrancy. If you've noticed changes in the quality of your skin, don't just wear extra makeup – treat the cause of your skin woes at the source. Dermaplaning provides gentle but effective exfoliation that encourages healthy, brighter skin.
This fast and painless treatment can also improve the appearance of:
Fine lines and wrinkles,
Acne scars.
Dull lifeless skin
Clogged pores
Vellus hair or "peach fuzz"
At Carolina Plastic Surgery, Dr. Saira H. Saini and her team understand the importance of skin health and rejuvenation. Call her Fayetteville office today at (910) 323-1234. Schedule a consultation to learn more about what dermaplaning can do for you.
Skin Exfoliation
Our skin is an amazing organ, and one that is constantly growing, changing, and regenerating.
The outermost layer of the skin, the epidermis, is produced by the coordinated effort of cells that grow and move outwards to produce the layers of your skin. Eventually, they make it all the way to the surface where they become an outer dead layer that acts as a protective barrier. Over time, this layer is naturally sloughed off.(1) Skin resurfacing techniques like exfoliation remove this layer to improve the appearance and stimulate the renewal of the skin.
This isn't a new idea- as far back as 1500 BC, Ancient Egyptians used a kind of sandpaper to rejuvenate the skin and smooth scars! (2) Many people incorporate regular exfoliation into their home skin care routines, and similarly, there are many professional treatments offered by aestheticians and medical professionals.
What Are the Benefits of Dermaplaning?
Treatments like microdermabrasion and chemical peels are other popular methods of removing dead and damaged layers of skin. However, dermaplaning is less harsh than other treatments, and can be a better option for those with sensitive or problematic skin. Dermaplaning doesn't use chemicals, just soft passes of a surgical scalpel to delicately exfoliate the skin. For some, the build-up of these dead cells can lead to troublesome and embarrassing skin problems that other treatments only exacerbate. Dermaplaning has shown to be beneficial to those experiencing atopic dermatitis or hyperkeratosis.(3)
Even after a single treatment, improvements are immediately noticeable – including moisture retention for dewy, fresh-feeling skin. And, without the layer of dead skin on your face, you'll get better results from your skincare products as they penetrate your skin more effectively.
Dermaplaning also stimulates collagen production, which tightens the skin and improves texture.(1) Many patients like to schedule their dermaplaning session a few days before a special event. Having renewed, silky skin helps them feel their best, makeup goes on smoother, and there's no chance of the dreaded "peach fuzz" showing up in photos!
Candidates
Because dermaplaning is so gentle, it may be the ideal treatment for patients who have sensitive skin, or have had reactions to other treatments and products.
During your personal consultation, we'll review your medical history and skin condition to make sure that you're a good candidate for dermaplaning. If you're experiencing an active outbreak of acne or if you can any other compromised facial skin, you may need to postpone your dermaplane session.
Personal Consultation
During your personal consultation, Dr. Saini will evaluate the condition of your skin, and discuss your aesthetic goals. Based on your conversation, she'll be able to recommend the best course of treatment for you. If she feels that dermaplaning will give you successful results, you're in for a treat!
The products and masks used along with our procedures are naturally-derived and are compatible with most skin types. Dr. Saini will begin each treatment with a thorough evaluation to rule out the possibility of adverse or allergic reactions.
Dr. Saini and her team at Carolina Plastic Surgery are committed to your overall health and wellness. Dr. Saini stays active in continuing medical education with the American Board of Plastic Surgery, mentors students, and lectures regularly. She spent 20 years of active duty deployment in Iraq and Afghanistan to ensure the quality of life for all of us here at home. To learn more about the services that she offers, stay current with her blog.
Procedure
There's little preparation required for a dermaplaning session. As always, avoid excessive sun exposure and stay well hydrated before your appointment.
Dermaplaning uses a very sharp surgical-grade blade that is lightly feathered over the area to be treated. It gently scrapes away the buildup of dead skin and the vellus hair, or "peach fuzz." This buildup can make small facial lines, wrinkles, and acne scars appear larger, and cause skin to appear duller. These dead skin cells also contribute to skin with a rough texture. Your dermaplane treatment will eliminate these cells and leave your skin feeling silky. In addition to restoring the skin's natural glow, dermaplaning also stimulates the production of collagen and elastin for skin improvement that will continue long after your session ends.
After this light exfoliation is complete, a replenishing facial mask is applied to infuse essential nutrients into the skin. A protective sunscreen is also applied to help protect your new glistening skin after you leave our office.
The dermaplane procedure typically takes under an hour, so it's a great treatment to squeeze into your lunch break for fast and fantastic results.
Is There Recovery Time From Dermaplaning?
Dermaplaning is a safe and effective procedure with no side effects or downtime.
The dermaplaning procedure causes little, if any, discomfort, and is similar to a gentle, close shave – by a professional barber. A properly performed dermaplaning procedure does not disrupt the epidermis or injure the skin. Although there are home-dermaplaning kits available, a professional dermaplane procedure uses sterile and surgical-grade tools with adequate training.
Results
Your skin is constantly regenerating. It's estimated that the human epidermis turns over every 40–56 days.(1) For this reason, many patients schedule regular dermaplaning sessions. A dermaplane session every few weeks will keep your skin free of dead cell build-up. It also encourages a steady production of collagen and elastin – and we all want lots of that! Once you experience the results from a dermaplane session, you may discover that this is your new favorite skin care routine.
Skin Care Products to Stay Radiant
After your dermaplane session, you'll want to do everything you can to keep your skin's smooth, dewy feel. And, because dermaplaning allows for the deep penetration of skin care products, you'll want to make sure that you're using the best.
At Carolina Plastic Surgery, Dr. Saira Saini offers patients only the best in medical-grade skin care products.
Medical-grade products are formulated by experts in the skincare industry and are only available at select medical practices and clinics. At Carolina Plastic Surgery, we believe that healthy skin care should not only be achieved at our office but for a lifetime, and we can help you get started on a sustainable skincare regimen. We proudly offer the Skin Medica SPF and Environ lines of product. These are physician-formulated to help revitalize, nourish, and protect the full scope of skin types and conditions. We'll be happy to recommend the best products for you based on your individual skin.
How Much Does Dermaplaning Cost in Fayetteville?
Carolina Plastic Surgery offers dermaplane facial treatments for $120. Contact our office to schedule your appointment, and sign up for special offers!
FAQ
Will dermaplaning make me grow more hair on my face?
Contrary to popular belief, shaving does not affect hair growth or follicles, and can't change the color or texture of your hair. Phew! Dermaplaning is a great way to get fresh dewy skin, and smooth out fuzzy facial hair. 
Is dermaplaning painful?
Dermaplaning is a painless, non-invasive skin rejuvenation treatment. Professional dermaplaning is performed by a trained aesthetician or plastic surgeon, and only targets the dead skin cells on the surface of the skin. The surgical-grade blade is lightly brushed over the skin and does not cause any injuries.
How long do dermaplane results last? 
Because your skin is constantly regenerating, the layer of dead skin on the surface of the face will naturally reappear within 3-4 months. Collagen and elastin production is stimulated during the dermaplane treatment, and will continue in the weeks following your dermaplane session. Regular exfoliation is an important part of a skin care routine, and many patients schedule regular dermaplane sessions every few weeks.
References
Koster MI. Making an epidermis. Ann N Y Acad Sci. 2009;1170:7-10. doi:10.1111/j.1749-6632.2009.04363.x
Hany El-Tonsy, MD M, Hossam El-Din, MD W, Mostafa Kamal, PhD S. Aesthetic Dermatology in Ancient Egypt, EDOJ10(2):2. www.edoj.org.eg. Published 2014. Accessed February 9, 2021. http://www.edoj.org.eg/vol010/0102/002/01.htm
Townsend R. (2017) The Use of Advance Dermaplaning in Clinical Skin Care and Treatment. Clinical Dermatology Research Journal. 2:2. doi: 10.4172/2576-1439.1000117