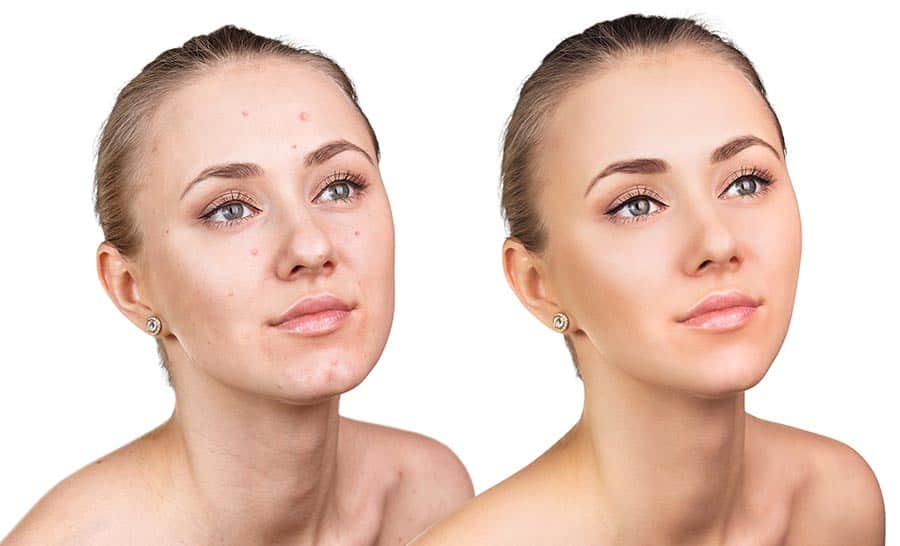 Med spa-grade acne treatment is effective for persistent breakouts, clogged pores, oily skin, and uneven skin texture. In-office procedures like chemical peels, luxurious facials, microdermabrasion, and laser and light therapy can help patients to gain clearer skin and improve the condition of their skin with minimal effort. At the doctor's office, patients now have the opportunity to get high-quality skincare products for home use. With the highest quality acne-fighting ingredients these physician-approved, medical-grade products are a great addition to your skincare regimen, making treating acne at home a lot easier.
Acne problems? Start afresh! Look and feel better with acne-eliminating, skin-clearing treatments at Carolina Plastic Surgery. Our experienced med spa staff is ready to help you find the most effective acne-clearing treatment. If you have "problem" skin, let Dr. Saira Saini or our licensed esthetician and cosmetic laser technician help you. Achieve clearer, healthier skin with one or a combination of treatments to get your complexion back on track. Call (910) 323-1234 or use our inquiry form to book a consultation at our Fayetteville, NC office or our Raleigh, NC location, and take charge of your acne-prone skin.
Dealing with Acne-Prone Skin
Acne is one of the most frustrating skin problems. And unfortunately, it does not discriminate. It affects men and women of all skin types, teenagers, young adults, and, surprisingly for the patient, older adults too! Moreover, contrary to popular belief, acne doesn't occur because a person has "dirtier" skin. Pores clog with excess sebum (the oil that lubricates and protects the skin), causing bacteria and dead skin cells to build up behind the plug, worsening the condition over time. Though the precise reasons acne occurs vary from person to person, and its extent can vary from mild to moderate, to severe, its effects on the skin can include the following.
Closed clogged pores (whiteheads)
Open clogged pores (blackheads)
Small closed bumps (papules)
Pus-tipped papules (pimples)
Large, hard, painful bumps (nodules)
Deep, painful pus-filled lesions (cysts)
The Trouble with Acne
Research has revealed that acne is the eighth most common disease, affecting almost one in 10 people worldwide. (1) And in the United States, it's the most common skin disease among teens and young adults. (2) Its effects can be devastating for self-esteem. Blemishes and facial redness can also be painful and embarrassing. And although some people only get the occasional pimple, more serious acne cannot be improved with harsh over-the-counter products and often creates permanent scars.
Dealing with raised sores and pitted scarring can be incredibly challenging without professional intervention. Thankfully, acne treatments have only improved over time, providing a range of effective, pore-unclogging acne treatments and effective scar management options. And at Carolina Plastic Surgery, we offer the very latest in acne skin treatments and products!
Chemical Peels
Professionally performed chemical peels can be individualized to a patient's skin type to refresh and resurface their skin. They penetrate superficially, medially, or deeply, depending on the formulation. Superficial peels are frequently used for acne blemishes, while medium peels can address acne scarring. Two of our chemical peels, the glycolic acid peel, and the salicylic acid peel are popular choices to clear acne, restore smoothness, and reduce redness.
Studies repeatedly show that this popular chemical peel is a very effective acne treatment. (3) Glycolic acid is an alpha-hydroxy acid (AHA). It's a good choice for acne, acne scars, and postinflammatory hyperpigmentation (dark patches).
Salicylic acid is a common active ingredient in acne-fighting skin care products. SA is well-tolerated by all skin types, and is a safe and effective peeling agent.
Laser & Light Therapy
Advanced laser and light treatments can transform blemished skin. Non-invasive intense pulsed light (IPL) and Palomar Icon laser treatment help our patients improve their skin health.
IPL
Shrink pore size, improve acne, and reduce the appearance of mild acne scarring with an in-office IPL treatment. IPL uses light energy at different wavelengths to stimulate cells and target hyperpigmentation. This treatment is a great option for fair-to-moderately-light skin toned patients with problematic acne. Treatment is comfortable and after its short-lived sunburn-like effects dissipate, patients experience clearer, reinvigorated skin.
Palomar Icon
Palomar Icon by leading laser developers Cynosure is a multifunctional skin treatment platform. It's a non-ablative laser that reaches the lower layers of the skin without damaging the surface, which makes it perfect for treating sensitive, acne-prone skin. Its customizable settings and integrated Skintel melanin reader reduces acne and acne scarring with minimal recovery requirements and fantastic results.
What is AviClear?
Introducing the AviClear platform by Cutera, a new, FDA-approved laser treatment for mild-to-severe acne. The 1726-nm laser targets the sebaceous glands responsible for overproducing oil. Selective treatment of these glands preserves surrounding skin structures, only causing thermal damage to the gland itself. What's more, with AviClear, there's no pain relief necessary! Studies confirm that this laser treatment causes minimal discomfort and can be used safely and effectively to manage acne. (4)
Microdermabrasion
Microdermabrasion is one of the most popular skin resurfacing treatments in the United States. a non-invasive skin resurfacing technique that uses tiny particles (usually aluminum oxide crystals) to deeply exfoliate the skin.
For patients with acne, a microdermabrasion treatment can even out skin texture, clear away surface debris, and brighten skin tone. In fact, many patients love the "glow" and silky softness of their skin following a microdermabrasion session. Additionally, the microscopically abrasive particles can change skin structure. By rearranging the cells responsible for skin pigmentation and triggering the production of wound-healing properties and skin structure-supporting collagen and elastin. This helps to rebuild skin health from the inside out! (4)
Facials
A facial performed by a trained esthetician can be the difference between good skin and great skin. And if you have an acne-prone complexion, there are specific formulations that can help. We offer a range of customizable facials based on your skincare needs.
The European Facial is a soothing three-step procedure to cleanse, extract blackheads and whiteheads, and stimulate the skin with a facial mask and massage. Lie down comfortably and relax as our luxurious European Facial not only benefits your skin, but also provides a calm and tranquil atmosphere for you to unwind in.
Microdermabrasion Facial combines the refreshing exfoliating power of microdermabrasion and steaming to clear away impurities and brightens the skin. Reduce the appearance of acne scars and improve overall skin texture and tone for a softer, more radiant complexion
Dermaplaning is a gentler alternative to chemical peeling and microdermabrasion. Using only soft passes of a sterile blade to remove debris and unwanted "peach fuzz", a Dermaplane Facial can give you baby soft skin. We also add protection with a hydrating mask and UV protection. Using the ACELLerator beauty device, your provider uses ultrasound to smooth and firm your skin for a fantastic finish.
Get your dose of skin-supporting vitamins with a Vitamin-Infused Facial at Carolina Plastic Surgery. This facial includes extraction, exfoliation, oxygen, and customized serums. Tailoring the facial to your specific skin needs, we provide nourishing antioxidants to rebalance moisture levels, protecting the skin from damaging free radicals.
Skincare Products for Acne
Professional skincare knowledge and premium formulations offer patients more than the run-of-the-mill products you'll see at the pharmacy. Retinol can help to rejuvenate facial tissues as well as fight acne, while Tretinoin and CLENZIderm can greatly improve blemished skin with targeted daily application.
Tretinoin
Tretinoin, a vitamin A (retinol) derivative, is a valuable medication for the treatment of mild, moderate, and severe acne. (5) It's stronger than most other retinoids, and is one of the most effective ways to treat clear up blemishes and prevent persistent acne breakouts. It does so by accelerating the skin cell turnover rate and changing the way the body breaks down old, sun-damaged skin cells. This process causes mild irritation, which results in clearer pores and fewer imperfections. We offer Tretinoin in a range of strengths to suit your skin's individual needs
CLENZIderm
CLENZIderm is a complete skin care regimen for normal to oily skin by OBAGI Medical. It targets acne at its source with daily cleansing, pore therapy, and therapeutic lotion. Products in the CLENZIderm range is formulated with active acne-fighting ingredients salicylic acid (2%) and benzoyl peroxide (2%)
Cost of Acne Treatment in Fayetteville, NC
Get tailored acne treatment at Carolina Plastic Surgery in Fayetteville or Raleigh, NC. As in-office treatments and products for at-home use can be combined to get the best results, costs will vary according to your treatment plan. To find out which procedures and skincare products are best for your skin, book a personal consultation with us by calling (910) 323-1234, or by sending us an online inquiry. We can't wait to see what we can do to help you become acne-free and feel better about your skin!
Read more about skin treatments for acne-prone skin by reading Dr. Saini's blog. You can also join us on social media for photos, information about specials, and more!
FAQ
What's the best in-office treatment for acne?
The best treatment for your skin will vary according to your skin type and the severity of your acne. In-office treatments that are proven to be effective in the resolution of acne, and the reduction of acne scarring include light and medium chemical peels, microdermabrasion, laser therapy, and intense pulsed light (IPL) 
How do I get rid of bad acne?
Severe nodular and cystic acne can be painful and distressing. To find out the best treatment route, speak to a licensed esthetician or skin specialist for guidance. In most cases, severe acne improves with a multi-pronged approach including in-office treatment, daily application of topicals, and oral medication.
What's the best cleanser for acne?
products that contain pore-unblocking salicylic acid and bacteria-fighting benzoyl peroxide. Be sure to speak with a professional skincare advisor to find the right formulation, as strengths vary from product to product.
References