Restore Your Perfect Profile.
The lines of your silhouette are as individual as a fingerprint. A sculpted jawline should perfectly frame your face. But age and skin laxity can warp your face's contours so that even your old, familiar silhouette may seem like a stranger. Don't keep a low profile because hanging jowls and "turkey neck" have you down. You should be looking up! A neck lift is the only way to achieve long-lasting facial rejuvenation below the chin.
Dr. Saira H. Saini is Chief Surgeon and founder of Carolina Plastic Surgery. She is a proud veteran with 20 years of military service. She is honored to serve the military members of her North Carolina community. Her training, experience and compassion make her an ideal guide on your aesthetic journey.
We serve Fayetteville with the finest cosmetic enhancements in the community. Contact Carolina Plastic Surgery to get the conversation started. Call (910) 323-1234 and schedule a consultation. If you prefer, we now offer Virtual Consultations, as well.
About
While many people may maintain youthful-looking, wrinkle-free complexions as they grow older, these same individuals can simultaneously have loose, sagging skin on their neck or chin areas. This disconnect between the appearance of the face and neck can leave patients feeling self-conscious and frustrated. If you're interested in tightening, reshaping and rejuvenating your neckline without undergoing a full facelift procedure, you may want to consider a neck lift.
What Causes "Turkey Neck"
Turkey neck too often turns up at the confluence of loose skin and the weakening of the neck muscles. Both of these conditions are the inevitable result of age. The downward flow of gravity prevails when our skin loses its elasticity when we get older. Turkey neck gobbles up your otherwise youthful profile and softens your defined jawline. The neck lift will remove the extra stuffing at your jowls, restoring your fine and chiseled form.
Benefits of a Neck Lift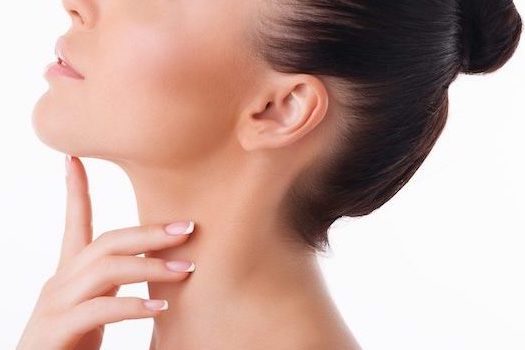 A neck lift is the best way to eliminate loose skin at your jawline. This unfortunate feature can be one of the most embarrassing signs of aging and there is very little you can really do about it outside of surgery. With her skillful scalpel, Dr. Saini will make leftovers out of your turkey neck.
Behold the benefits of our many other procedures on the Carolina Plastic Surgery Blog.
Can Exercise Tighten Loose Neck Skin?
You may have some success with a neck-strengthening routine. Even chewing gum will tone the soft muscles at the jawline and encourage them to firm up. Ten reps of head raises at the gym may help. Again, since sagging jowls are, in part, due to lax and collapsing muscle tissue under your chin, targeted workouts can have a positive effect. However, lax skin cannot be corrected with exercise alone. As time goes on, even collagen enhancing therapies have their limitations. Facial rejuvenation surgeries like the neck lift are the surest way to excise excess skin and tailor it to your desires.
Candidates
Before undergoing a neck lift, interested individuals must first schedule a consultation appointment with Dr. Saira Saini. During this appointment, Dr. Saini will take into account the prospective patient's medical history, current state of health and cosmetic goals before deciding if a neck lift is right for them.
Individuals interested in improving the appearance of skin laxity, textural irregularities and excess fat in the neck and chin area are potential candidates for a neck lift. Patients must be healthy non-smokers and have realistic expectations about treatment options to qualify for this procedure.
Are you interested in learning more about the neck lift procedure? We can help! Consider scheduling a consultation appointment to see if you qualify for treatment. Contact Carolina Plastic Surgery today.
Your Private Consultation With Dr. Saini
Dr. Saira H. Saini is the only board-certified, female plastic surgeon practicing within a 70-mile radius of Fayetteville, North Carolina. She has courageously served her country in the military and now she serves her community with aesthetic expertise. You'll certainly have a lot to learn from the doctor. Take full advantage of your opportunity to ask Dr. Saini questions so that you can take comfort in having made an educated decision about the future of your profile.
Almost as important will be Dr. Saini's opportunity to listen. She wants to hear your story. Together, you and the doctor will come to a consensus on your cosmetic course of treatment.
Dr. Saini's patients' positivity comes through in their reviews. Soon you will experience Carolina Plastic Surgery for yourself. At your personal consultation, Dr. Saini will conduct a brief physical examination and an intake interview. She will qualify you for a neck lift or an appropriate alternative.
The Neck Lift Procedure
Also referred to as a lower rhytidectomy, a neck lift is a surgical procedure employed to improve the signs of aging near the neck and jawline. These signs of aging can develop for a number of reasons, including environmental factors, genetics, gravity and stress.[1]
A neck lift can correct loose skin, abnormal contours and excess fatty deposits near the neck and chin area.
The procedure is ideal for individuals that are not ready to undergo a complete facelift procedure but would still like to correct aesthetic imperfections in the neck and under the jaw.
Typically, either local anesthesia with intravenous sedation or general anesthesia is administered before surgery begins. While the exact technique used in each neck lift procedure can vary slightly depending on the unique problems each patient wants to address, most surgeries aim to tighten the platysma muscle in the neck and remove excess skin from the area.[2]
Complementary Facial Rejuvenation Procedures
Dr. Saini will frequently perform the Facelift and neck lift procedures together. Both surgeries achieve complementary ends through similar means: they remove excess skin and tighten the remainder to create a firm and youthful appearance throughout the face.
Your comprehensive facial rejuvenation plan will lift your whole aspect upward so that your face may beam with youth once more.
Some patients opt for a Brow Lift to brighten the expressiveness of their eyes. Dr. Saini will lift loose forehead skin and remove the extra. After a short recovery, you will present an alert and inquisitive demeanor that is unveiled by age. Brow lift patients often also contemplate Blepharoplasty (eyelid surgery) so that their eyes aren't enshrouded in sleepy-looking lax skin. Brow lift and blepharoplasty are both popular with professors and politicians who seek the distinction of age without seeming grumpy and out-of-touch.
Taken together, your facial rejuvenation procedures will subtract years from your appearance.
What Does a Neck Lift Cost in North Carolina?
To put a price on the finest facial rejuvenation requires a private consultation with Dr. Saini. At such time, she will properly assess your case. The procedure is personalized to your goals and tailored to your needs. Dr. Saini will quote you a cost estimate at your consultation.
Financing options are available for patients who qualify. Check our specials page for opportunities to save.
FAQ
How long does a neck lift last?
Your neck lift will significantly set back the relentless procession of aging to the tune of 10 to 15 years! The procedure eliminates "turkey neck" while it tightens your profile to a sleek and youthful silhouette. Neck lift is not a permanent fix for getting older, however. Skin laxity is a cumulative process, during which loose skin continues to accumulate at the chin and jowls.  
Why is my neck skin so saggy?
Turkey neck is an unfortunate side effect of the aging process. The years give us so much: cherished memories, a wealth of wisdom and whatever comfort we've won in our youthful campaigns. But age takes a heavy toll, as well. Turkey neck emerges when neck muscles weaken and the skin loses its elasticity. That's because springy compounds abound in supple, youthful skin; collagen and elastin hold things firmly in place. But as they gradually break down, the underlying muscle, called platysma, runs like over-easy eggs from your chin down to your clavicle (collarbone). 
Can you do a neck lift without a facelift?
Yes! In fact, a facelift is actually a combination of facial rejuvenation procedures. They work in concert to surgically raise and tighten lax skin from your brow line to your collarbone. Your aesthetic treatment plan is tailor-made to you! Many patients are especially sensitive about their  "turkey neck" and hanging jowls that have usurped their profiles and taken over their jawlines. You may only opt for the neck lift. Or, you can include the neck lift in a specialized sequence of surgeries to rejuvenate your face.  
References
Matarasso, A., Abdollahi, H., & Lao, W. (2016). Managing the Components of the Aging Neck: From Liposuction to Submentalplasty, to Neck Lift. Liposuction, 433–440. doi: 10.1007/978-3-662-48903-1_40
Narasimhan, K., Stuzin, J. M., & Rohrich, R. J. (2013). Five-Step Neck Lift. Plastic and Reconstructive Surgery, 132(2), 339–350. doi: 10.1097/prs.0b013e3182958b6f