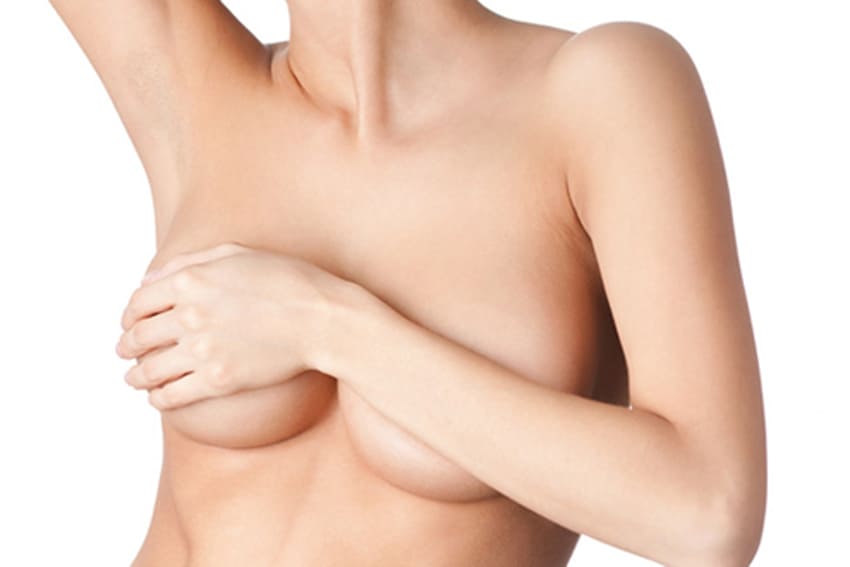 Breast augmentation surgery is the enhancement of the breasts by surgical procedures to produce alluring results. Breast augmentation includes saline and silicone implants as well as fat transfers to the bust.
Augment Your Inner Beauty
Do you struggle with your self-image as it relates to your breasts? If you do, you aren't alone. Maybe you are a mom who wants to recapture your pre-pregnancy silhouette. Or you could just be a woman that wants your breasts to appear how you wish. Breast augmentation remains one of the most popular body contouring procedures in the U.S. Recent surveys of women considering breast augmentation found that 29% of women want their breasts restored to a pre-breastfeeding state, 32% of women wish to correct sagging breasts, 29% would appreciate increased volume, 15% desire an improved shape and 8% want to address asymmetrical breasts.[1]
For any woman seeking breast modification, Dr. Saira Saini can help you achieve your goals. Look as young as you feel! Dr. Saini specializes in matching your outer appearance with your inner beauty. If you are interested in this timeless body sculpting procedure, please feel free to contact our Fayetteville office today at (910) 323-1234.
[pg-promo slug="breast-augmentation"]
Benefits of Breast Augmentation
Increases the size and volume of the breasts
Sculpts the shape you desire
Creates long-lasting, natural-looking results
Corrects asymmetry
Candidates
The ideal breast augmentation candidates are women desiring larger breasts who are in good health. Patients should be done growing the size of their family and breastfeeding because additional pregnancies may alter results. Realistic expectations are important. An understanding of what a surgical procedure entails helps patients make informed decisions (this will be discussed during the initial consultation). Dr. Saini will be able to assess your candidacy for breast augmentation after the initial consultation.
Your Private Consultation
Consultations with Dr. Saira Saini consist of a one-on-one conversation about your concerns and your goals, a physical examination, and an estimation of costs. Medical history and routine medications will also be reviewed to make sure you are healthy enough to undergo a surgical operation.
Once Dr. Saini confirms you are a suitable candidate for breast augmentation, together you will design a customized surgical plan for breast augmentation.
Always happy to answer any questions, Dr. Saini will offer expert advice on achieving your desired appearance. As a proud military veteran of 20 years, Dr. Saini gathered extensive surgical experience while deployed to Iraq, Korea and Afghanistan. She is the only board-certified female plastic surgeon within 70 miles of Fayetteville, North Carolina. Her office is conveniently located to serve the areas of Fayetteville, Hope Mills, Lumberton, Eastover, Dunn and surrounding areas of North Carolina and South Carolina.
Types of Breast Augmentation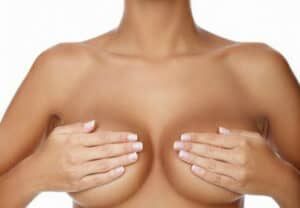 Breast augmentation offers a completely customizable process. You have the ability to choose your desired implant, incision, and placement. Dr. Saini will expertly advise each patient during their consultation on what she believes will best complement each patient's frame and physique. Below are some options for women seeking augmentation.
Implants
The quality of implants has improved dramatically in recent years, which reduces the chance of capsule formation. Capsules are scar tissue that forms around the breast implant and constricts the implant and breast. Dr. Saini is also adept at placing incisions for strategically hidden scarring.[2]
Composition
Saline: Solid outer silicone shell that is inserted into the breast pocket empty. A salt water solution is then injected to fill the implant to the desired size.
Silicone: Quasi-solid gelatinous implant that is inserted into the breast pocket full form. It resembles the feel of a natural breast.
Autologous Breast Augmentation (Fat Grafting for the Breasts)
This technique uses a woman's own body fat to supplement her breasts. Dr. Saini harvests fat cells from an area where the patient has unwanted fat. She then performs a purifying procedure and injects the viable fat into the breasts. Autologous breast augmentation is ideal for those that want to add a little volume. Fat grafting for the breasts is considered safe and effective with high degrees of patient and surgeon satisfaction (89%-92% on average).[3]
Breast Implant Shape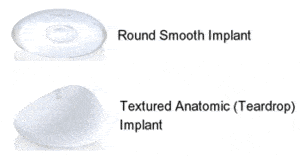 Round: Implants that are spherical in shape which produces an even volume on the top and bottom pole of the breasts.
Natural: Natural or tear-drop shaped implant that resembles an anatomically correct breast; slightly sloping downward with more projection at the bottom pole.
Implant Size
There is a large range of breast implant sizes which are measured in cubic centimeters, or CCs. Cup measurement (A, B, C, D, DD, etc.) is not an accurate tool, since one store's C can very well be another store's DDD. The appropriate size will be determined at your consultation. Dr. Saini will take your measurements and provide physical samples of sizes that will meet your aesthetic goal.
Breast Augmentation Preparation 
Arrange a ride home
Fill all your prescriptions
Pull down all items you need that are placed high in your home
Arrange childcare if necessary
Make meal arrangements
Prepare ice packs
Wear loose, comfortable clothing
Get a good night sleep
Follow all additional instructions from Dr. Saini
Procedure
The surgery takes about one to two hours and is performed as an outpatient procedure, meaning patients can return home after they are released from the recovery room.
Dr. Saini performs breast augmentation surgery in an accredited hospital with experienced nurses and anesthesiologists. The process takes between one to two hours, but this time frame will vary if a patient is undergoing other breast or body contouring procedures. Patients will be asleep for the duration of the surgery. During that period the surgical plan (implant specifics, incision, placement, etc.) will be expertly executed.
Incision Type
Periareolar
Periareolar incisions are made along the areola border. This results in the smallest amount of scarring. Frequently used when a patient is receiving more than one breast surgery.
Inframammary
This incision is created on the natural crease under the breast, allowing for precision of implant placement. Inframammary incision scarring blends well within the natural fold.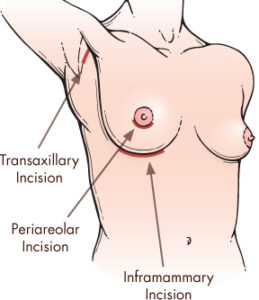 Transaxillary
The transaxillary incision is concealed in the axilla, or armpit. From there, Dr. Saini can insert the saline or silicone implant.
Transumbilical
Transumbilical incisions are hidden in the belly button. This technique is not performed as often as the other incisions. Only certain patients qualify for transumbilical implantation, but it offers the most discreet placement of scarring. Only saline implants can be used for this technique since they are inserted empty and then filled once in place.
Placement
Subglandular
An implant placed in subglandular fashion means a pocket is created for the implant below glandular tissue, on top of the pectoral muscle.
Submuscular
An implant placed submuscularly means a pocket is created for the implant below the pectoral muscle.
Recovery
Breast augmentation patients will slowly wake in the comfort of the recovery room with attentive, skilled nurses. Once released by Dr. Saini, they will return home with their designated driver for rest and recovery.
The support bra that patients are sent home with must remain on at all times (other than the shower) until Dr. Saini says otherwise. Prescriptions will be written for pain medication to alleviate initial discomfort. Ice packs and sleeping with your head elevated can help minimize discomfort and swelling as well. Since everyone's body heals at a different rate, the exact recovery time will vary. However, breast augmentation patients have generally found that taking three to five days to rest is beneficial. During this time off work, please make sure to walk. Walking promotes optimal blood circulation. Normal daily activities can be resumed in about a week. Refrain from more strenuous movement or heavy lifting for at least four weeks. Additional individualized recovery instructions will be given to each patient at the time of their consultation.
Results
Patients are able to see beautifully augmented results once the breast implants settle in place. This can take between 2-6 months depending on the case. Results of a breast augmentation can be long-lasting if patients come in at the 8-10 year mark for a standard removal and replacement procedure. Breast augmentation will ensure an enlargement in breast size, but it cannot ensure a rise in self-confidence. Self-confidence must come from within. However, almost every patient has said they've experienced a large boost in body image and self-esteem after the surgery.
Complementary Procedures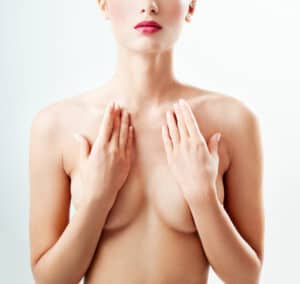 Breast augmentation is a cosmetic procedure that can produce fantastic results when performed on its own. But, in some cases, adding a complementing procedure can greatly heighten final results. Some patients find combining a breast lift with breast augmentation produces beautiful results. This combination is ideal for patients who desire an increase in size in addition to a remedy for sagging breasts.
For those seeking a comprehensive transformation, a mommy makeover offers a great solution. Mommy makeovers are a combination of body and breast procedures performed on post-pregnancy women. Breast augmentation, reduction, or lift can be used to contour the breasts after breastfeeding has been completed. A tummy tuck and/or liposuction can also be performed to tighten stretched abdominal muscles and remove loose belly skin.
What Is the Cost of Breast Augmentation in North Carolina?
The cost of breast augmentation surgery at Carolina Plastic Surgery is completely dependent on the specificities of the case. No two breast augmentation surgeries are alike. Each breast augmentation will be customized to the individual, so price can only be determined after an initial consultation with Dr. Saira Saini. After the consultation, she will be able to give you a personalized quote.
FAQ
How long does breast augmentation last?
The average saline and silicone implants can theoretically undure for years. However, most patients should have a consultation in 8-10 years after the initial implants and have the implants renewed for best results.
Is breast augmentation safe?
Yes, the FDA approves silicone and saline implants and fat grafting augmentation for safety. 
References
Nava, M. B., Catanuto, G., & Rocco, N. (2018). A decision-making method for breast augmentation based on 25 years of practice. Archives of Plastic Surgery, 45(2), 196-203. doi:10.5999/aps.2017.00535
Ramachandran K. (2008). Breast augmentation. Indian journal of plastic surgery : official publication of the Association of Plastic Surgeons of India, 41(Suppl), S41–S47. PMID: 20174542
Groen, J., Negenborn, V., Twisk, D., Rizopoulos, D., Ket, J., Smit, J., & Mullender, M. (2016). Autologous fat grafting in onco-plastic breast reconstruction: A systematic review on oncological and radiological safety, complications, volume retention and patient/surgeon satisfaction. Journal of Plastic, Reconstructive & Aesthetic Surgery, 69(6), 742-764. doi:10.1016/j.bjps.2016.03.019