Are you concerned about the development of lines and creases in your brow area? Do you want to restore your smoother, younger-looking skin? At Carolina Plastic Surgery, top-ranked anti-aging specialist Dr. Saira Saini can help rejuvenate your appearance and erase visible signs of aging with safe and effective eyebrow lift surgery. Results are beautiful, natural, and long-lasting!
Our eyes and brow are incredibly
expressive
areas of our face. Due to repetitive facial movements, deep lines and a loss in skin elasticity will occur with time. A brow lift, or forehead lift, removes excess sagging skin by trimming it and repositioning the muscles and tissues of the face. This procedure removes deep lines and reduces a sagging brow to restore a rested and
youthful
appearance. Serving Fayetteville and surrounding areas in North Carolina, Dr. Saini is the only
board-certified
female plastic surgeon within 70 miles of Fayetteville. Contact us today to
schedule a consultatio
n and find out if you are a candidate for brow lift surgery.
About Brow Lifts
A brow lift procedure can help both men and women achieve multiple aesthetic goals, including:
Reducing the horizontal lines that can form in the forehead and between the eyes
Improving frown lines between the eyebrows
Lifting sagging eyelid skin
Raising the eyebrows to a more alert position
Providing an overall refreshed, smoother, and tighter appearance in the upper face
This procedure focuses on the upper half of the face.
Visible
signs of aging in the mid and lower face may require additional procedures, such as a full
facelift
. All of your treatment options can be discussed with Dr. Saini during your consultation at our Fayetteville office.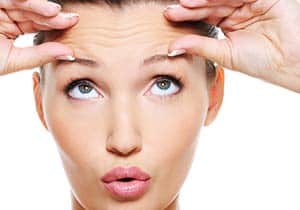 A brow lift
reverses
the effects of gravity and time by tightening the soft tissues of the forehead. This restoration provides a more youthful contour to the forehead skin, upper eyelids and eyebrows. People often get brow lifts to help them appear less angry, worried or tired. This procedure
transforms
a patient's appearance into a more alert, refreshed look. There are
various
brow-lift techniques, which involve varying lengths of incisions in different locations and, sometimes, may include an endoscope. These brow lifts include:
Open Brow Lift
An open brow lifts requires a
long incision
to be made across the forehead in the hairline or natural crease. The skin will be tightened, the facial muscles are altered, and extra fat and skin is removed. The skin will then be stitched up along the incision line.
Endoscopic Brow Lift
An endoscopic brow lift is a technique that is less invasive than older techniques but still provides a natural, desirable look.
In this procedure, a series of
short incisions
are made just beyond the hairline. A miniscule camera, called an endoscope, will be inserted into tiny incisions in the scalp to let Dr. Saini have a better view of her work and internal structures of the brow. The endoscope is a long, thin tube with a light and camera attached at the end. Through using this instrument, Dr. Saini will be able to efficiently
reposition
the muscles that she has scientifically pinpointed. The tissues of the forehead will be sculpted and excess fat and tissue will be removed to produce a more youthful brow.
A Temporal or Limited Incision Brow Lift
This surgery requires slightly longer incisions than an endoscopic brow lift and is often performed alongside an eyelid surgery.
Incisions are made above each temple,
behind
the hairline. Dr. Saini will then lift and reposition the tissues of the brow. Incisions will also be made by the upper eyelid, to smooth out the area between the eyebrows and reduce frown lines. This procedure does not lift the center brow but is a great solution for patients with crow's feet and deep wrinkles by their eyes.
Every year, many patients undergo brow-lift procedures to transform their faces. Dr. Saini is a well-qualified, board-certified plastic surgeon who takes pride in giving her patients transformative results that positively impact their lives.
Candidates
Many people may benefit from a brow lift. An ideal candidate includes someone who has:
Sagging or low eyebrows (This may cause the patient to appear tired, sad or upset)
Deep horizontal furrows across the forehead
Deep frown lines between the eyebrows or across the top of the nose
Excess skin or tissue hanging over the eyes
Deep frown lines between the eyes.
Moderate skin elasticity
Patients choose a brow lift surgery for many different reasons. A
common
problem for women with a sagging brow is how it affects their eyelids. With droopy eyelids, it will prove difficult to apply makeup like eyeshadow and eyeliner. If you are tired of problems like this and are interested in how a brow lift will
benefit
your quality of life, contact Dr. Saini today!
Consultation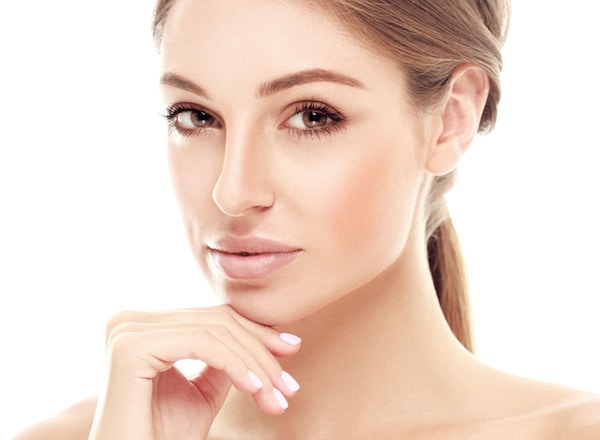 During your consultation, you will get the opportunity to meet and personally create a plan with Dr. Saini. Your surgical plan is designed to
best fit
your anatomy and aesthetic goals. Dr. Saini will evaluate your health by asking questions about your general health, medical conditions, past surgeries, current medications and drug allergies. This information will
help her
determine if a brow lift is the best solution for your needs. She may suggest alternative or additional solutions that will better achieve your desired outcomes.
Dr. Saini will evaluate your skin elasticity and recommend a course of treatment that will be best for your unique case. She will take pictures and measurements to better plan for the upcoming procedure.
Dr. Saini and her expert staff recommend patients come to consultations with their questions in mind. Patients are also encouraged to
discuss any questions or concerns
they may have about their treatment. Cosmetic surgery is exciting and transformative: Dr. Saini wants to help her patients feel well-informed and confident in their choice.
Preparation
Certain medications like aspirin and other anti-inflammatory drugs may need to be avoided prior to the surgery.
If you smoke, Dr. Saini will request you stop at least
two weeks
before the surgery to ensure a positive healing process. Arrangements will need to be made for a family member or friend to pick you up after the procedure. Someone should also accompany you on the
first two nights
of your recovery. Prescriptions like antibiotics and pain medication will need to be filled before the surgery. Ice packs should be prepared for managing areas of swelling. The procedure may take one to three hours to complete and
general anesthesia
will be administered by an anesthesiologist to provide a comfortable experience.
Brow Lift Procedure
Every procedure at Carolina Plastic Surgery begins by making patients comfortable with the method of anesthesia you and Dr. Saini agreed would be best. During an eyebrow lift, incisions are typically made around the ears and the hair-bearing skin at the top of the head to minimize visible scarring. The skin is then lifted and redraped, smoothing visible signs of aging and creating a
younger-looking aesthetic
overall. In some cases, underlying muscles and tissues may also be tightened.
The extent of your eyebrow lift can depend on the level of correction necessary as well as whether any other procedures will be performed in conjunction with your brow lift.
Benefits
There are many physical and mental benefits to having a brow lift, this includes:
Brighter and more alert eyes
No more expressions of worry, anger or exhaustion
Improved clarity in eyesight
Patients in their 40s to 60s primarily receive brow lifts. However, anyone is
welcome
to schedule an appointment with Dr. Saini to discuss the transforming effects of brow lifts.
Recovery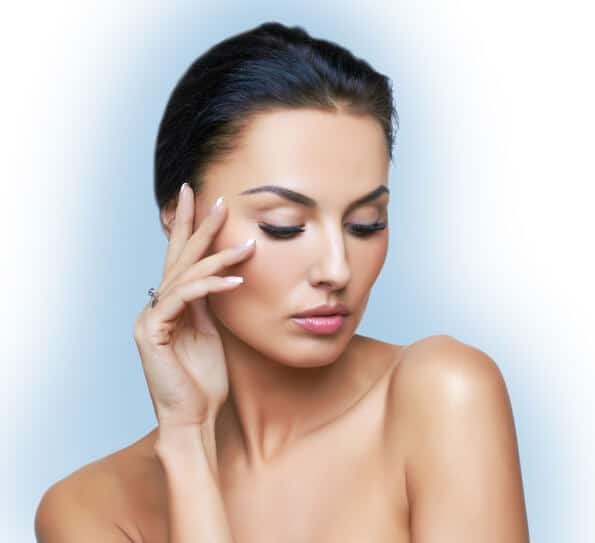 Healing can be different for every patient, but most people experience some mild swelling, bruising, and discomfort during their initial healing process. Dr. Saini and her
friendly staff
will outline any aftercare that may be necessary to guarantee a comfortable recovery and
reduce the risk
of post-surgical infection. She will also discuss when you may be able to return to work and normal activities. Within the first two days, showering may be allowed, but patients are advised to be
gentle and delicate
around incision sites. Every patient has different goals and anatomy. Healing times and recovery experience will vary slightly depending on the individual.
Swelling and bruising are common symptoms during the first ten days after surgery. Applying ice packs around the eyes for a forty-eight hour period will help reduce any swelling.
The patient should also sleep on their back with an elevated head for about five to seven days to help reduce swelling. These symptoms should
diminish
after fourteen days. Patients often
return
to work after a week. Driving may be resumed when the patient is no longer on pain medication and swelling has minimized. Two to four weeks after the surgery, patients will be able to resume exercising. Dr. Saini will monitor your healing progress through check-up appointments. During these times she may remove stitches and clean incisions. She will
inform
you when to return to the activities mentioned above as they pertain to your unique healing process.
Results
A brow lift is a
permanent
solution to brow furrows, drooping eyelids and deep lines on the upper face. By maintaining a healthy lifestyle, these results will stay consistent. Wear sunscreen, eat a balanced diet, and exercise. These activities will help your skin stay tight, smooth, and
beautiful
following your brow lift.
Complementary Procedures
A common procedure that is often performed alongside a brow lift is
eyelid surgery
, or blepharoplasty. Excessive eyelid skin, droopy eyelids, and droopy eyebrows
often
occur in the same areas. All three of these problems need to be addressed to result in the best aesthetic and functional outcome.
In an eyelid procedure, incisions are made around the eye and then tissue and excess skin are trimmed, tightened and re-sculpted to make the eyes more open and young.
Sometimes, a
facelift
is needed to provide a more comprehensive solution to multiple aging problems. A facelift improves the mid to lower face and tightens the appearance of the cheekbones, jawline and chin. If you are interested in the
benefits
of a face lift or eyelid surgery, ask Dr. Saini about this option during your consultation.
Cost
Contact Carolina Plastic Surgery today at
(910) 323-1234
to
schedule a consultation
with Dr. Saini and find out if you are a candidate for eyebrow lift surgery to refresh and rejuvenate the eye and brow areas of the upper face.