Are you self-conscious about your overly large breasts? Do they cause you unbearable upper body pain? At Carolina Plastic Surgery, we can help you achieve a more proportioned figure and reduce the pain with breast reduction surgery.
Contact
our Fayetteville, North Carolina location today and a member of our staff will be happy to help you set up a consultation with Dr. Saini.
Breast Reduction Surgery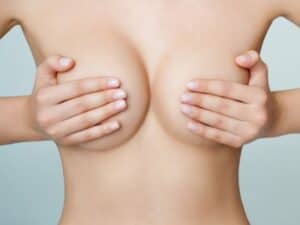 Breasts that are too large can cause physical and emotional distress. Women tend to experience back pain and discomfort, as well as self-consciousness and decreased body image. For some women, their overly large bust even prevents them from doing certain activities like jogging or working out. Breast reduction surgery is designed to
remove breast tissue, fat, and skin
to create the desired size and
make the bust more proportionate
to the patient's body. This is done with one of two different incision techniques, often times including an
areola reduction and repositioning
to match the breasts new size. Breast reductions can be performed with a breast lift as well to ensure the breasts are at a youthful elevation.
Benefits
Breast reduction has provided many benefits to the women who have undergone this surgery with Dr. Saini. Some of these include:
Reduced back, neck, and shoulder pain
Bettering overall comfort and quality of life
Can jog or run without the pain
Creating breasts that are more proportionate to the patient's body type
Improved posture
Fit better in clothes
Can wear strapless tops and dresses without worry
Easier time breathing
Can sleep on their stomach
Noticeable increase in patient's confidence and self-esteem
Ideal Candidate
Macromastia is clinical terminology for large breasts. With large breasts,
symptomatic macromastia is common.
This is a term used to describe
physical symptoms
caused by a patient's large breasts, such as back pain. Women interested in breast reduction surgery typically experience one or more of the below symptoms:
Skin rashes under the breast
Physical limitation due to bust size
Indentation and marking from bra straps on shoulders
Suffering from prolonged neck, shoulder and/or back pain
The ideal candidate will be in good overall health, not be a smoker, and is close to their ideal weight.
Women do not have to experience the aforementioned symptoms to be considered for breast reduction. Breast reduction surgery can be undergone
for an aesthetic change.
Carolina Plastic Surgery encourages anyone who wants to
decrease their breast size
to come into the office and discuss the options available with Dr. Saini.
Breast Reduction Incision Techniques
The particular incision technique used by Dr. Saina
will depend on the patient's breast size,
breast tissue, skin elasticity, and the specific overall appearance that is desired. During the consultation, Dr. Saira will go over the incision techniques and offer her expert recommendation for the patient's particular concerns.
Anchor Incision
The anchor incision technique provides the
most dramatic results.
The incision is made, as it sounds, in an
anchor-shaped pattern.
It starts around the areola with an incision then made down the breast, and then a third horizontally along the natural breast fold. The doctor will remove the appropriate amount of skin, glandular tissue, and fat if necessary, from the patient's breasts
to reach the desired size.
The nipple and areola are typically
reduced in size and lifted upward
during the process for proportionate results.
Keyhole Incision
A keyhole incision, also known as a
lollipop incision,
is commonly used for women who desire a
smaller reduction in size.
Those looking for a large reduction would benefit more from the anchor incision. The keyhole incision is made in a
circular shape around the areola,
with another incision made vertically down the breast towards the inframammary crease. The difference between the keyhole incision and anchor incision techniques is the incision along the inframammary crease. The breast tissue is removed as necessary, with the removal of fat if adipose tissue is the cause of the large breasts. The doctor will then
reduce and reposition the nipple and areola
to match the new breast size and shape.
Consultation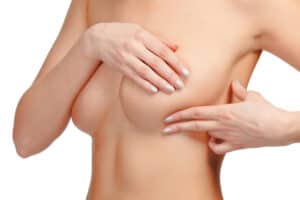 During the consultation, Dr. Saira will have a
discussion with the patient
about their concerns and physical and emotional symptoms. She will then
review patient's medical history,
perform a physical examination, and if found a good candidate, will then work to
create an individualized procedure plan.
Patients should mention if they are planning on losing a significant amount of weight or plan to become pregnant because these will have an effect on the procedure plan and candidacy in general. Dr. Saini will explain the process in detail so patients leave her office feeling comfortable, knowledgeable, and confident in their decision to get breast reduction surgery.
Preparation
Before having breast reduction surgery, Dr. Saini will give a
list of instructions
of what patients should do to properly prepare. It is customized, but most of the time it includes:
Certain tests, examinations, and mammograms will need to be completed prior.
Patients will be asked to stop taking certain medications like aspirin before the procedure.
Those who are smokers will be asked to refrain from smoking for 3 weeks prior to surgery and for an allotted time after, depending on what the doctor suggests.
A designated driver is required to drive patients home from any surgery involving general anesthesia.
If necessary, Dr. Saira will provide additional preparation information. We at Carolina Plastic Surgery want to make sure
every patient is well-informed.
This a very personal procedure which is why every patient needs to
feel welcome and taken care of,
which we do everything in our power to provide.
The Breast Reduction Procedure
The extent of the procedure will depend on the individual goals, surgical preferences, and the level of correction desired.
Breast reductions are performed under
general anesthesia on an outpatient basis.
The surgery takes about
2-3 hours
but may take longer if performed with additional procedures like a breast lift. In general, breast reduction surgery is performed with either a
keyhole or anchor incision;
this will be
determined at the consultation
beforehand. After the incision is made, excess breast tissue, skin, and fat are removed until the breasts are
reduced to the desired size and shape.
The nipple and areola are also made smaller and raised in order to make sure they are
proportionate with the newly sized breasts.
After optimal results have been achieved, the incisions are closed and the patient is brought into a comfortable recovery room.
Additional Procedures
At Carolina Plastic Surgery, our breast reduction patients commonly undergo a
breast lift at the same time.
This both reduces breast size and lifts the newly sized bust to a
higher, perkier elevation.
The two procedures are commonly performed together because both utilize the same incision, so it is easy to perform a breast lift at the same time.
Liposuction
is another procedure our Fayetteville patients often undergo with breast reduction. Liposuction
removes localized fat deposits
that are resistant to exercising and eating healthily. Liposuction can sometimes be
used to aid breast reduction
in some cases.
Recovery
The recovery time and extent of
recovery vary per case.
Following the surgery, patients will be given personalized aftercare instructions as well as dates when to return for follow-up appointments. Dr. Saini will wrap the breasts in a compression garment or support bra to help reduce swelling and bruising, as well as keep tension off of the sutures. Depending on the case, the doctor may place drains to keep any surgical fluid or blood from building up. These are generally removed in a few days.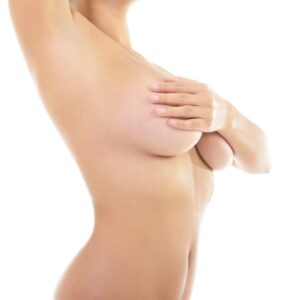 Patients will experience slight discomfort, tenderness, and sensitivity of the breasts. Medication can be provided to help relieve these symptoms. Normal activities can be
resumed in about a week,
but patients are advised to limit physical activity for the
month following surgery;
this includes lifting any heavy objects during the healing process.
Results
Breast reduction surgery
delivers immediate results
for patients. However, optimal results take about
6-8 months.
As the swelling and bruising begin to subside, the newly contoured
breast shape becomes more visible.
After breast reduction surgery, our patients notice that their back, neck, and shoulder pain has reduced or completely disappeared. Patients will also be able to
enjoy a more active lifestyle
as the physical activity limitations are reduced.
Clothes also fit much better,
not to mention bra shopping becomes much easier.
The results from a breast reduction procedure do not just impact the physical appearance of the patient but directly impact patient's emotions.
Many patients feel
more self-confident and self-assured
after the procedure. The increase in patient's confidence, in addition to being able to live a more active lifestyle, can have a
dramatic impact
on the patient's
quality of life.
Cost
The cost of breast reduction surgery
varies based on the technique undergone
and the addition of other procedures. Finally,
love your body and feel comfortable
in your own skin with the assistance of Dr. Saira. She takes pride in
helping women have the self-confidence
they deserve.
Contact
Carolina Plastic Surgery today to schedule a consultation and find out if you are a candidate for breast reduction surgery.