The
natural aging process and dramatic weight changes can alter the body's appearance
, especially on the lower body and thighs. After losing large amounts of weight, many patients sometimes find that there is excess skin on their legs, which creates and undesirable figure and proportion.
This can result in a poor body-image and cause anxiety
for patients showing their legs in public. Those who want to find relief from these issues and restore a proportionate, natural-looking figure may benefit from a thigh lift.
Dieting and exercise can't eradicate the problem of sagging skin. In fact, excess skin is often a result of diet and exercise.
For excess skin and/or fat in the thighs, Dr. Saira Saini performs thigh lift surgery at Carolina Plastic Surgery. This common procedure can help slim and improve the contours of the inner and outer thighs for long-lasting results.
What is Thigh Lift Surgery?
For thighs that are toned, slim, and firm, sometimes diet and exercise alone cannot fully achieve your goals. A thigh lift is a common procedure
for men and women
and can achieve multiple goals in the inner and outer thighs including:
Removing excess fat and skin
Smoothing sagging or bumpy skin
Improving overall appearance and contours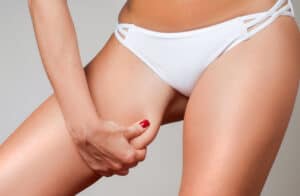 This procedure
can be customized
to your individual condition and goals and in some cases
can be combined with other surgical procedures
to provide better results. The thighs are often considered to be a trouble spot for maintaining a slim figure. Additionally, as people age, it becomes more difficult to keep the area appearing muscular and slim. Too much skin and fat can create a disproportionate figure and lead to skin irritation. Dr. Saini will work to
improve the leg's appearance with a thigh lift
, which can repair these problems by removing extra skin from the area. In some cases, a thigh lifts may be paired with
liposuction
for the most dramatic results.
Benefits of a Thigh Lift
The thigh lift can
deliver great results for your body confidence and figure
. The results of a treatment last for years and may be permanent barring future weight gain. Patients report
feeling more confident and looking better
in their clothes. Pre-thigh lift, patients sometimes felt uncomfortable wearing bathing suits or revealing clothing and physical discomfort caused by sagging skin.
Good Candidates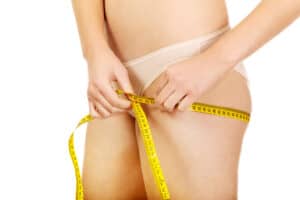 People who have
healthy diet and exercise habits
but still suffer from excess skin on their inner and outer thighs are ideal candidates for thigh lifts.
Excess skin
is extremely difficult to eliminate because it simply does not respond to additional dieting or exercise. The skin is
naturally elastic
but it can only bounce back so much after it has been stretched. Extremely stretched skin typically does not bounce back to its previous condition. The thighplasty is a particularly effective procedure for people who have lose huge amounts of weight. Thigh lifts are often combined with other procedures for
maximum body contouring results
.
People who would like a thigh lift should be at a stable weight before their surgery. They need to be reasonably healthy, with no health conditions that could interfere with their ability to heal post-surgery. Patients will also need to stop smoking before their procedure date.
An important but often overlooked factor is
having realistic goals
. Patients should be aware of what
Dr. Saini
will be able to do for them; they should know exactly what a thighplasty can and cannot achieve.
You can find out if a thigh lift is a good idea for you by visiting our Fayetteville office.
Schedule a consultation
with Dr. Saini to
have all of your questions answered
.
The Procedure
Unlike liposuction, a thigh lift is not intended strictly for fat removal. Thigh lift surgery also aims to
smooth the skin and tighten the underlying tissue
matrix for an overall improved aesthetic. Incisions are typically hidden within the natural creases and folds of the skin when possible, and Dr. Saini will discuss your incision options during your consultation. Most thigh lift surgeries are outpatient procedures
performed under general anesthesia
.
Inner Thigh Lift Incision
The process begins by
Dr. Saini
making a small cut
in the patient's groin area and continuing down to the knee or, stopping somewhere on the back of the knee. If the patient doesn't need a major lift, the surgeon might generally opt to do a smaller incision.
Outer Thigh Lift Incision
For this procedure. Dr. Saini will make an incision near the groin that then wraps around the hip. The
scars will mostly be hidden
when the patient wears bathing suits and underwear. Often, the patient requests to have
liposuction
performed as well to remove excess subcutaneous fat and achieve additional sculpting.
After the incision is made, Dr. Saini will remove unwanted skin from the area for the result of slim, proportional thighs.
The final step is closing the incisions with sutures. The patient will be bandaged and taken to a recovery room to recuperate. Our
staff will closely monitor the patient
until the anesthesia wears off. Patients won't be able to drive themselves home post-surgery and should make arrangements to
be picked up and driven home
. We recommend making arrangements for a friend or loved one to stay with you for the first day or so after the procedure. Rest and avoiding unnecessary strain and movement is
much easier with assistance
for basic living necessities.
Recovery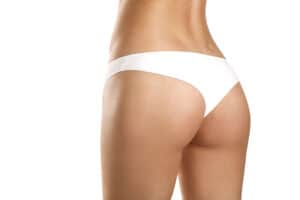 Bandages, surgical dressing and drains may be placed to
improve healing
and minimize swelling. Swelling, bruising, pain, and discomfort are common side effects immediately after thigh lift surgery.
Pain medication is available
to ease discomfort during your recovery. All thigh lift patients will need to return to the clinic for a
follow-up appointment a week afte
r their surgery. Our staff is committed to making sure that our patients heal properly. During the follow-up appointment, Dr. Saini will
provide the patient with personalized advice to help
them get through the final leg of their recovery. Drains are usually removed at this point as well.
Patients will be provided with a step by step treatment plan during their initial consultation. Everyone is different and people heal at different rates. However, most people need to take 2-3 weeks off of work to fully recover.
Thighplasty Results
One of the great things about thigh lift procedures is that patients should be able to see their results immediately.
After their surgery, patients will be able to look at their new shape
. The final results, however, won't be ready for 6-10 months after the surgery. The bruising and swelling should begin to go down with a few days.
A lot of thigh lift patients report feeling far more comfortable in shorts and bathing suits after their surgery. A thigh lift can't imbue someone with self-esteem, but it can provide a strong confidence boost.
There will be a scar because the surgeon needs to make an
incision
, but Dr. Saini is skillful enough to place her incisions so that they would be
invisible
when wearing most undergarments. However,
scars fade naturally over time
. Lotion and sunscreen can help lessen the appearance as well. Patients who pay attention to their post-op care will enjoy
long -asting results
. Plastic surgery can't defeat aging, but it can change the way someone looks. A thigh lift can make the patient's legs appear
slimmer and younger
.
Consultation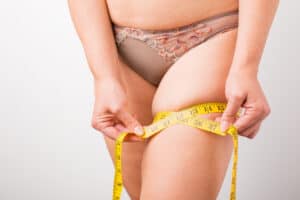 If you want to have a thigh lift performed, you need to
schedule a consultation
with Dr. Saini. Nothing can be done until you do. Thigh lifts are highly variable surgeries. During your consultation,
Dr. Saini
will review your medical history to determine the best way to treat you. The consultation is your time to
tell Dr. Saini exactly what you hope to achieve
from your procedure. She'll perform a
close physical examination
and take
note of your skin's elasticity
. She
may take pictures
as well, although your face won't be included. Once Dr. Saini has a good grasp on your medical history and your current state of health, she will let you know if you're a strong candidate for a thigh lift, or another procedure. If a thighplasty is deemed appropriate, Dr. Saini will
devise a customized treatment plan
for you. It's important to note if the patients need an outer thigh lift, an inner thigh lift, or liposuction. Some people benefit from a combination of the three. We encourage you to ask questions. We want you to
feel completely comfortable
and that requires understanding
what is going to happen
to you. A patient's surgery day shouldn't be a mystery. All patients should know what
Dr. Saini
is going to do and why she's going to do it.
The decision to undergo cosmetic surgery isn't taken lightly; we realize that patients need to have their concerns addressed before they'll be willing to have a thigh lift performed.
Cost
A thigh lift is an
extremely customizable procedure
. That means that the cost is impossible to determine unless the patient's individual needs and medical history are considered. Some people desire more extensive work than others. Additionally, there are also uniform expenses for every patient, including the compression garments that must be worn post-surgery and the operating room facilities that
Dr. Saini
will work in. We will be able to provide you with a
detailed cost estimate
after your discussion with Dr. Saini. We have multiple financing options. Call our office at
(910) 323-1234
to
schedule
your consultation today.