An abdominoplasty or tummy tuck is body contouring surgery to shape your overall appearance and eliminate sagging skin. If you are interested in a tummy tuck or any of our other transformative procedures at Carolina Plastic Surgery, read our blog to learn more.
Trim Your Waistline to More Attractive Contours
Having a flat, toned abdomen is a cosmetic goal that both men and women strive to achieve. In many cases, diet and exercise fall short in helping men and women achieve their aesthetic goals. Dr. Saini can help. More commonly known as a tummy tuck, abdominoplasty procedures are performed to remove excess skin and tighten the abdominal muscles. The procedure creates a thinner, more aesthetically-pleasing midsection.
What's Included in a Tummy Tuck?
The removal of excess skin
In some cases, the removal of excess fat
Tightening of underlying abdominal muscles, when necessary
Carolina Plastic Surgery's advanced tummy tuck techniques can create a tummy that is flatter and more toned. During your consultation with Dr. Saini, a customized surgical plan will be created for you. Contact Carolina Plastic Surgery and begin your journey of transformation. Call (910) 323-1234 to schedule a consultation. If you prefer, we now offer Virtual Consultations, as well.
[pg-promo slug="tummy-tuck"]
Tummy Tuck Techniques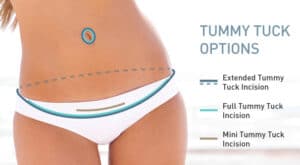 There are several approaches to abdominoplasty. All of them will tighten loose, lax skin around the abdomen. The type of tummy tuck technique that Dr. Saini chooses for you will depend on the severity of your issue.
Full Tummy Tuck
In a full tummy tuck, an incision is created around the belly button and another near the pubic line. Loose skin is appropriately removed and the stomach muscles are fastened tight around the midsection to help create a more flattering silhouette.[1] Dr. Saini may perform some Liposuction at the flanks and belly for enhanced body contouring. The remaining skin is pulled taut, and a new incision is made for the belly button. Dr. Saini takes great pride in hiding the belly button incision so patients feel comfortable showing off their tight and flatter midriff.
Mini Tummy Tuck
A mini tummy tuck is a shorter, less involved version of a full tummy tuck. This technique is great for women and men suffering from a lower belly pooch that is resistant to diet and exercise. Dr. Saini makes a small incision and tightens the lower abdominal muscles. Dr. Saini will carefully remove the lax skin. Recovery time is shorter with the "mini" than the full tummy tuck. The procedure can safely be performed in-office without the need for general anesthesia.
Extended Tummy Tuck
This abdominoplasty technique takes the full tummy tuck and extends its incisions to the flanks. An extended tummy tuck allows for additional skin excision on the midsection and hips.
Is Abdominoplasty Right for you?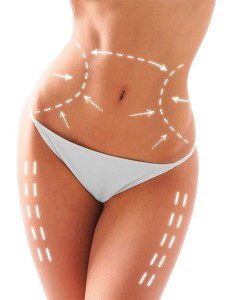 Candidates for a tummy tuck are women and men with loose abdominal skin and muscles due to massive weight loss or pregnancy.[2] Tummy tuck patients should be in good health, close to their ideal body weight, and have realistic expectations of the surgery. A tummy tuck procedure will enhance the contour of the abdomen, but it is not specifically designed to remove large fat deposits.
Although having loose skin and/or excess fat in the abdominal area is a common cosmetic concern, not all men and women are good candidates for this procedure. Dr. Saini can determine your candidacy during your confidential consultation.
Your Private Consultation With Dr. Saini
Dr. Saini's positive reviews are courtesy of patients who were just like you, at one time, considering how to take their empowering first steps toward change. You will have a one-on-one conversation with tummy tuck specialist Dr. Saira Saini during your initial consultation. During this consultation, Dr. Saini will evaluate your overall health to determine if tummy tuck surgery is right for you. If you are deemed a good candidate, she will create a personalized tummy tuck surgical plan. It is important to Dr. Saini for all of her patients to be educated about any procedure they wish to undergo. All questions are highly encouraged.
Contact Carolina Plastic Surgery today to request a consultation at our Fayetteville office. Find out how a tummy tuck can help you achieve your aesthetic goals by creating a flatter, trimmer abdominal area. Call (910) 323-1234 or, if you prefer, you can also set up a Virtual Consultation.
Preparation & Procedure
Patient safety is extremely important to Dr. Saini. She will provide you all the information you need to properly prepare for your procedure.
How Do I Prepare for Abdominoplasty?
Do not smoke or take any anti-inflammatory medications for three weeks before the surgery
Arrange transportation to take you home from surgery
Make sure you have enough pillows at home to keep your back and head propped up while resting or sleeping during your recovery
Bring a loose-fitting top to surgery
Dr. Saira Saini performs tummy tucks in an accredited hospital with the help of an experienced, board-certified anesthesiologist. The procedure takes between two to three hours to complete, depending on the extent of the case.
Dr. Saini begins making her incisions so she can lift, tighten and remove excess skin. Next, the remaining skin is redraped and sutured to create a flat, tighter midsection.[3] Surgical dressing and a compression garment will be placed around the abdomen to help reduce swelling.
Recovery & Results
The healing process can be different for everyone, but patients may experience mild swelling, bruising and discomfort. Dr. Saini will prescribe pain medication to help alleviate any discomfort during your first week of recovery. Generally, patients can expect to take at least one week off from work to make sure they get enough rest.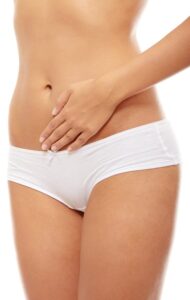 It is important to get up and move while you heal so as to promote good blood flow. But please take it easy. More vigorous activities can be resumed after four to six weeks.
Tummy tuck patients will have follow up appointments once a week with Dr. Saini for the first postoperative month to ensure you are healing well. Several more follow up appointments will be scheduled over the span of that year.
Tummy tuck results are typically long-lasting and can be maintained easily through healthy diet and exercise. Many patients experience a great spike in self-esteem after a tummy tuck, having the confidence to show off their midriff and wear more fitted clothing.
Complementary Procedures
Tummy tucks are very often performed with additional body sculpting procedures for enhanced results. Liposuction is a very effective body contouring procedure that uses the gentle power of suction to remove localized fat deposits. It can be performed to remove stubborn fat from almost anywhere on the body. When combined with a tummy tuck, this powerful procedure can provide women and men the defined, sculpted look they've been working so hard to achieve.
For moms looking to enhance their post-baby figure, Dr. Saini performs a Mommy Makeover to sculpt the breasts and body. This surgery is designed to make moms feel confident and sexy, because their aesthetic desires shouldn't have to fall by the wayside.
How Much Does Abdominoplasty Cost in North Carolina?
The price of a tummy tuck at Carolina Plastic Surgery depends on each patient's individual needs. Your cost estimate will also be affected if you choose to undergo any complementing procedures at the same time. In order to receive a custom quote, please feel free to contact us today to request a tummy tuck consultation. We look forward to hearing from you!
Financing options are available for patients who qualify. Check our specials page for opportunities to save.
FAQ
Does a tummy tuck improve your sex life?
An abdominoplasty can, indeed, improve your sex life.[4] This is due to more than simply an increased sense of confidence, which certainly helps! During the course of the procedure, your skin will be lifted from the pubic mound, decreasing the distance between the xiphoid process and vulvar commissure. As a result, the angle of the vulva is changed and the clitoris is more exposed. Many women attribute their postoperative sexual enjoyment to this minor course correction to the vulva.
References