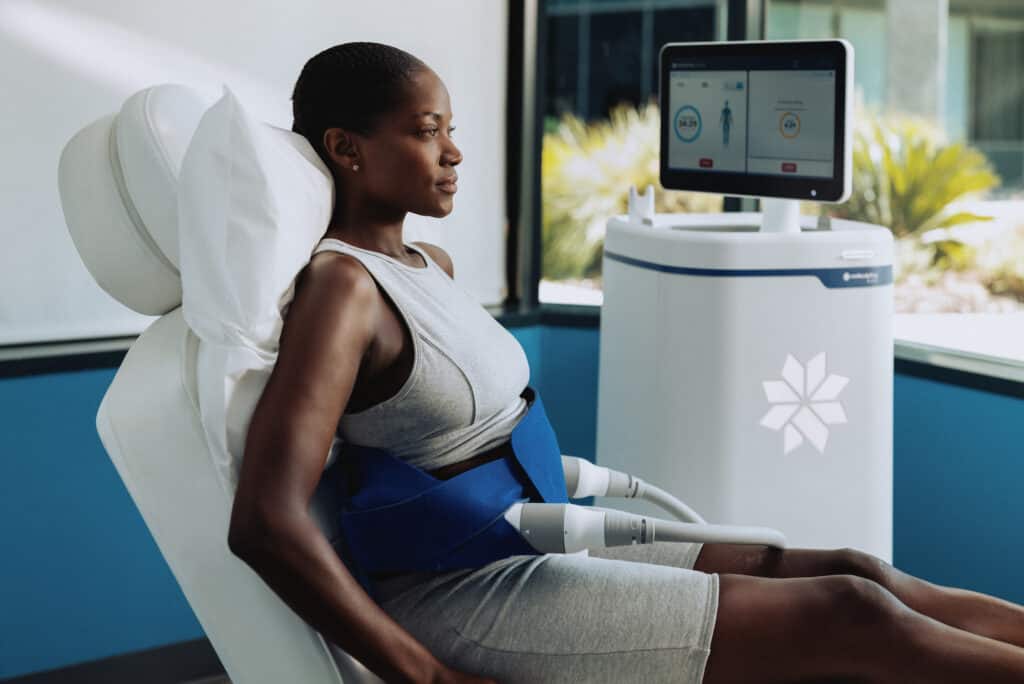 CoolSculpting Elite is a non-invasive body contouring method that eliminates unwanted fat by subjecting it to cold temperatures, which damage and then kill fat cells. This process is known as cryolipolysis, and is how the original CoolSculpting treatment skyrocketed in popularity in the United States after its approval by the FDA in 2010.(1) CoolSculpting technology can effectively eliminate visible fat bulges, and CoolSculpting Elite offers exciting improvements on the original technology. After all, body fat around the abdomen, flanks, legs, arms, and under the chin can be nearly impossible to be rid of, as it readily resists diet and exercise. Fortunately, advances in body contouring methods have made fat removal easier than ever before!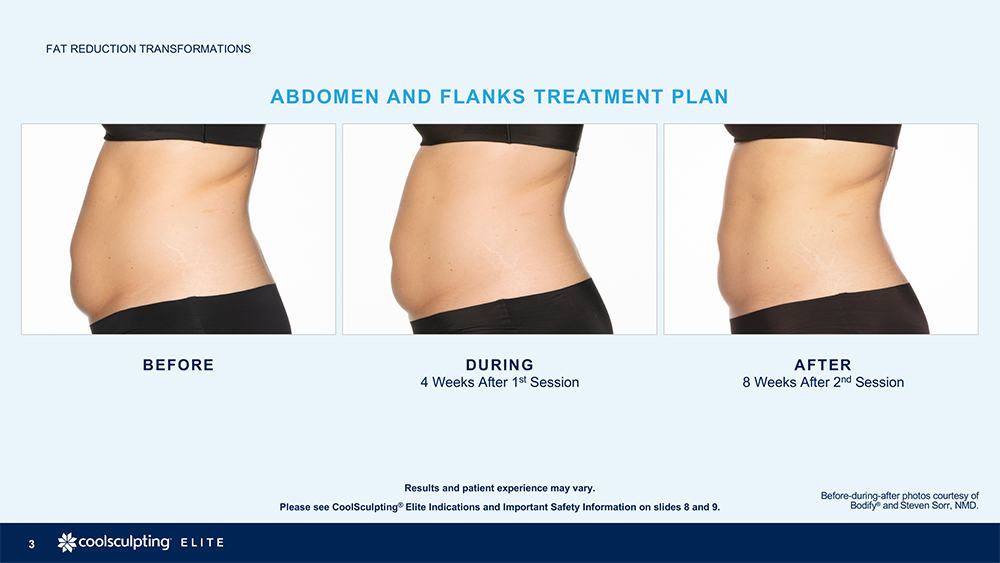 Dr. Saira Saini and her team at Carolina Plastic Surgery is the first aesthetic practice to offer CoolSculpting Elite in the area, and patients looking to achieve their ideal body are excited! If you're looking to enhance your silhouette without surgery, anesthesia, or a lengthy recovery, then look forward to a CoolSculpting Elite treatment. Learn how you can achieve your dream body with this improved technology by scheduling a consultation at our offices in Fayetteville. Call (910) 323-1234 to reach our office and set up your appointment today!
About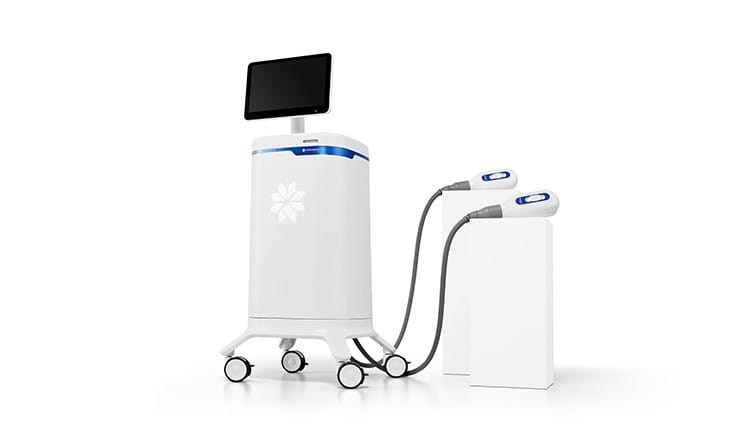 CoolSculpting was the first cryolipolysis system approved for use nationally and internationally. In the 10 years since it's become widely available, it's been used for over eleven million treatments across the globe. (2)
This non-invasive body contouring treatment removes mild to moderate amounts of stubborn adipose tissue using a clinically tested and safe technique. An applicator placed above the skin subjects the treatment area to freezing temperatures. Fat cells, or adipocytes, are far more sensitive to temperature changes than other kinds of body cells, so while skin and other tissues remain unaffected, fat cells are damaged, ultimately leading to their death. The body's natural cellular processes eliminate the dead fat cells over the coming weeks.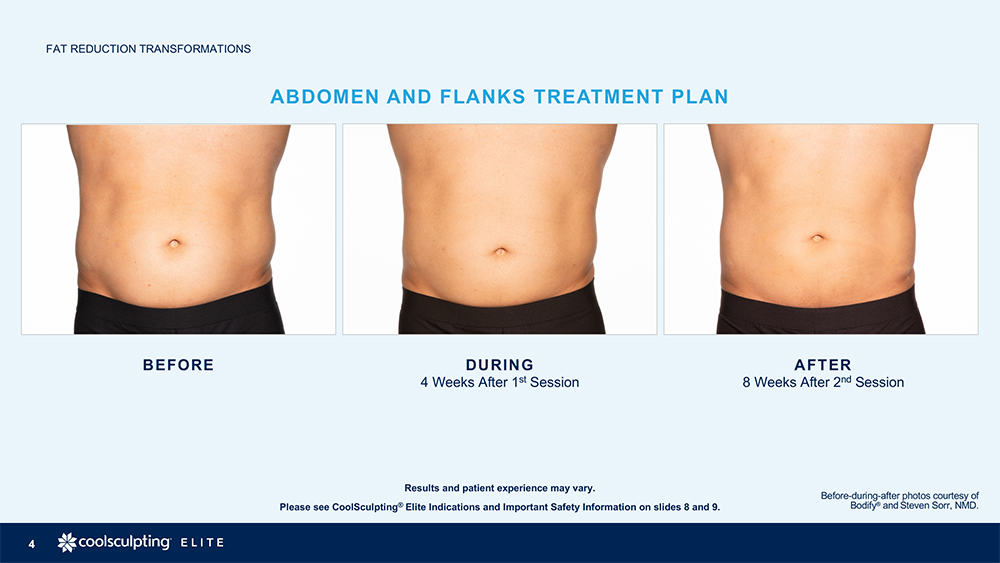 Since the process is gradual, and the results are natural-looking, no one will know that you've had a little help getting rid of those pesky problem areas – unless you tell them! Over time, the treated areas will decrease in size, revealing smooth contours and more visible muscle definition. Patients can receive additional sessions to achieve optimal results, and treatments can be performed every six weeks. It works. Cryolipolysis has been proven to eliminate fat deposits by up to 25% per session! [3] With CoolSculpting Elite, the process is even faster and more effective. The dual applicators ensure that each side of the body treated is symmetrical. Results can be more consistently achieved since target areas are receiving exactly the same treatment at exactly the same time. And, since double the fat can be treated in a single session, patients can spend less time in the office and more time looking forward to enjoying their results.
CoolSculpting Elite Treatment Areas
Abdomen
Thighs
Arms
Flanks (love handles)
Back bulge
Buttocks
Banana Roll (area under the buttocks)
Double chin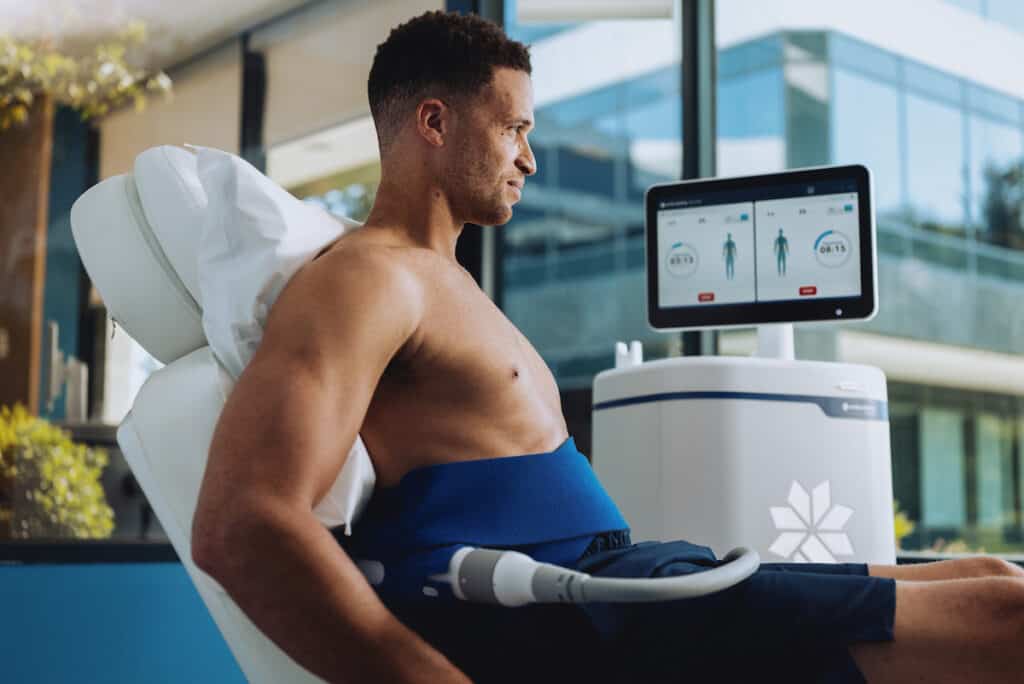 Elite Benefits
CoolSculpting Elite is one of the most popular body contouring treatments today. The dual applicators offer several important advantages that make this system the industry leader.
Effective, quick, and uncomplicated procedure
Produces an evenly toned appearance with symmetrical results
No needles, anesthesia, or downtime is needed
Works with your body's natural processes to eliminate fat cells
Customized approach that can target various areas, and bodies in a wide range of sizes and shapes
Long-lasting results that gradually emerge
Ideal Candidates
Those interested in CoolSculpting Elite are healthy individuals putting the finishing touches on their appearance. The treatment gives anyone struggling to lose specific areas of fat on their own a push in the right direction. Prospective candidates should also:
Be in general good health free of underlying conditions such as lymphatic problems
Be within 30 pounds of their ideal weight
Have good skin elasticity
Are not pregnant
Desire to improve the appearance of specific areas of the body
Understand that CoolSculpting Elite is not a weight loss solution
Personal Consultation in Fayetteville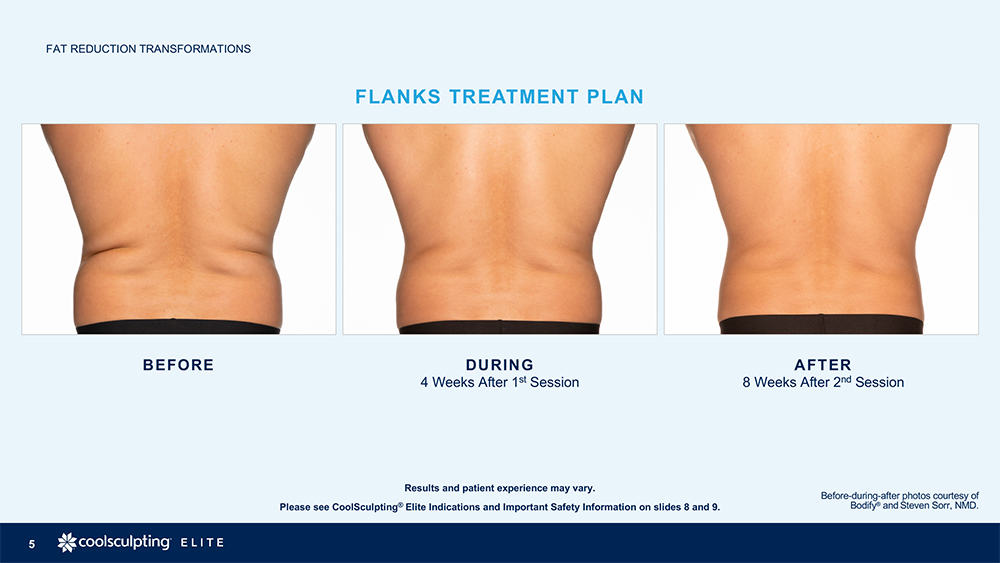 Your consultation will take place in our friendly Fayetteville offices. This meeting is dedicated to you, so please feel free to ask any pertinent questions and describe your aesthetic goals. We'll conduct a short examination of the areas of concern so we can assess your candidacy, and design an individualized approach. If deemed a good candidate, we'll then walk you through the process of how a CoolSculpting Elite treatment can give you an optimized figure, and let you know exactly what to expect before, during, and after your sessions.
Get rid of stubborn body fat once and for all with a CoolSculpting treatment! Start the process today by scheduling a personal consultation. Use our easy contact form or call (910) 323-1234. In the meantime, engage with us on Facebook and tag us in the pictures of your results on Instagram!
Preparation & Procedure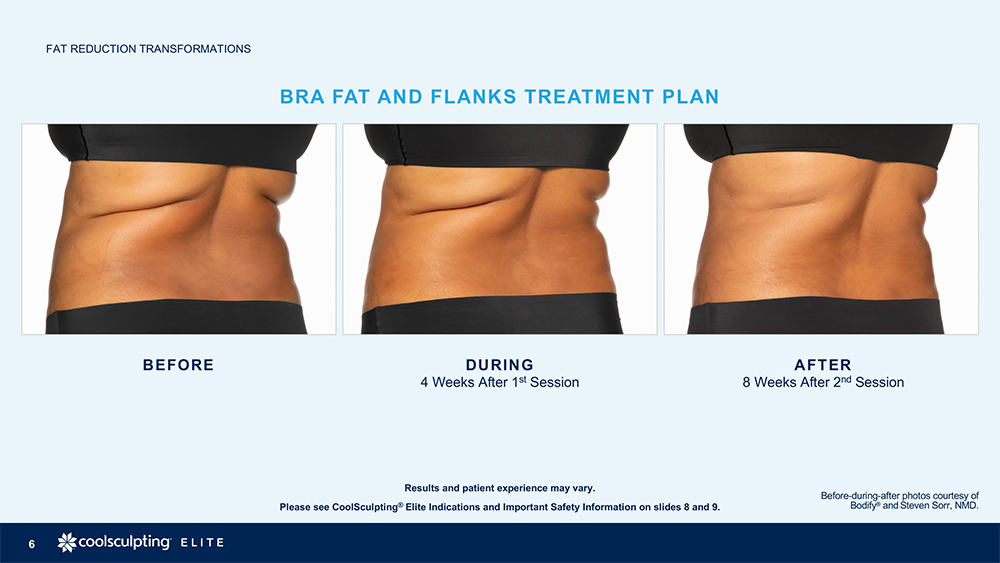 If you're deemed a good candidate for CoolSculpting Elite, we'll set the date for your first session. All you need to do is show up! Before we get started, we'll make sure you're resting comfortably. We'll begin by placing the CoolSculpting applicators directly on the targeted areas. The dual applicators on the CoolSculpting Elite system allow us to treat multiple locations at once, so you can lose twice the fat in half the time! The devices use gentle suction power to pull the fatty tissue into the applicator. Short bursts of cold air penetrate through the skin and expose fat cells underneath the skin to cold temperatures that lead to cell death. And, CoolSculpting Elite's highly accurate targeting process ensures the surrounding areas remain unaffected. At first, patients may feel a temporary tingling or tugging sensation at the treatment areas, but this should subside as the procedure continues. After the area has been treated, our technicians will massage the treated areas to facilitate the breakdown of fat. In less than an hour, your session will conclude, and you will be free to resume your day.
Fast, Easy Recovery

Patients jump right back into their schedule once they leave our office. There is minimal to no recovery time involved with a CoolSculpting procedure. Some patients may experience mild swelling or bruising immediately following their treatment session. Others experience lingering tingling or mild itching in the area, but these symptoms resolve over the coming weeks. After that, the area will return to normal, and the treated fat will be eliminated.
Results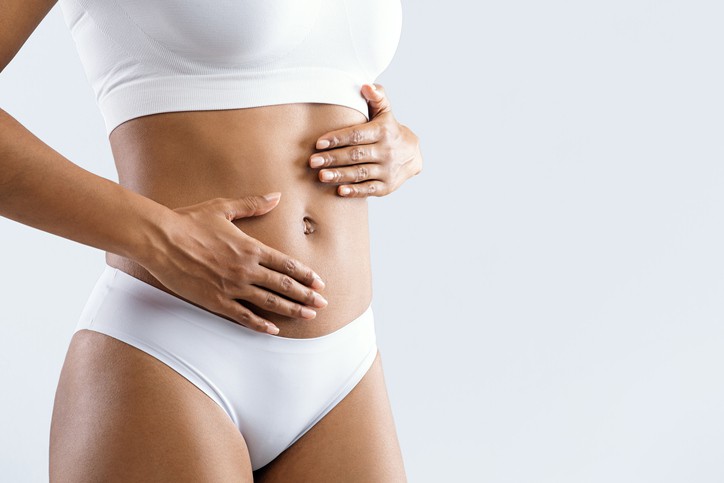 As your body naturally processes and eliminates the damaged fat cells, patients will start to see their new, streamlined contours emerge. While full results may take up to six months to become visible, every patient is different, and depending on the area treated, patients may be able to enjoy their results even sooner! Once the fat is eliminated, it's gone for good. However, that doesn't mean that the remaining fat can increase in size if a steady diet and exercise regime isn't properly maintained. Make sure to continue a healthy lifestyle so that you'll be able to enjoy your results for years to come.
Corresponding & Complementary Procedures
CoolSculpting Elite is just one of the effective services offered at Carolina Plastic Surgery in Fayetteville, NC. We know that sometimes patients just need a little extra help to look and feel their best, and that's something we all deserve!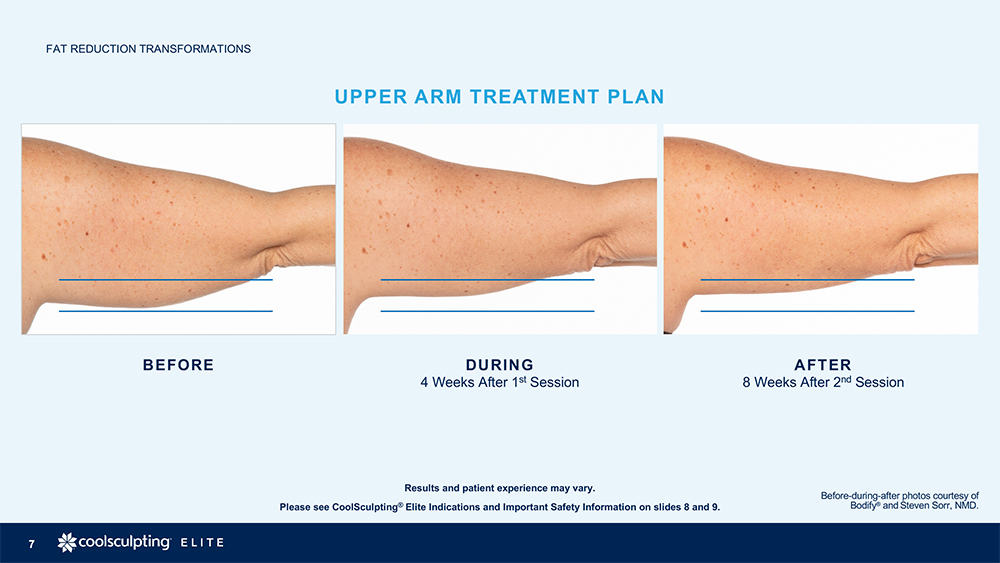 If you're looking for a non-surgical way to boost your assets, Sculptra injections are an easy, minimally invasive way to lift and refine the curves of your buttocks. A non-surgical butt-lift is one of the hottest procedures today. Sculptra is an FDA-approved smooth gel that contains microparticles of Poly-lactic acid, which stimulates the production of collagen for greater volume and smoother sexier skin.
Speaking of smooth, silky skin, are you over the hassles of shaving, waxing, and plucking? Dealing with unwanted hair doesn't have to be a constant battle. We offer laser hair removal featuring the Vectus laser system. Laser energy can be selectively channeled to compromise hair follicles and interrupt the normal hair growth process. After several sessions, hair is lighter, thinner, or gone altogether. Do yourself a favor and take a long-lasting step in eliminating unwanted hair. Nearly any area of the body can be safely treated, and you'll enjoy the results and the convenience for years to come! To learn more about the other exciting services we offer, follow our blog.
Cost
The cost of your CoolSculpting Elite treatment will vary. Pricing for this individualized treatment is determined by the type and number of areas treated, and the number of sessions needed to achieve desired results. You'll be given an accurate quote following your personal consultation. In the meantime, keep an eye on our specials page for ways to save on the many effective aesthetic services we offer!
FAQ
How safe is CoolSculpting Elite?
CoolSculpting technology is FDA-approved as a safe, non-invasive body contouring procedure. The treatment is fast and patient-friendly, with minimal discomfort and no lengthy downtime. Clinical studies have found that adverse effects only occur in up to 0.1% of patients treated. (3)
What kinds of symptoms will I experience?
Patients may experience mild swelling or bruising for the first 2-3 days. However, these symptoms are only temporary, and patients can resume their regular activities once their session ends. 
Can CoolSculpting help me shed baby weight?
This body contouring method is highly adept at restoring your silhouette to its pre-pregnancy appearance. However, CoolSculpting should not be looked at as a weight-loss treatment. CoolSculpting is a tool to help patients reduce troublesome body fat that has not responded to a healthy diet and exercise. 
References
Stevens, MD, FACS, W. G., Pietrzak, MSHS, PA-C, L. K., & A. Spring, MD, M. (2013, August 1). Broad Overview of a Clinical and Commercial Experience With CoolSculpting. Oup.com. https://academic.oup.com/asj/article/33/6/835/198407?login=true
McKeown, D. J., & Payne, J. (2021). Significant improvement in body contour with multiple cycles of CoolSculpting: Results of a prospective study. Dermatologic Therapy, 34(2). https://doi.org/10.1111/dth.14850
Sadick, N., Luebberding, S., Mai, S. V., & Krueger, N. (2014). Cryolipolysis for noninvasive body contouring: clinical efficacy and patient satisfaction. Clinical, Cosmetic and Investigational Dermatology, 201. https://doi.org/10.2147/ccid.s44371