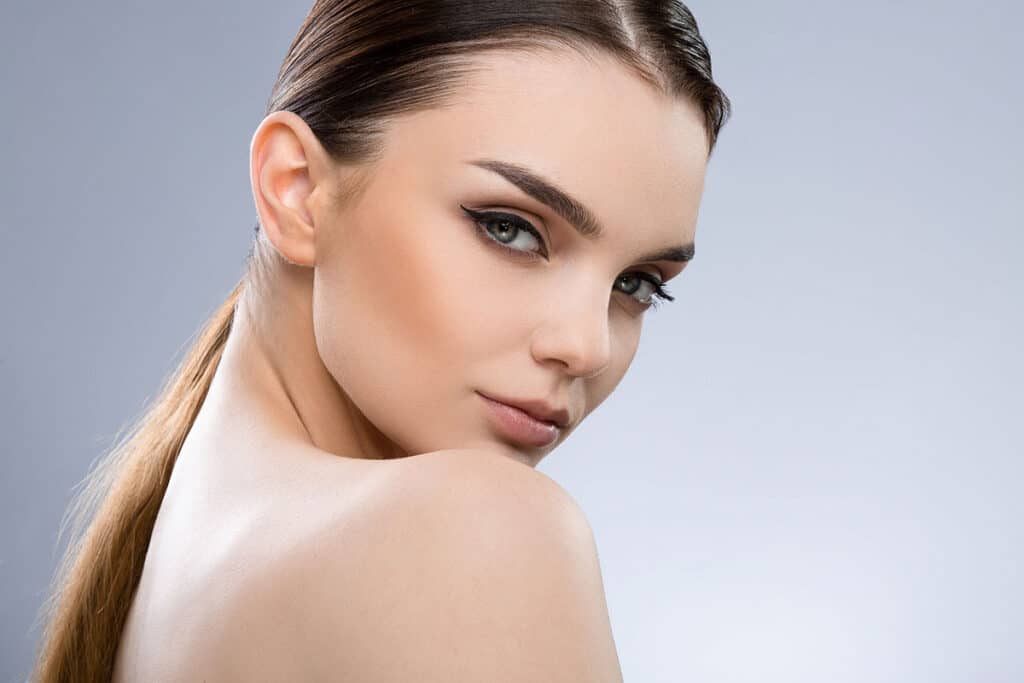 Enter the Swirling Vortex of Hydration!
HydraFacial is a non-invasive, medical-grade skincare treatment that uses patented technology to cleanse, exfoliate, extract, and hydrate the skin.
It is a multi-step procedure that is designed to improve the overall health and appearance of the skin. During a HydraFacial treatment, a device is used to cleanse and exfoliate the skin, followed by a gentle chemical peel to remove impurities and dead skin cells. Then, the device uses a suction-based extraction method to remove debris from the pores. Finally, a customized serum is applied to nourish and hydrate the skin, leaving it looking refreshed and rejuvenated. HydraFacial treatment can address a wide range of skin concerns, from improving hydration and reducing fine lines to minimizing pores and promoting a clearer complexion.
Dr. Saira H. Saini can help clients identify the best combination of treatments to achieve their desired outcomes, whether it be through HydraFacial alone or in combination with other procedures. Her patient-focused approach ensures that each individual receives personalized care and achieves the best possible outcomes. Find out what HydraFacial can do for your skin. Call Carolina Plastic Surgery of Fayetteville, NC at (910) 323-1234 or fill out our online inquiry form.
Interested in learning all about the treatments and procedures that can make your skin glow and turn back the clock on aging? Follow the CPS blog!
More About HydraFacial
As a society, we are increasingly focused on our skin health. Our skin, the largest organ in the body, plays a vital role, and it is essential to safeguard it from damage. Our skin is often considered a window into our overall health, and changes in skin appearance, texture, and sensitivity can indicate underlying medical conditions.
During a physical exam, doctors can examine the skin for signs of illness. The skin can also provide clues about our self-care habits. For instance
Dry or dull skin may indicate that we are not drinking enough water or following a proper skincare routine
Sun damage, such as sunspots or wrinkles, can suggest that we need to take better care to protect our skin from harmful UV rays
Changes in the skin's appearance or texture can indicate that we need to adjust our diet or seek medical advice.
Overall, paying attention to changes in our skin can help us take better care of ourselves. And when it comes to hydrating dull, dry skin, nothing comes close to the hydradermabrasion benefits of HydraFacial.
Hydradermabrasion vs. Microdermabrasion
Many patients in Fayetteville, NC and across the country are opting for HydraFacial (hydradermabrasion) over traditional microdermabrasion. With the rising demand for fast and noticeable skincare results, an increasing number of innovative treatments are becoming accessible.
The latest microdermabrasion techniques now utilize microcrystal-free methods like hydradermabrasion. Hydradermabrasion functions similarly to microdermabrasion, but instead of utilizing propelled microcrystals for exfoliation, it employs a blend of oxygen and aqueous solutions at high velocities to rid the face of debris and dead skin cells. Impurities are then gently suctioned away.
Although microdermabrasion is an effective skincare treatment, it is not suitable for all skin types and must be used with caution in individuals with Fitzpatrick skin types IV-VI, rosacea, sensitive, or thin skin because of the higher risk of skin irritation and hyperpigmentation associated. [1]
The HydraFacial approach is unique because it exfoliates and hydrates the skin simultaneously in one treatment pass. [2] The supersonic micro-droplet jet widens micro-canals in the outer skin layers, enhancing skin hydration and cleansing while exfoliating the epidermis.
A study was conducted to evaluate the effectiveness of hydradermabrasion for facial rejuvenation. The study involved comparing the outcomes of people who received hydradermabrasion facial treatments using an antioxidant serum with those who only received the same antioxidant serum manually applied to their skin. Six hydradermabrasion treatments on a 7-10 day interval were completed to evaluate whether this technique could increase antioxidant levels in the skin and improve skin quality.
The results of the study demonstrated that the skin treated with hydradermabrasion showed increased epidermal and papillary dermal thickness, as well as higher levels of antioxidants. Further examinations revealed the replacement of elastic dermal tissue, collagen hyalinization & fibroblast density, which correlated with a reduction in the appearance of fine lines, pore size, and hyperpigmentation in the treated areas. This study highlights the efficacy of hydradermabrasion treatment in improving skin quality by adding hydration, oxygen, and antioxidants to exfoliated skin, making it a viable alternative to microdermabrasion. [3]
What are the Benefits of HydraFacial?
HydraFacial is suitable for all skin types and sensitivities. The hydrating aspect of the treatment results in reduced discomfort, less irritation, and quicker recovery. HydraFacial can be tailored to address specific skin concerns such as:
Fine lines and wrinkles
Hyperpigmentation
Oily or congested skin
Dehydrated skin
Moreover, it allows for customized solutions and serums to be formulated with antioxidant properties that target specific skin types, textures, and conditions, which cannot be delivered by traditional microdermabrasion.
It is often used as a standalone treatment or as a complement to other cosmetic procedures. A HydraFacial session is relaxing and has no downtime, making it a popular option for people with busy lifestyles. Many people want their skin to look good for special events because it can give them a boost of confidence and help them feel their best. Having clear, radiant skin can also make a great impression on others and leave a lasting memory of your appearance.
Who is the Ideal Candidate for Hydradermabrasion?
Hydradermabrasion is an excellent option for:
Individuals with darker skin tones
Aging skin
Sensitive skin areas
Oily and dry skin complexions
There are many reasons why someone might want their skin to look its best, like for a special occasion such as a wedding or a big event. One of the most obvious reasons is that people want to look their best for photos and videos that will capture the memories of the event for years to come. Having clear, healthy, and glowing skin can give someone the confidence they need to feel good in front of the camera and in front of a group of important people.
But do you really need an excuse to have gorgeous skin? Aren't you worth it? Of course you are! Let us help you step up your skin care routine and show the world, and yourself, how worth it you are.
Personal Consultation
During the consultation for your HydraFacial treatment, you will have the opportunity to discuss your skin concerns and goals with your provider. This is a great time to mention any upcoming events or occasions where you want your skin to look its best, such as a wedding, graduation, or important business meeting. Dr. Saini can help you lay out a treatment plan that will have your skin at peak hydration on the day of the event.
Dr. Saini will assess your skin condition; this process may involve a visual examination of the skin, as well as a discussion about your skincare history, including any previous treatments or products you have used. She may also ask about your lifestyle habits, such as diet, water intake, and stress levels, as these factors can all impact skin health. Based on this information, Dr. Saini will develop a customized treatment plan that is tailored to your unique needs and goals.
When you leave the consultation, you will understand the HydraFacial process in detail, including the steps involved and what to expect during and after the treatment. Call (910) 323-1234 to schedule your consultation appointment.
Preparing for Your HydraFacial Appointment
Before your HydraFacial appointment, there are a few things you can do to ensure you have the best experience possible. Here are some tips to help you prepare:
Refrain from exfoliating your skin for at least 48 hours prior to your appointment; this will ensure your skin is not overly sensitive during the treatment.
Limit your sun exposure for at least 24 hours before your appointment. Sunburned or sun-damaged skin may be too sensitive for the treatment.
Refrain from waxing or using hair removal creams on the area being treated for at least 48 hours prior to your appointment.
Avoid using retinol, glycolic acid, and other similar skincare products for a few days before your appointment. These products can make your skin more sensitive and increase the risk of irritation.
If you have questions leading up to your appointment date we will be happy to answer them!
The HydraFacial Procedure
Customize your treatment based on the 3-step process:
Step One: Gently exfoliates and deeply cleanses the skin using a mild peel to reveal a fresh layer of skin.
Step Two: Eliminates dirt, oil, and other impurities from the skin's pores using a painless, gentle suction technique.
Step Three: Infuses the skin's surface with customized nourishing ingredients and powerful moisturizers for intense hydration.
Focus your session on addressing:
Fine lines & wrinkles
Skin firmness
Hydration & repair
Free radical damage protection
Surface renewal
Brighter skin
Smoother skin
Dark spot reduction
Redness reduction
Calming & soothing irritated skin
Detoxification
Pore size reduction
What are the Results of HydraFacial?
Pampering yourself with a facial, a hydradermabrasion treatment, or a series of treatments with the HydraFacial system can not only improve skin tone and texture but also provide a sense of relaxation and self-care.
After a HydraFacial treatment, patients often notice a significant improvement in their skin's overall appearance and feel. Skin looks
Brighter
Smoother
More radiant
Softer and more supple to the touch
The treatment can also help to reduce the appearance of fine lines and wrinkles, improve skin texture and tone, and reduce the appearance of pore size.
HydraFacial is known for its ability to provide immediate and noticeable results. HydraFacial can also provide longer-term benefits with regular treatments. Consistent HydraFacial treatments can help to improve skin health and function leading to a healthier, more youthful-looking complexion.
Corresponding & Complementary Procedures
The HydraFacial System can be combined with other cosmetic procedures, such as
Fractional ablative lasers
Energy-based devices
Micro-needling
Surgery
Cosmetic injections like Botox and dermal fillers
Chemical peels
Dermaplaning
Non-invasive fat removal treatments
Schedule your consultation to learn more!
What is the Cost of HydraFacial in Fayettesville, NC?
Dr. Saini will happily discuss all aspects of the HydraFacial treatment, including cost, when you book a consultation. Call (910) 323-1234 today!
References
Shpall R, Beddingfield FC, Watson D, Lask GP. Microdermabrasion: A Review. Facial Plastic Surgery. 2004;20(1):47-50. https://doi.org/10.1055/s-2004-822958
Loesch MM, Somani AK, Kingsley MM, Travers JB, Spandau DF. Skin resurfacing procedures: new and emerging options. Clinical, Cosmetic and Investigational Dermatology. 2014;7:231-241. https://doi.org/10.2147/CCID.S50367
Freedman BM. Hydradermabrasion: an innovative modality for nonablative facial rejuvenation. Journal of Cosmetic Dermatology. 2008;7(4):275-280. https://doi.org/10.1111/j.1473-2165.2008.00406.x