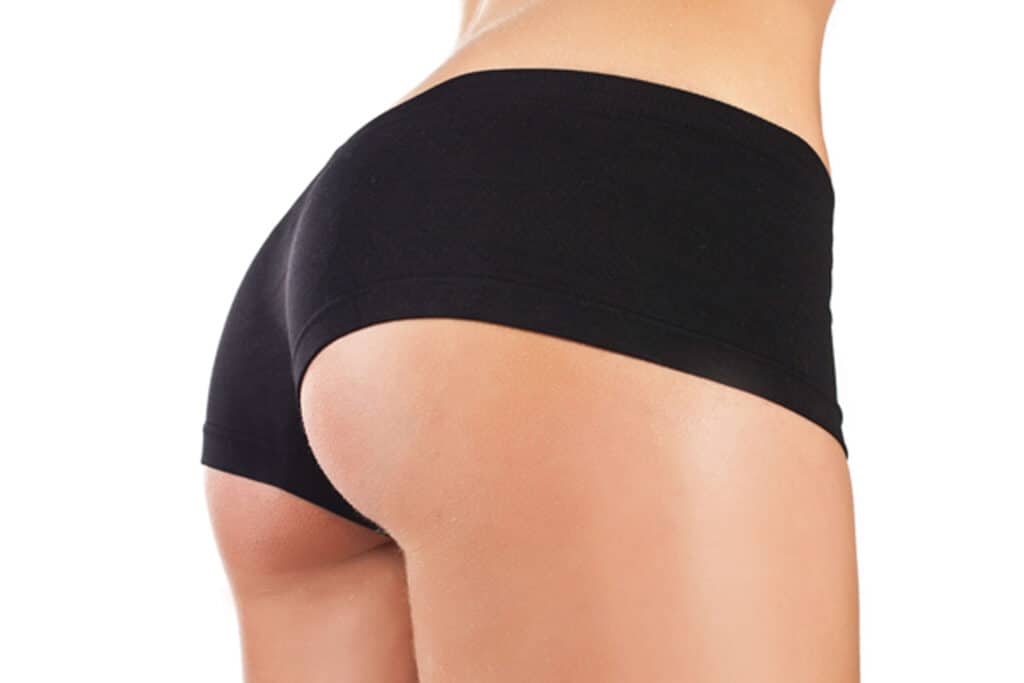 For the individuals who are not interested in surgery and want a simple solution for achieving a perky, round butt, Sculptra is your answer!
Non-surgical butt lifts are growing in popularity and Carolina Plastic Surgery will help you obtain an ideal, sculpted butt.
What is a Non-Surgical Butt Lift?
Butt augmentation is one of the hottest treatments and provides thousands of patients with beautiful, long-term results. However, surgery can be daunting with its costs, recovery time, and potential scarring. That's why dermal fillers like Sculptra are offered as an impressive alternative! Sculptra is a dermal filler composed of poly-L-lactic acid, or PLLA. It has a gel consistency with microspheres suspended throughout it.
The result is a smooth gel that will plump your skin while the microspheres boost collagen levels. This filler is long-lasting and promotes positive outcomes for up to two years!
This filler is a great option to enhance the butt. In a non-surgical butt lift procedure, Sculptra will be injected strategically into the buttocks to enhance its shape and volume. The filler will stimulate both collagen and scar tissue to further enhance the shape of the butt. Improved volume at the top of the butt will give the appearance of a butt lift while injection on the side will round out your bum. A buttocks lift without surgery is possible!
Call our office today to learn more about Sculptra!
Benefits
There are many advantages to a non-surgical butt lift.
The primary advantage is that you will not have to undergo surgery! You can undergo treatment and return to your regular schedule immediately. Sculptra is also a natural enhancement that will be slowly metabolized by the body over time. This convenient option is a great non-surgical alternative to a Brazilian Bum Lift, or BBL, and will leave you with a curvy behind in no time.
Candidates
If you are looking for a convenient way to obtain the buttocks you have always wanted, Sculptra injections may be your best solution! This treatment is great for both men and women who would like the contour of their butt to compliment the rest of their body. An ideal candidate for this treatment is a healthy individual who is within their ideal weight range.
Personal Consultation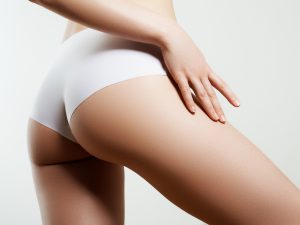 The first step towards achieving the bum of your dreams is to meet with Dr. Saini. This consultation will give you the opportunity to be educated about non-surgical bum lift techniques and how they will impact your appearance. Dr. Saini will ask about your current health, lifestyle, allergies, and medications. She will also examine your buttocks and determine if a non-surgical bottom lift is your best solution.
She may suggest alternative solutions that will better achieve your goal. If a butt lift with Sculptra is pursued, Dr. Saini will walk you through the treatment, potential risks, and what to expect afterward. You will be encouraged to ask questions and voice concerns. Our priority is the patient and their well-being. We want to hear from you and help you understand all of the aspects of your treatment.
An appointment will be scheduled and you will be informed on how to prepare for your treatment!
Preparation
A Sculptra butt lift is a minimally-invasive treatment that does not require much prep.
Do not tan before your treatment.
You will also need to avoid smoking and antihistamines a few weeks before and after injection. If you have any questions or concerns, please contact our office so we can assist you.
Procedure
A topical numbing agent will be applied to the areas on the butt that will receive treatment. Once the agent has taken effect, Sculptra will be injected deep into the dermis to stimulate collagen growth.
This treatment will take about thirty minutes to an hour.
Recovery
The injection sites may be itchy, red, and sensitive. Do not touch or bump the sites until they have healed. One of the greatest aspects of a non-surgical butt lift is that you can return to your regular schedule immediately! We recommend you avoid the gym for a few days but other activities can be resumed after your appointment.
Results
Sculptra will immediately add some volume to your butt.
However, most patients require multiple treatments to achieve their best outcome. Sculptra also takes some time to set in. The composition of the filler will stimulate the growth of both scar tissue and collagen, helping to add natural volume and shape to the bum. It will take about six weeks from the first injections to see results. The shape of your butt will only get better with multiple treatments. Your results will last up to two years, after which maintenance appointments will be needed to ensure consistent results.
Complementary Procedures
At Carolina Cosmetic Surgery, we offer our patients a multitude of choices to enhance their appearance and help them feel great! Many people are not interested in surgical solutions because of the downtime required, added costs, and potential scarring. That's why we give our patients plenty of surgical and non-surgical solutions to their concerns.
CoolSculpting
This is a great, non-surgical solution to stubborn fat bulges! If you are bothered by excess fat under your chin, along your abdomen, love handles, thighs, under butt, underarm, and back, then CoolSculpting will help! This procedure does not require incisions, injections, or anesthetic. An appointment will only require you to show up, sit down for thirty-five to sixty minutes, and then go back to your regular schedule; simple!
CoolSculpting uses the science of cryolipolysis to freeze fat cells.
These cells will be killed and metabolized by the body. The end results are lower fat stores and a slender treatment area. There are many different CoolSculpting applicators that will mold to the shape of your body and target your unwanted fat. Combine CoolSculpting with a Sculptra butt lift to enhance your results and impacts the overall contours of your body.
Dermal Fillers
Sculptra is only one of the many dermal fillers our office offers. We also provide our patients with the options of Juvederm, Juvederm Voluma, Juvederm Vollure, Radiesse, Restylane, Restylane Silk, and Belotero. Each of these fillers has unique properties and was designed with a specific treatment area in mind.
These dermalfillers will treat parentheses lines, nasolabial folds, sunken cheeks, facial folds, lip augmentation, and lip lines.
Dermal fillers will smooth out your face and help restore youthful fullness and a healthy glow. Dermal fillers require a topical anesthetic and will take up to thirty minutes to be applied. This is another minimally invasive method that does not require preparation or downtime. If you are receiving Sculptra, combine dermal fillers with your treatment. They do not take much time to be administered and will let you leave your appointment with a comprehensive improvement in your appearance!
If you are interested in one of the above treatments, discuss combining it with your Sculptra bum lift during your meeting with Dr. Siani.
Cost
The cost of your non-surgical bottom lift will vary in price based on the number of Sculptra vials used. At Carolina Plastic Surgery, we recognize that each patient has a unique body and particular goal in mind for their buttocks. We will personalize treatment to your desired outcome and breakdown the costs involved in your personal consultation.
If you are interested in learning more about Sculptra and how it will naturally contour your butt, call us today at (910) 323-1234. If you are not near the Fayetteville area, search for "non-surgical Brazilian bum lift near me" to learn more about these treatments and if they are your best option.
FAQs
How long does Sculptra last?
Sculptra can last for up to two years! The longevity of your fillers will depend on your body. Over time, your body will metabolize the fillers and break them down in a healthy fashion. The rate at which your body breaks down Sculptra will be unique to you and your health.
What are the side effects of Sculptra?
Like with any dermal filler, there are some risk of side-effects. These effects will be discussed in your consultation with Dr. Saini. She is a board-certified plastic surgeon with a lot of experience in reconstructive and cosmetic surgery. Dr. Saini will be able to explain the possible side effects and their likelihood. If you have any health conditions that may hinder your body from healing, this treatment may not be ideal for you. Sculptra is much safer and will not expose you to the risk that invasive surgery would. To learn more about a butt lift with Sculptra, schedule a consultation with us today.
How much does a vial of Sculptra Cost?
A vial of Sculptra may cost around $900, however, this price will fluctuate depending on the intended use. Sculptra costs less than a Brazilian Bum Lift and will allow you to return to your regular day right after! This treatment is not only convenient, but it can save you money in the long run.
Does Sculptra really work?
Yes! Sculptra is an impressive dermal injection that stimulates collagen and creates minimal scar tissue. The result of these three substances working together will improve the shape and volume of your butt. Buttock enhancement injections like Sculptra are growing in popularity because of their successful, impressive results!