Breast Implants Plus Fat Grafting Provide a "Natural Look"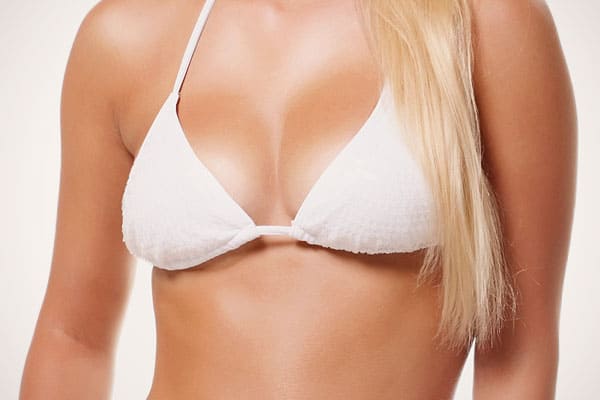 Our "Natural Look" Breast Augmentation is an advanced procedure that combines the volumizing boost of silicone implants with the realistic responsiveness of your body's own soft tissue.
Fat grafting has risen in popularity in recent years because it empowers patients to repurpose bothersome bulges of excess fat for augmentation and rejuvenation throughout the face and body. When the technique is combined with a traditional breast augmentation, the superior enhancement of silicone implants is softened and supported by stores of your own fat. Breast augmentation combined with autologous fat transfer creates a natural look that neither procedure can accomplish alone.
Get the best of both worlds at Carolina Plastic Surgery of Fayetteville. Read our blog for more on our innovative approach to aesthetic enhancement.
About
We believe in taking a scientific approach at Carolina Plastic Surgery of Fayetteville. So we noted when a research paper published in Plastic and Reconstructive Surgery, the Journal of the American Society of Plastic Surgeons, measurably demonstrated that a composite augmentation procedure provides "a valuable cosmetic advantage" to patients seeking a natural look that doesn't skimp on the attention-grabbing enhancement that only silicone implants can provide.
Composite Breast Augmentation Produces a Natural Appearance
The addition of autologous fat transfer (also known as fat grafting), elevates the aesthetic outcomes of breast augmentation with implants. In particular, the composite technique prevents the "separated-breasts" defect in the medial transition zone of the breast implant, especially in thin patients.[1]
Carolina Plastic Surgery of Fayetteville is our area's leading purveyor of the most inventive advancements in aesthetic surgery. Dr. Saira H. Saini presides over her practice with an eye towards "what's next," so that she is always improving and expanding her surgical repertoire. Contact us to see if our composite technique is the "Natural Look" Breast Augmentation you've been searching for.
Call (910) 323-1234 and schedule a consultation. If you prefer, we now offer Virtual Consultations, as well.
Benefit from Our Composite Approach to Breast Enhancement
The composite approach to breast enhancement combines the benefits of fat grafting with our traditional breast augmentation procedure.
Bonus Benefits of Fat Grafting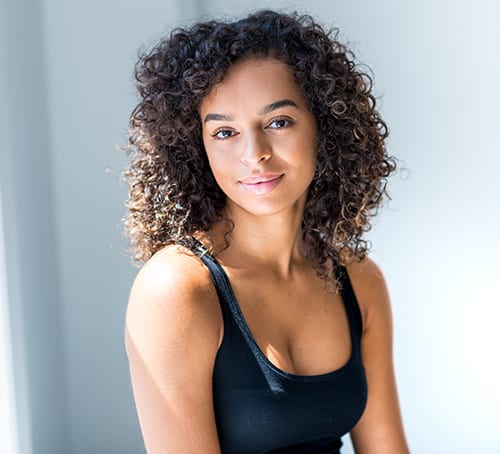 The results of fat grafting are long-lasting and all-natural. That's because it employs your own living fat cells to amplify your contours with smooth, supple enrichment. When combined with traditional breast augmentation, autologous fat transfer subtly heightens the results of your surgery. And the fat grafting procedure comes with its own set of bonus, body contouring benefits. Fat grafting begins with a little liposuction to aspirate stubborn bulges from your body's "problem areas," like the hips, flanks, thighs and abdomen. That's right! With our "Natural Look" Breast Augmentation, you can trim down unflattering fat deposits while you boost your bustline.
An Improvement upon Traditional Breast Augmentation
There's no matching the volumizing impact that traditional breast augmentation with implants can provide. That beautiful boost can come at a cost, however. Some women have said that they are reluctant to consider implants because sometimes they can appear "unnatural" to the eyes and "artificial" to the touch. To correct this issue, Dr. Saini uses the composite fat transfer technique. The best of both worlds means you can combine silicone's incomparable enhancement to fat grafting's natural-feeling fullness.[2]
Your Private Consultation With Dr. Saini
Dr. Saira H. Saini is a board-certified plastic surgeon and a proud military veteran of 20 years. She is accomplished in her field. In fact, Dr. Saini is the only female plastic surgeon within a 70-mile radius of Fayetteville, North Carolina. She's a pillar of our community and her beautiful patients love to show their gratitude by leaving hundreds of positive reviews about their Carolina Plastic Surgery experience.
At your private consultation, Dr. Saini and her expert staff of medical professionals want to hear your story. We will conduct a comprehensive physical examination and a brief intake interview. We will determine your candidacy for our "Natural Look" Breast Augmentation or any of our other procedures that may be appropriate for you.
Contact us today to request a consultation at our Fayetteville office. Call (910) 323-1234 or, if you prefer, you can also set up a Virtual Consultation.
The Combined Procedure
There are several stages of the composite approach to breast augmentation. To achieve a "natural look," Dr. Saini begins with harvesting your fat from pre-selected areas. Then, she completes a smooth segue into her standard breast augmentation procedure.
Fat Harvest & Purification
In the fat harvest phase of the procedure, Dr. Saini begins by performing liposuction in the "problem areas" that you identified during your confidential consultation. She will contour the area to a more flattering shape while she gathers living fat cells for your graft. Shortly after she retrieves it, Dr. Saini filters and purifies the fat in a spinning centrifuge. Thus refined, your rarified fat graft is prepared for transfer.
Augmentation Surgery
Breast augmentation begins with a set of simple incisions around the nipples and down to the inframammary crease. Dr. Saini makes the adequate space to appropriately place your personally selected breast implants.
Autologous Fat Transfer
The combined procedure concludes when the patient's chest is readied for fat grafting. Their own, purified fat is gently added to the areas around the recently placed implants. The fat grafts provide a smooth and supple contour to the surgical site, giving your breast augmentation a natural look that cannot be achieved with silicone alone.[3]
Your Quick Recovery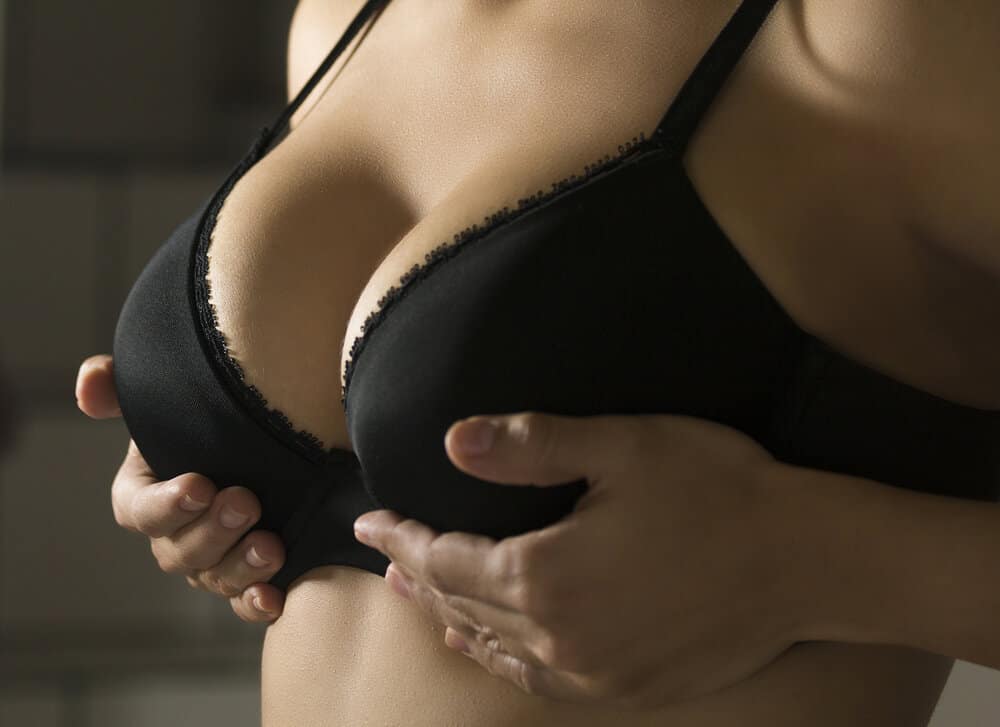 Some bruising and swelling are to be expected immediately following any transformative surgery. Any lingering discomfort should soon subside. Be prepared for temporary numbness at the surgical site. Most of all, patients should have a realistic expectation of the outcomes.
Skilled and experienced surgeons like Dr. Saini work in such a way so as to decrease the complications of a prolonged recovery. Carefully performed incisions will minimize scarring and remain hidden from view. Your prudent preparation and attentive aftercare will help you bounce back to your regular routine more quickly. You should be able to return to work within a week or two. You may return to vigorous exercise after three weeks.
Remarkable Results
You'll leave Carolina Plastic Surgery with confidence because the results of your augmentation will be immediately noticeable. Of course, you won't be swimsuit-ready just yet because you will still have several weeks of recovery ahead of you. The swelling will recede and your breast contours will improve over the next 90 days. Then your resplendent results will be fully apparent.
The Future of Your Fat Graft
The results of a successful fat graft are long-lasting because it is composed of your own living cells. After the cells are introduced to the graft site, your body recognizes their "familiar presence" and begins developing new blood vessels within the graft. Soon, the graft is reintegrated with your other tissue. Unlike silicone implants, a fat graft becomes a living part of your body.
The Cost of a "Natural Look" Breast Augmentation
Dr. Saini knows that your "natural look" is uniquely you. So, at your personal consultation, we will strive to get a complete sense of you and your aesthetic goals. A successful breast enhancement is as much about bringing balance and symmetry to the body as it is about augmentation. Dr. Saini will also inspect potential donor sites for your fat graft so that she can add adequate fullness to your chest while she conveniently contours bothersome bulges of body fat along the way. Once she has fully assessed your situation, Dr. Saini and her team will quote you an accurate cost.
FAQ
Are there any risks with fat grafting?
Autologous fat transfer and fat grafting are safe procedures when they are performed by an experienced plastic surgeon. Because the technique employs your own fat tissue, there is no risk of your body rejecting the graft or triggering an allergic reaction. But, like any surgery, there are always opportunities for mishaps, especially if you entrust your health and appearance to anybody other than your area's leading authority in cosmetic procedures. Fat necrosis may break out if your graft doesn't take. Alert your doctor if you notice thick, obvious scars developing post-op, as these may indicate hypertrophic scars.
References
Bravo, F. G. (2015). Parasternal Infiltration Composite Breast Augmentation. Plastic and Reconstructive Surgery, 135(4), 1010–1018. doi: 10.1097/prs.0000000000001052
Simonacci, F., Bertozzi, N., Grieco, M. P., Grignaffini, E., & Raposio, E. (2017). Procedure, applications, and outcomes of autologous fat grafting. Annals of Medicine and Surgery, 20, 49–60. doi: 10.1016/j.amsu.2017.06.059
Frew, K. E., Rossi, A., Bruck, M. C., Katz, B. E., & Narins, R. S. (2006). Breast Enlargement after Liposuction: Comparison of Incidence between Power Liposuction versus Traditional Liposuction. Dermatologic Surgery, 31(3), 292–296. doi: 10.1111/j.1524-4725.2005.31076