Board certification is the seal of quality and expertise in medical care. It takes many years of hard work to accumulate the knowledge and practical skills to become a plastic surgeon. But board certification goes a step further toward excellence. It's an optional credential to show that a surgeon has gone above and beyond to undergo the necessary examinations covering all plastic surgery procedures.
Dr. Saira H. Saini is a North Carolina-based board-certified plastic surgeon in Fayetteville and Raleigh. She is proud to have earned accreditation from the American Board of Plastic Surgery (ABPS), the country's most prestigious major medical speciality board, following her 5 year General Surgery training and obtaining Board Certification in General Surgery. At Carolina Plastic Surgery of Fayetteville, you can rest assured that your surgical procedure will be planned and performed by a leading board-certified physician. Call (910) 323-1234 or complete our inquiry form to schedule your consultation with Dr. Saini and receive the expertly-performed surgery you deserve!
What is the ABPS?
Dr. Saini received accreditation from The American Board of Plastic Surgery. This independent, non-profit organization is one of twenty-four certification branches affiliated with the American Board of Medical Specialties (ABMS). It was established in 1941, and its mission statement involves serving the public and the medical profession in several ways. Its mission statement is the following. (1)
To help patients identify which doctors are board-certified
To create programs that support physicians, helping them to stay current in their field
To collaborate with healthcare leaders, coordinating and monitoring healthcare quality
To increase board certification awareness, assuring quality patient care
A Tradition of Academic Excellence
The ABPS releases its examination figures on a yearly basis. As a professional body, they have kept certification records for over 86 years! In fact, as of 2022, the total number of ABPS-certified surgeons since 1937 is 10,285. Presently, written examination pass rates are 86.9%, and oral exam pass rates exceed 95%. (2)
Board-Certification: At-a-Glance Requirements
Board-certification is a formidable journey to undertake. It requires hard work, dedication to study, and self-sacrifice. The prerequisites to achieve board certification are as follows.
Graduation from an accredited medical school
3 years of general surgery training OR
3 years of training in oral and maxillofacial surgery, orthopedic surgery, otolaryngology, neurological surgery, or urology
2 year plastic surgery residency
Passing of ABPS oral and written examinations
In the United States, there is a second, equally valid pathway into plastic surgery known as the integrated approach. All integrated programs are 6 years total. Firstly, students complete 1-2 years of general surgery training. This is followed by 4-5 years of plastic surgery training. (3)
Education Background
Dr. Saini served for 20 years in the United States military. As a result, she has had the privilege of studying medicine in numerous states throughout the country.
She completed her initial medical education at the Uniformed Services University of Health Sciences in Bethesda, MD.
General Surgery Residency
After medical School, Dr. Saini completed her general surgery residency at Wright Patterson Air Force Base in Dayton, OH.
Plastic Surgery Residency
Following her 5-year general surgery training, Dr. Saini completed her plastic surgery residency at Oregon Health Sciences University in Portland, OR.
The Importance of Board Certification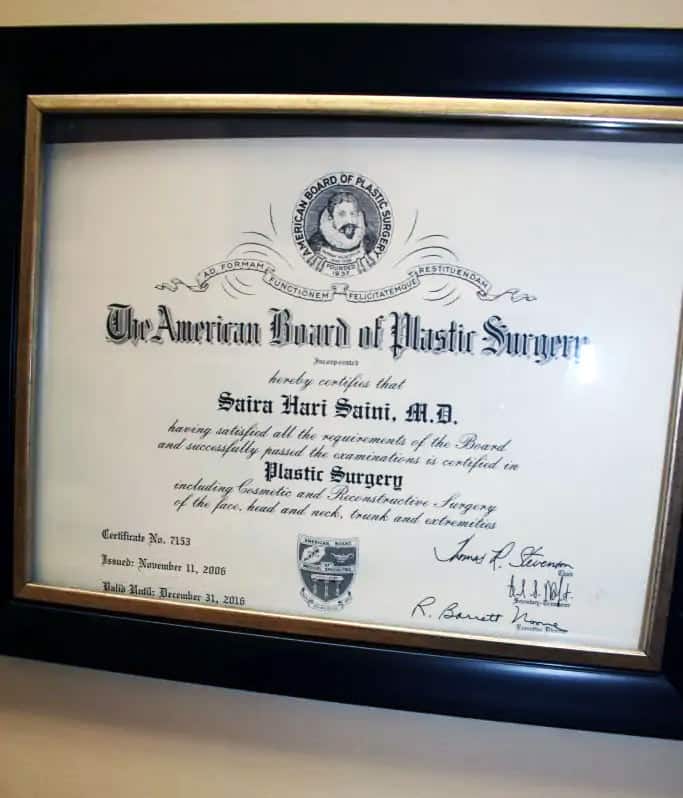 Only a select few doctors attain board certification every year. The prerequisites list is lengthy, and many doctors simply do not have the training from accredited medical residency programs to meet the strict guidelines to qualify for application to obtain Board Certification. So what is remarkable about board certification? According to the American Board of Medical Specialties, the following factors make choosing a board-certified physician the safest, most sensible option.
Higher Standard of Care
When you're looking for a plastic surgeon to help you realize your aesthetic goals, who you choose, and why you choose them are both important considerations. After all, any surgery involves certain expectations and risks. And in reality, ABPS statistics show that only a small percentage of doctors attain this achievement. In fact, fewer than 250 candidates per year take the written and oral examinations. (2)
"Plastic Surgery [is] a highly individualistic specialty based on the surgical molding of tissues in so many areas of the body, but in the company of so many anatomically based specialties … [Plastic Surgery] must mold itself to change but at the same time must strive to maintain its identity and its quality." – Drs. Mogelvang and McCormack (4)
Professionals like Dr. Saini pledge not only to complete the initial accreditation requirements of board certification, but also the continuing education courses available. This training, known as the Maintenance Certification program is a key reason why it pays to place your trust in a board-certified surgeon.
Trusted Resource, Verified Certification
ABMS, the body that oversees all board certification, is an established authority in medicine. The dedication to providing lifelong learning standards to member boards is an essential indicator of continuing excellence in the field, and unrivaled support for medical professionals. ABMS also verifies individual doctors' board certification status on a case-by-case basis for patients, government bodies, schools, and businesses. (5)
What Patients Want from their Surgeon
A survey asked 7,190 participants about the factors that influenced their decision to undergo plastic surgery. (6) The results were conclusive.
39.9% said the most important factor was the doctor's qualifications.
24% thought that advice from friends and family was most important.
10.2% believed that the clinic environment was paramount.
Of particular note was this finding: Patients surveyed concluded their most preferred aesthetic surgeon was one with international board certification. (6)
Surgical Services
Board certification requires extensive knowledge of the human body, multiple surgical techniques, and the latest safety precautions. Dr. Saini is trained in all forms of plastic surgery. And with a personalized treatment plan, you can gain insight and advice, moving forward with tailored care.
Body Contouring
Dr. Saini can smooth your silhouette with one, or a selection of body contouring procedures. If pregnancy has changed your body, a tummy tuck, liposuction, labiaplasty, or a customized Mommy Makeover can help you find your figure once more.
Similarly, if you have recently completed a significant weight loss journey, or if you have undergone bariatric surgery, Dr. Saini provides panniculectomy surgery and a curated selection of procedures to tighten, smooth, and remove remaining skin and fat deposits.
Looking for an hourglass figure? Speak to Dr. Saini about a Brazilian Butt Lift with abdominal or waist liposuction. Complete your new look with a breast procedure at Carolina Plastic Surgery.
Breast Procedures
If you want to change the size or placement of your breasts, Dr. Saini can help you reach the look you want. As a female surgeon, she understands how important it is to appreciate every part of your body. If you wish to move up a cup size or two, inquire about a "natural look" breast augmentation. For a more noticeable difference, speak to Dr. Saini about moving up several cup sizes in a standard breast augmentation.
Breastfeeding and age can change breast projection on the chest wall, and can cause sagging and nipple displacement. A breast lift (mastopexy) as a standalone procedure, or combined with breast augmentation can revitalize breast tissue and help you feel confident once more.
Dissatisfaction with breasts that are too big is more of a concern to patients than many people realize. Relieve backache, improve your posture, and reduce your cup size with a breast reduction procedure.
Dr. Saini is sensitive to the needs of breast cancer survivors and to patients with breast trauma. She provides breast reconstruction services for patients with compassionate care and expert skill.
Male patients suffering from gynecomastia, or male breast tissue, can seek treatment with ease. Dr. Sani will use similar techniques to female breast reduction to ensure you can attain the chest aesthetic you desire.
Facial Surgery
Facial surgery is complex but affords patients dramatic, rewarding results. To gain the ultimate rejuvenation for your complexion, choose a facelift, or a facelift with facial fat grafting to smooth wrinkles and lines, tighten skin, and restore lost volume. Blepharoplasty (eyelid surgery), brow lift, and otoplasty (aesthetic ear surgery) are also available for specific concerns.
Hair Procedures
Hair restoration procedures are gaining popularity, and the technology has advanced significantly in recent years. NeoGraft, ARTAS Robotic Hair Transplantation, and platelet rich plasma (PRP) for hair loss treatments are all available to help you attain a thicker, healthier head of hair.
Looking for non-surgical services? Visit the Med Spa here.
Board-Certified Plastic Surgeon in Fayetteville, NC
Dr. Saini is proud to serve the residents of Fayetteville and Raleigh, NC with personalized care and an extensive range of aesthetic procedures. Look and feel amazing after plastic surgery from a board-certified physician. Book your personal consultation at Carolina Plastic Surgery of Fayetteville by calling us directly at (910) 323-1234 or by completing this simple form.
Read more about plastic surgery and med spa treatments on our blog. And don't forget to join Dr. Saini and her team on Facebook, Instagram, and Twitter!
References
American Board of Plastic Surgery. Mission Statement. ABplasticsurgery.org. Accessed January 24, 2023. https://www.abplasticsurgery.org/about-us/mission-statement/
American Board of Plastic Surgery. ABPlasticsurgery.org. Statistics. Accessed January 24, 2023. https://www.abplasticsurgery.org/about-us/statistics/
Kamali P, van Paridon MW, Ibrahim AMS, et al. Plastic Surgery Training Worldwide: Part 1. The United States and Europe. Plastic and Reconstructive Surgery Global Open. 2016;4(3):e641. doi:10.1097/GOX.0000000000000627
Xue EY, Winocour S, Cen N, et al. Certification and Accreditation in Plastic Surgery Subspecialty Training. Plastic and Reconstructive Surgery Global Open. 2020;8(7):e2893. doi:10.1097/GOX.0000000000002893
American Board of Medical Specialties. What is Board Certification? Why does Board Certification Matter? Certification Matters. Published 2018. https://www.certificationmatters.org/about/#about-board-certification
Al Qurashi AA, Mortada H, Abuthiyab N, Al Zaid N, Aletani T, Arab K. Influential Factors for Selecting a Plastic Surgeon: A National Survey in Saudi Arabia. Plastic and Reconstructive Surgery – Global Open. 2022;10(8):e4458. doi:10.1097/gox.0000000000004458